28
Mar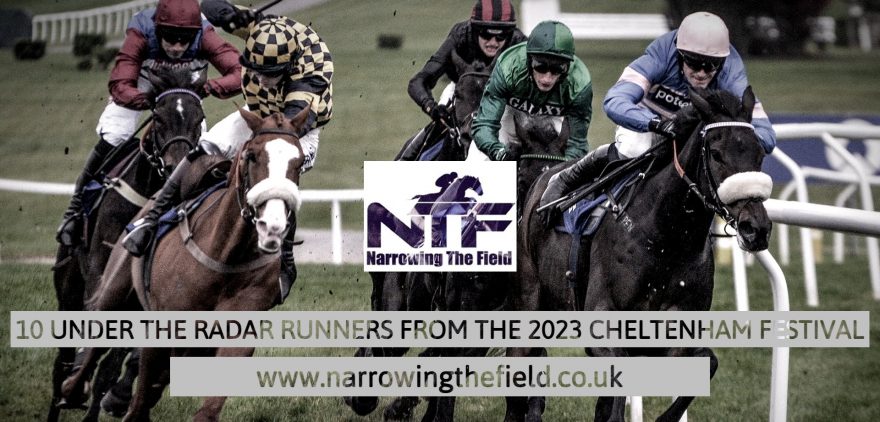 Ten under the radar runners to take from the 2023 Cheltenham Festival…
The 2023 Cheltenham Festival already seems like a lifetime ago
although, remarkably, only two weeks have passed since the tapes went up for the Supreme and MARINE NATIONALE highlighted himself as the 'Irish Constitution Hill' 🤨 (not my words, obviously)…
I decided to let the dust settle on the madness this year before pulling together my usual post-Cheltenham post for the free blog. As always I've cherry-picked a group of under-the-radar runners (some more under the radar than others) from my exhaustive NTF Members notes (a solid and girthy 17-pages of notes this year round) to share here on the blog.
Let's get stuck in…
Ten under the radar runners to take from the 2023 Cheltenham Festival…
.
FANTASTIKAS (N Twiston-Davies)
12th in the Class 1 Ultima Handicap Chase
The 8yo was well enough backed when the final field was declared for the Ultima, coming in from huge prices to his SP of 16/1… mainly, it seemed, due to the fact he was 12lb lower than the mark from which he ran 7th off in the 2022 renewal of the race…
What his supporters failed to take into account, however, was his record in Class 1 races (now 0/8, 1p) and in fields of 13+ (now 0/6, 0p)…
He is, however, very much on a mark connections can work with at present (ran in the Ultima off OR 132 and went down 4lbs to OR 128 for the run) but I do think he'd benefit from having his sights lowered. He probably also needs a slight drop in trip and a smaller field as well and I'd be interested in him under the following…
C2 level or less | <3m1f | fields of 12 or less = 113122222 (3/9, 6p – all 3 career wins)
…I could possibly be flexible on the trip and field size angles (as in if he's in a C2 he maybe doesn't need both the others conditions ticked).
.
AFADIL (P Nicholls)
8th in the Class 1 Boodles Handicap Hurdle
It has been worth following Paul Nicholls horses next time out that ran in this Juvenile Handicap, especially those that finished 3rd or worse, with the figures looking like…
8/20 | 40% S/R | +£36.93 BFLSP – W&P 10/20 | 50% S/R
There was plenty enough to like about this run, with the 4yo doing all his best work late in the day having never really looked like he was able to lay up with the frenetic early pace of this big field handicap.
He was also dropped a generous 2lbs for this run to OR 121.
.
MASTER CHEWY (Nigel Twiston-Davies)
8th in the Grade 1 Ballymore Novices Hurdle
Twiston-Davies hasn't run that much in this race over the years and although the chances of this one winning were exceptionally slim it maybe does hint that NTD rates him highly enough.
In the past the trainer has run the likes of Fundamentalist, Imperial Commander, Double Ross and The New One in the Ballymore and although this one probably won't get near the level of the best of those you'd have to think his current mark of OR 122 is well within range for him.
The next out record of the previous nine NTD has run in the race reads…
223P6413 (1/9, 4p)
…and it's probably worth looking out to see where MASTER CHEWY appears next.
.
GALIA DES LITEAUX (D Skelton)
5th in the Grade 1 Brown Advisory Novices Chase
A solid effort from the mare but I think she needs proper Heavy ground to show her best.
If you look at the Proform 'actual' going descriptions you see she is 111 (3/3) on ground that was riding Heavy whilst she is 33P5 (0/4, 1p) on ground riding Soft or quicker (the Proform data indicates the ground was riding Good to Soft on day two of the Festival… indeed Good to Soft pretty much all week).
GALIA DES LITEAUX is well worth looking out for when the mud is really flying, I suspect she could give plenty of higher rated horses a real scare when she gets her favoured underfoot conditions to attack.
.
SIZING POTSIE (D Pipe)
PU in the Class 1 Grand Annual Handicap Chase
A bit of a wild swing this one… but stick with me…
The 9yo looks to prefer easier tracks than Cheltenham as he is now 0/9, 2p on Undulating and Very Undulating tracks. He's dropping down the weights rapidly now Pipe has sent him back chasing (the last two handicapper adjustments have seen him go 149 > 145 > 140 and he was dropped another 5lbs for this to OR 135) so he's quickly becoming exceptionally well-handicapped on his best form (his high win mark in Handicaps is 149 and his peak rating is 157) and if Pipe can rejuvenate him then he is absolutely on a mark he should be able to take advantage of.
I'd have Prime Conditions for him as…
2m1.5f or less | Flat/Slightly Undulating tracks | race worth 25k or less = 211F111U331 (6/11, 3p – all 6 career wins)
…although given his well-handicapped nature he possibly wouldn't need every box ticked.
Worth noting that his Hurdle mark of OR 126 looks exceptionally lenient as well and I'd also consider him over the smaller obstacles should they decide to go back down that route…
.
FAVOUR AND FORTUNE (A King)
14th in the Grade 1 Bumper
Alan King isn't one that runs many in the Cheltenham Champion Bumper, this being only his 10th runner in the race since 2003. The 5yo's that he has run in the race (Favour And Fortune being a 5yo) have returned a next time out record of…
1431811 (4/7, 1p)
…and given this one has posted three solid speed figures on all three Bumper starts (Proform Speed figures used as my gauge as always) it's worth keeping an eye on where he turns up next. He quite possibly didn't handle the finishing hill here so a track with an easier finish next time would probably be preferable.
.
SHAKEM UP'ARRY (B Pauling)
3rd in the Class 1 Plate Handicap Chase
I'm not entirely convinced this one is a strong stayer at these 2m4/5f sort of trips, although it has to be pointed out that four of his five runs over 2m4f-2m5f have come at Cheltenham and it could be he just doesn't have quite what it takes to see out the trip up the demanding hill. He did win up the testing Exeter hill earlier in the season but that was a C3 over 2m3f so he'd be interesting if tackling a 2m4f-5f handicap chase away from Cheltenham and at a track with an easier finish… something like the Hillhouse Quarry Chase at Ayr on Scottish Grand National weekend could be an ideal spot for him.
It's also worth noting that IRE bred offspring of Flemensfirth (such as Shakem Up'Arry) at Ayr in 2m4f-3m1f Chases when the ground is Soft or quicker do have some tight stats…
(since 2015) 9/22 | 41% S/R | +£117.31 BFLSP – W&P 13/22 | 59% S/R
9 individual winning horses
…which is another pointer towards the Hillhouse Quarry Chase on Scottish National weekend being a good target for SHAKEM UP'ARRY.
.
BEAUPORT (Nigel Twiston-Davies)
9th in the Class 2 Kim Muir Handicap Chase
The 7yo is still unexposed over fences after only 4 starts and he was dropped 1lb to OR 142 for this run (so now 6lb below his opening chase mark).
I wouldn't be totally convinced he's a massive fan of the Cheltenham undulations although I'd remain open on that as both his runs so far at the track have been on ground that was riding closer to Good to Soft than the official Soft that is in the form book… his wins have all come on 'officially' Soft ground but three of those four wins came on ground that was actually riding much closer to Heavy (they were in fact even worse than that, with the Proform 'actual' going descriptions reading Very Heavy, Extremely Heavy and Bottomless) and it may just be that he needs proper testing conditions to fully come alive.
I'd be convinced he's plenty better than this effort and he's well worth keeping on the radar for when he gets seriously testing ground to race on.
.
ANIGHTINLAMBOURN (B Pauling)
PU in the Class 2 Kim Muir Handicap Chase
The Gold Well mare will have needed this first run back (DSLR 124) as she is 0/11, 3p off breaks of 39+ days but she is one that could still have improvement to come over 3m+ trips (this was only her third try over 3m+, the other two 3m+ runs yielded a win and a 0.5L 2nd) and she could still be interesting under the following conditions…
Chases | DSLR 38 or less = 12113U1 (4/7, 1p – all 4 chase wins – hampered at 1st on UR)
.
MILKWOOD (N Mulholland)
PU in the Class 1 County Handicap Hurdle
I wonder if this season has just been all about getting his mark down for another crack at the Scottish Champion Hurdle in April… the 9yo won that race in 2021 off 142 and then finished an 8L 5th in the race last year off 150… he was put down 3lbs to OR 138 for this effort, meaning he has gone down 10lbs since the start of the season, and that puts him on a very handy mark now, given he was able to place in a Galway Hurdle off 147.
They put a hood on in the County Hurdle for the first time, which didn't seem to have much impact, so it would be no surprise to see that taken off next time out (and with the removal a much improved run).
Wherever he turns up before the end of the season he's on a mark that he should definitely be able to make an impact from and he does hold an eye-catching form line in the March-July period, especially on Good to Soft or quicker and off breaks of 150-days or less…
21312F (2/6, 3p)
The F came two-out in last seasons Swinton Hurdle when still bang there, the 2nd prior to that came in the 2021 Galway Hurdle behind Saldier and the 3rd came at the 2021 Cheltenham Festival in the County Hurdle…
---
There's a good chance the above ten horses mostly skipped under the radar of the wider betting public and I would be hopeful most of them, with a little bit of tweaking of the races they are aimed at, find their way to the winners enclosure (or at least snatching some juicy E/W returns) either before the end of this season or at some early stage of the 2023/24 season.
And if you are looking for a tracker to add the above horses to then give GeeGeez a spin, their tracker tool on their Gold Membership package is one of the many excellent tools they offer to help make your racing analysis easier and more enjoyable.
You can trial the Gold Geegeez package for 30-days for only £1…
Cheers – Ben (NTF)
p.s. Make sure you don't miss out on future NTF posts and offers by hooking up the free mailing list below…
And if your not yet following the weekly PodBlast then head HERE and click the 'Follow' button 🎧
4 responses to "Ten under the radar runners to take from the 2023 Cheltenham Festival…"