7
Mar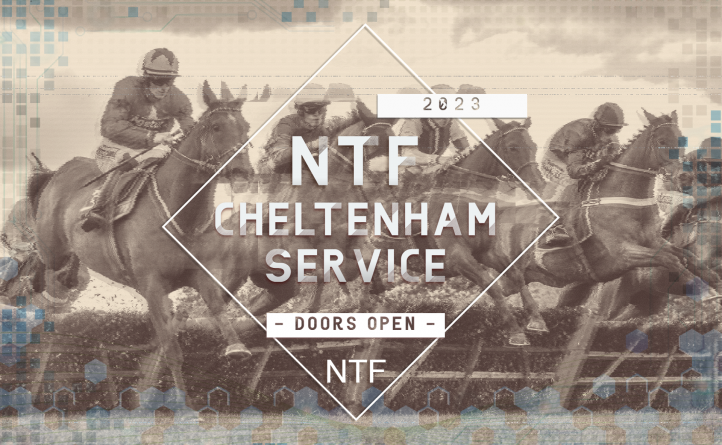 Five Cheltenham Festival stats that will need to be broken in 2023…
One. Week. To. Go!
One week to go and then BANG! The 2023 Cheltenham Festival smacks us square in the chops!!
And thankfully I (JUST!) managed to avoid getting trapped in North East Scotland and forced to tackle the 2023 Cheltenham Festival away from the comfort of NTF HQ! 😅😅
Mrs NTF and I spend yesterday barrelling full speed down half the length of the UK with the impending snow bomb sitting just on our tail!! Thankfully we timed it perfectly and a potential disaster was avoided! Phew!!
I've been considerably ramping things up on the festival front over the past week to ten days and hopefully you've all managed to download my FREE Cheltenham Festival Guide by now?
If not you can grab your own copy of the NTF Cheltenham Cheat Sheet here.
As always the free guide is stuffed full of trends and stats to help you 'narrow the field' over the four days and at the very least it should get your brain tuned up and fully focused for next week's action.
Talking of stats and trends… today I'm taking a look at five stats that will need to be 'smashed' next week if some of the well-fancied runners are to justify their position near the head of their respective markets.
Lets tuck in…
.
Five stats that will need to be broken at the 2023 Cheltenham Festival…
1 – GAELIC WARRIOR and the 'ran in a Handicap LTO' stat…
If GAELIC WARRIOR (currently 4/1 for the Ballymore Novices' Hurdle & 8/1 for the Supreme Novices' Hurdle) is to go one better than his second in the Boodles last year then he'll need to become the first horse in at least the last 25 years to win either the Supreme or Ballymore off running in a Handicap LTO…
Ballymore & Supreme | Horses that ran in a handicap last time out
0/100 | 0% S/R | -£100 LSP – W&P 10/100 | 10% S/R
If you expand it to look at ALL Cheltenham Festival Non-Handicap Novice Hurdles (since 2003) and look at the record of those that ran in a Handicap last time, you see the following…
3/117 | 2.5% S/R | -£93.50 LSP – W&P 13/117 | 11% S/R
Two of those winners came in the Mares Novices' Hurdle so if you remove that race from the equation (leaving the Supreme – Ballymore – Albert Bartlett) you get stats of…
1/139 | <1% S/R | -£127 LSP – W&P 14/139 | 10% S/R
Only UNOWHATIMEANHARRY managed to buck the trend, when winning the 2016 Albert Bartlett. 
One potential glimmer of hope for Gaelic Warrior, however, is the fact that horses rated 148+ to have run in these three races (Supreme – Ballymore – Albert Bartlett) off a Handicap 'warm-up' have returned a form line of… 50212722 (1/8, 4p)… so he's clearly far from a forlorn hope… he's rated OR 153 and he'll be one of the highest rated horses in whatever engagement he takes up… but the overall stats are a concern for sure…
2 – HONEYSUCKLE and the 'aged 8yo+' stat…
If HONEYSUCKLE is to finish her Cheltenham career on a high she'll have to become the first horse aged older than 7 to win the Mares' Hurdle (since it became a G1)…
Mares' Hurdle | Horses aged 8yo+
0/39 | 0% S/R | -£39 LSP – W&P 7/39 | 18% S/R
The mares Hurdle has been a Grade 1 for the last 8 renewals and in that time ALL 8 winners have been aged 5, 6 or 7… with 7yo's winning 6 of them…
Generally I'd prefer at least a couple more renewals for trends purposes but the stats are starting to build and as a group the 5yo-7yo's do win more than is expected of them (20% above market expectation) and it is a race that has been favouring those at the lower end of the age spectrum.
Again, like Gaelic Warrior in stat 1, Honeysuckle will be going into the race as the highest rated runner, indeed only two horses have previously run in the race with a higher rating than the De Bromhead mare since it was a G1 (Annie Power in 2015 & Benie Des Dieux in 2020), but facts are facts and to win the race she will have to be going against the building trend that tells us that the 5yo-7yo age group have been dominating this Mares' G1…
3 – ANDY DUFRESNE and the 'top-rated in the Grand Annual' stat…
If ANDY DUFRESNE is to justify favouritism in the Grand Annual (currently 7-1 fav) then he'd be the first top-rated runner in at least the last 25 renewals to do so…
Grand Annual | Top-Rated runner
0/25 | 0% S/R | -£25 LSP – W&P 6/25 | 24% S/R
Poor enough stats on their own and things don't improve any further when you look at…
Grand Annual | Top-Rated runner or rated within 3lbs of Top-Rated
0/53 | 0% S/R | -£53 LSP – W&P 10/53 | 19% S/R
It's quite simply a very difficult race for those at the head of the weights to win.
Even if you drop it down to Top-Rated runner or rated within 5lbs of Top-Rated you still only see two winners (from 81 qualifiers) and one of those was the mighty EDREDON BLEU (what a horse!) who won the 1998 renewal off the lowly mark of OR 139 (and he clearly would turn out to be a hell of a lot better than a 139-rated horse!).
So again… the Grand Annual is a very difficult race for those at the head of the ratings (or near the head of the ratings) to win… but that is exactly where current fav ANDY DUFRESNE sits…
(Top-rated on official ratings… so number 1 on the race card) 

Doors to the 2023 NTF Cheltenham Festival service are now OPEN!
See full details by clicking on the above link… 👆
Once again I'm opening the doors to NTF for those of you that want to hook on for the biggest four days of the season!
As always I'll be covering a majority of the races at the meeting, using a range of tried and trusted NTF analysis methods…

4 – SHOOT FIRST and the 'long break returners in Handicap Hurdles' stat…
If current Pertemps fav SHOOT FIRST is to land the 3m prize then he'll join a very select band of horses to win a Cheltenham Festival Handicap Hurdle off a break of 100 days or more…
Cheltenham Festival Handicap Hurdles | DSLR 100+ (since 2003)
3/186 | 1.5% S/R | -£144 LSP – W&P 28/186 | 15% S/R
The stats dip further when you only look at the handicaps that have been run over 2m4f or further…
1/115 | <1% S/R | -£103 LSP – W&P 18/115 | 16% S/R
SKY'S THE LIMIT the only one to defy those stats when he ran away with the 2006 Coral Cup, and to be fair to him he only just failed the DSLR stat, coming off a break of 102-days…
SHOOT FIRST hasn't been seen for 145-days but currently sits as 10/3 fav for the ultra-competitive Pertemps Final on day 3… he has no easy task in front of him…
He also has to break the following 'stat' if he is to land the Pertemps…
Pertemps Final | Horses that ran at Cheltenham last time out
0/46, 3p
Not quite as damming, granted, but it's another small negative for the fav, in a race where only 4 of the last 25 favs have managed to win (and 2 of the last 19) with 18 of the 25 winners going off at double figures…
5 – CORBETTS CROSS and the 'quick turn around' Albert Bartlett stat…
If CORBETTS CROSS is to justify recent support and land the Albert Bartlett Novices' Hurdle then he'll be the first to do so off a break of less than 27 days…
Albert Bartlett Novices' Hurdle | DSLR 26 or less
0/47 | 0% S/R | -£47 LSP – W&P 2/47 | 4% S/R
In his defence very few of that 47 were short-priced runners… but the fact only TWO of them have even managed to place does start to ring alarm bells… it is, after all, a gruelling race for novices and a longer break than the 19-day turnaround that CORBETTS CROSS will be running off has been the common denominator of all 18 previous winners of the G1 contest…
I also noted that all 18 winners of the Albert Bartlett had their last run over trips of 2m3f – 3m, with those falling out with that range returning stats of… 0/85, 5p… CORBETTS CROSS ran over 1m7.5f last time out (those that ran over shorter than 2m3f LTO are 0/27, 3p)… so there are certainly at least a couple of reasons to look past the current 10/3 fav in the Albert Bartlett…
---
So there you have it… five Cheltenham Festival Stats that need to be 'smashed' for the above horses to land in the winners enclosure at the 2023 Cheltenham Festival… and hey, you know what, they could ALL wind up rolling home in front, that's racing, it's far from impossible..
When you stick your neck on the chopping block enough times, however, you got to be prepared for the good days/weeks as well as the bad days/weeks… but to be right in this game you absolutely need to be comfortable with being wrong in this game… and unless something big happens between now and race time I fully plan to be looking for alternatives to GAELIC WARRIOR, HONEYSUCKLE, ANDY DUFRESNE, SHOOT FIRST and CORBETTS CROSS…
If you want to find out what I WILL be backing in those races, and indeed what I'll be playing over the full four days of the 2023 Cheltenham Festival, then you can hook onto the full NTF members service at the following page…
Cheers – Ben (NTF)
4 responses to "Five Cheltenham Festival stats that will need to be broken in 2023…"