1
Apr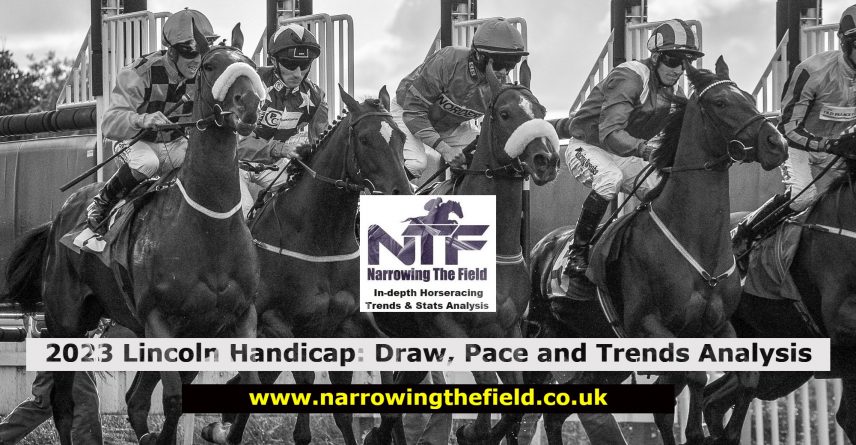 2023 Pertemps Lincoln Handicap: Draw, Pace and Trends Analysis…
The 2023 Lincoln Handicap thunders into view this weekend… so I guess that means we need to start getting the flat part of ours brains back into gear!?! 🤯
Naturally I'm still in full NTF National Hunt mode at present (I've just completed the first run through of the National trends for members) and I don't fully switch my brain to the flat side of the tracks until the Punchestown Festival is done and dusted… however, as the jumps game is currently plodding through the despairing void that is the Cheltenham/Aintree limbo land (Saturday's jumps cards look proper filthy!) I wanted to take a little deviation into the flat stuff for the opening day of the 2023 season, with the Lincoln as my main focus.
For me it's a brilliant race to get a 'Trends sighter' for the flat season that's to come, an opportunity to waken the slumbering flat side of my brain in preparation for the analysis that will take up the largest chunk of my summer.
With 22 runners blitzing down the straight Donny mile I'll start with looking at the pace and draw side of things and, as always with these large field blasts, there's a decent chance of a pace bias at play. That can obviously boost the chances of some, whilst inconveniencing others, leaving them with nothing substantial to aim at as they look to make their surge to the line in the last couple of furlongs.
This is how I see the likely pace in the 2023 Lincoln…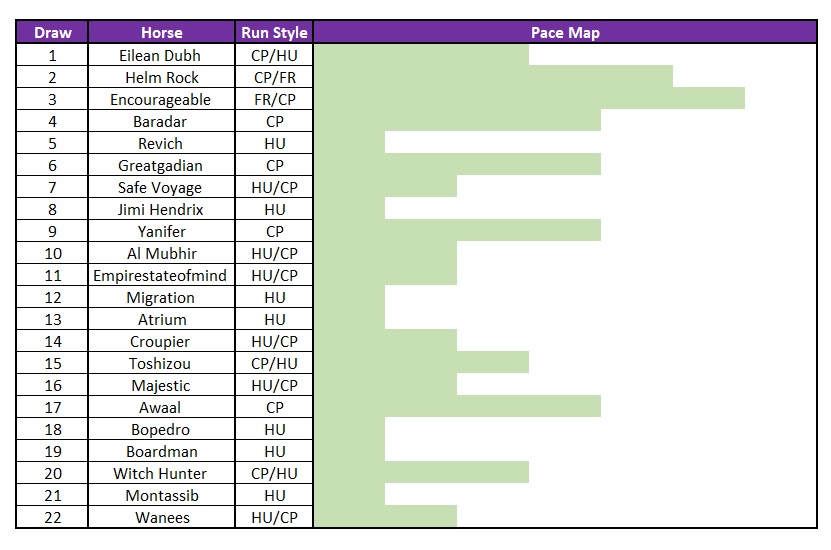 These are the running positions of the last 15 Lincoln (Doncaster) winners…
HU-CP-CP-CP-HU-CP-HU-HU-CP-CP-CP-CP-FR-HU-CP
FR =1 | CP = 9 | HU = 5
So sitting close to the pace (CP) has been the best position to sit, with those types contributing 9 of the last 15 Lincoln winners…
Looking at the pace map above you have to say there does not look to be all that many potential front-runners/pace angles in the race… you are maybe looking at…
ENCOURAGEABLE from stall 3 and possibly HELM ROCK from 2…
From the middle to high part of the draw I'm struggling struggle to see any obvious pace… AWAAL in stall 17 has front-ran/sat prominent previously but it's far from a guarantee he'll go on in this…
So as long as there is no track bias at play, which it must be said there could be if we get really testing ground, I would say the Middle to Low numbers may, just about, have the advantage on the draw side of things…
Next I want to take a look at the Race Trends…
I used the following five Race Trends to initially cut the field down…
p.s. I'm only looking at renewals run at Doncaster, I've not included the 2007 Newcastle or the 2006 Redcar versions, and only UK/Irish form is considered, races run abroad are not included in the stats…
15/15 aged 4yo-6yo
15/15 carried 9-04 or less
15/15 32 or less career starts
15/15 DSLR 130-220
15/15 ran in a Class 2 or 3 Handicap LTO
Those trends chop the race down from 22 to 10… so a bit more work needed yet… so I applied the following to trim the initial shortlist…
15/15 4-10 starts in last 365 days
15/15 were by a GB, IRE or USA sire
…which leaves a Lincoln Trends Shortlist of…
ENCORAGEABLE (Stall 3)
BARADAR (Stall 4)
JIMI HENDRIX (Stall 8)
AL MUBHIR (Stall 10)
CROUPIER (Stall 14)
MAJESTIC (Stall 16)
WANEES (Stall 22)
Unless the Spring Mile earlier on the card (2.25) strongly suggests that there is a big track bias towards those runners drawn on the near side (high numbers) I'd still be looking to side with those drawn low to middle (where the pace looks to be) and with that in mind the one that interests me the most from the Trends Shortlist is…
BARADAR
George Boughey's 5yo breaks from stall 4 here so he should be well positioned to hook in behind the likely early pace and should also be well suited to conditions…
He's run 6 times on Soft or Heavy… returning a form line of 118331 (3/6, 1p)… and he's definitely a better horse with cut under foot… he's also run twice before at Doncaster…both times on heavy… winning last time out over 7 furlongs on his first start for George Boughey and finishing 3rd in the Grade 1 Vertem Trophy as a 2yo when trained by Roger Varian… the high class pair of Mac Swiney and One Ruler finished ahead of him that day and future Royal Ascot winner State Of Rest was in behind him… so he's got back class… track form… will handle the ground… looks to be drawn around the pace… and he's one I want to side with here…
Away from the trends…
One of potential interest at a bigger price, to maybe run into a place, although he would also bust plenty of trends should he actually win… would be SAFE VOYAGE…
He ran in the race last year from a 9lb higher mark and also was poorly drawn away from the action that day… he's got a better draw this time round in stall 7… he handles Soft and Heavy ground well and also runs well fresh, with form of 4 wins and a place from 8 starts off breaks of 90 days or more… he also has plenty of solid form in large fields… so at around 33/1 and with 5 or 6 places on offer he could be a big priced swing to have a go at…
Very best of luck if you are dipping your toes into the muddy waters of the early part of the flat season… and if you want some more Doncaster analysis be sure to have a listen to the latest edition of the Racing PodBlast ⬇️⬇️⬇️
Cheers – Ben (NTF)
If you've missed any of the recent NTF posts there are links to them below…