8
May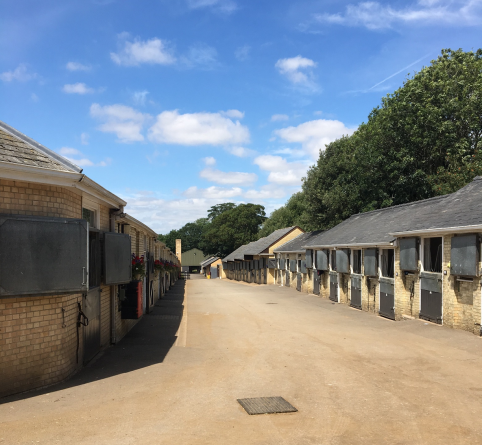 Roger Varian Stable Tour 2020
A few more rumblings around with regards to racing firing back into action at some point this month but as always, we wait and see…
I'm continuing with my own preparations for the flat season and today on the blog I bring you something a little different, well certainly something different with regards to the NTF Blog; a Stable Tour Report.
Now don't worry, I've not been out gallivanting and breaking 'lockdown' procedures, instead I reached out to Roger Varian's racing manager Charlie Sutton, who I've known since he worked at the Jeremy Gask yard when I owned a share in the grey wonder horse Trending, and asked if he would fancy pulling together a brief report on some of the inmates at Carlburg Stables.
Charlie didn't fancy doing a brief report…instead he preferred to send over six-pages worth of information covering almost 50 of the horses currently under the care of Roger Varian!!
Fantastic stuff and just what we all need to get the flat juices flowing during these unprecedented times.
So, notebooks at the ready people and it's over to Charlie…
Roger Varian Stable Tour 2020
It's a pleasure to be asked to contribute to Narrow The Field having followed Ben's work for near enough 10-years, having met him nearly a decade ago when I worked for Jeremy Gask. I'm off on a tangent early on, but it was a shame Jeremy didn't find the success he craved in this country as he was be an excellent trainer of a sharp one, as demonstrated by the efforts of Medicean Man & Anne Of Kiev. 
This will be my second season doing the Racing Manager job for Roger Varian, and I can safely say I've never learned as much in 12 months as I did last year! My position revolves mostly around race planning, analysis including pre-and-post race information for owners, and everything involved in the entries process such as forfeits, declarations and jockey bookings. Mid-season when Roger has four lots to watch & 200 horses to train it can be very intense as even the best laid plans can only be confirmed late, but it is incredibly rewarding when a plan occasionally comes together.
2019 was Roger's most successful as a trainer numerically, and that was achieved despite several top three-year-olds missing good chunks of their second seasons during the prime racing months. Unfortunately, one of the most promising, SURFMAN, will also miss the whole of 2020, but hopefully that's the last of the negatives.
I hope you enjoy this run-through of our current inmates, and any questions please just drop a comment below…
Older Horses

DEFOE: It will probably surprise nobody that he's by some way the most popular of our horses at the annual Henry Cecil Open Day. Did us proud last year in the Coronation Cup & then following up in the Hardwicke, although his achievements did mean his rating edged a bit too high for a muted Melbourne Cup raid. He was due to run in the Sheema Classic at Meydan in March before the cancellation, and he just took a couple of strides longer than expected to pick up when he was beaten in his prep run in the City Of Gold. They didn't go very quick there and the winner Loxley has demonstrated he is a talented one with 10f speed, with the race playing more to his strengths than Defoe's.
ZABEEL PRINCE: A G1 winner as a 6yo, and the G3 he won was arguably an even stronger race. He has a turn of foot over the specialist 9f trip, something he wasn't able to display in a very testing Prince Of Wales' up in trip. He ran better than the distance he was beaten in the Eclipse but not so much at Goodwood over the easy mile. 9f clearly does suit him very well.
ROSEMAN: Lightly-raced and very talented. I'm not going to say he would've won at Royal Ascot with a better trip, but he certainly would've finished closer. Wide-margin Listed win back at a mile did make me wonder where he'd have finished in the QEII on similar ground!
SAN DONATO: Very smart but has had his issues. He's already been G1-placed in the French Guineas which was a positive as far as his chances of properly getting the mile. Hopefully he can improve on that and become a G1 winner.
CAPE BYRON: A convincing winner of the Wokingham, he clearly loves it at Ascot having also won the Victoria Cup & Bengough Stakes there last season. With that in mind his big target is the Diamond Jubilee at Royal Ascot, and if he's ever going to win a G1 that will likely be his best chance. Of course, he's got a few lbs to find in order to do so.
UAE JEWEL: We hope he is a top-class horse in the making over 10f. Looked good in the Wood Ditton & on his step up into Listed company last season, then just unfortunately had an issue pre-French Derby that kept him out until late September. Trying to avoid throwing out clichés, but he does have a lot of pace which will be a major asset if he can confirm he fully stays 10f in top company. 
TURJOMAAN: Disappointing professionally and financially that he didn't win the Thoroughbred Stakes at Glorious Goodwood! He's still lightly raced, however, and that Thoroughbred Stakes is sound form.
Older Horses round up
Goes to show the embarrassment of riches at Carlburg at the minute for some of the following horses to be considered for a "the rest" section, but they are yet to make their breakthrough at Group level.
PRINCE EIJI came closest with a nice run in the Darley Stakes in October & he's capable of better still being so lightly-raced.
WILLIE JOHN has undoubtedly disappointed but ran to a good level when chasing home Elarqam at Goodwood. Top handicaps are now an option.
FUJAIRA PRINCE hasn't seen the racecourse often but has plenty of ability when he has.
MUTAMAASIK is an obvious Hunt Cup-type runner having improved with every start to a mark of 100.
FIFTH POSITION missed out on having a run in the Lincoln, for which he had been favourite. His novice win was pretty good.
RIVIERA NIGHTS has arrived from Richard Hannon and is the type for 7f/8f handicaps.
Every yard has a horse they cannot believe hasn't won for them and SALAYEL is ours. Hopefully she can put that right in 2020.
AUSTRALIS isn't flashy but I'm really looking forward to working out a plan for him. He's going to stay very well & showed enough tactical pace at Chelmsford under a very smart ride from David Egan to think he can keep progressing. 
3yo's
Classic Hopes/Group horses…
DAAHYEH: A lovely filly, there's the concern her form may flatten out as it can with forward 2yos, but hopefully that isn't the case. She won't get any further than 8f I don't think. 
STYLISTIQUE: Nearly collared Daahyeh late in the Rockfel having been a little outpaced throughout, shaping like a mile would be well within her this season. Her final run was one too many with the benefit of hindsight and, although it may sound overly positive, she wouldn't let herself down in a Guineas.
QUEEN DAENERYS: A smart filly with a nice pedigree, she beat a well-regarded filly at Newmarket although she was receiving a nice bit of weight there. We let her loose in the Fillies' Mile but she just wasn't quick enough to land a blow, and was just lacking a bit of experience still.
MOLATHAM: Debuted in a very warm race, won the Convivial & then was very impressive in his Listed race at Doncaster. The Autumn Stakes was too much of a test of stamina for him at that point in his career, particularly on the ground. In the past I've often made the mistake of dismissing juveniles who finish 4th or 5th in those kinds of races as simply being hard to place as 3yos, and I think it would be unwise to make that same mistake here. 
PIERRE LAPIN: Hugely talented and won the Mill Reef despite still being raw physically and mentally. He's come on well in both categories, and I notice that he's now favourite to out-do his half-brother and win the Commonwealth Cup.
SUNDAY SOVEREIGN: Came to us after his slightly disappointing run in the Norfolk at Royal Ascot and we were unable to get another run into him as a 2yo. Clearly any horse that goes off 13/8f for a Royal Ascot race has to have plenty of ability, and this guy is all speed. Hopefully his niggles are behind him.
Novice winners…
We have a number of very lightly-raced novices who have the potential to go a long way and haven't yet displayed anything like their full ability.
MONTATHER is smart, and as a debut SP of 8/11 suggests he does show it. Hopefully he's pattern class.
KHALOOSY won his novice a couple of days before Montather, and won it so well that I'm surprised that Jack Mitchell was paid a riding fee. The 2nd has won since, but the race did fall apart somewhat.
PREMIER POWER won his novice in similar style to Khaloosy but over 6f, and that allows for a bit of winter dreaming.
MOTTRIB was disappointing at Leicester on paper, but the race has worked out well and his saddle also slipped. There's good ability there.
DELTA'S ROYALTY comes with a big reputation with her pedigree, and she won despite being clueless at Kempton, causing several heart palpitations in doing so. She's a huge filly and more experience will do her the power of good.
JAARIYAH is a nice horse who won on debut and showed a change of gear. She's potentially a trial filly and she'll get a mile.
FOORAAT is my favourite as I'm a big fan of her brother Benbatl. She's not flashy at home and had a good bit of strengthening up to do over the winter, so for her to win on debut at Newcastle was a very good pointer to the fact she's well above-average. Like Benbatl she should have no issue with 10f and I'm likely to end up with a picture of her on my wall at some point. 
CABALETTA has a very strong-staying pedigree and as such it was very promising that she was able to win on her only start as a 2yo, albeit over a mile in testing conditions. She travelled nicely there & I wouldn't want to pigeonhole her as a one-dimensional staying prospect, but she is likely to be best on soft ground and however far she ends up staying it won't be a surprise. 
RAAHEQ is a small filly with a ton of ability, as she showed on her only start at Bath.
MAGNETISED did well to get up late on his only start in testing conditions at Doncaster. He has an exceptional pedigree & hopefully is a nice horse in the making. 
GOLD WAND was sent off 13/8f on her debut and was run down by Domino Darling. She is immensely talented & don't be hasty to rule out her reversing that form, which could be in a Group 1! 
Handicappers
This is the bit I always turn to when reading this type of thing, but as always there's only so much given away & plenty of reading between the lines to be done!
ASCENSION is one of those horses who my bank manager dislikes. I thought he'd win his nursery off 87 but he was going nowhere in the dip and eventually finished a lot closer than looked possible. There was a 7f handicap at Newbury I had my eye on but we'll have to see what the re-shaped calendar looks like. He does want give in the ground.
SHANDOZ is a nice type who will be a better 3yo over a trip. He wasn't ideally suited by Wolves on his final start.
WALEYDD was pencilled in to run at Doncaster in the usually warm 10f handicap on the Sunday. He idled in front on his final novice start which may have made it look like he didn't stay.
ESTABLISH frustratingly ended up on 85 without winning, although the Shadwell horse who beat him second time seems to be highly regarded. He was just a bit immature at Kempton, generally messing about rather than any particular issue.
WALIYAK has an opening mark of 84 having won her final start. She'll hopefully be a lovely 10f filly.
UNION was flat on his 3rd run, but he would hopefully improve for a step up in trip this season.
NAIZAGAI got a good mention from Ben in his five-to-follow handicappers list and I'd agree with his sentiments. I look forward to him running.
ZEGALO looks a strong stayer and will need a bit of give in the ground at least. He put his experience to good use at Nottingham on his third start and is a proper galloper. 
SWOOPING EAGLE only has a mark of 70 but he's bred to do better this season over a trip. He's one of the first Varian Syndicate horses, and shares are available in this year's 2yo intake!
(anyone interested in delving into syndicate ownership at the Varian yard can find info on available horses HERE) 
Maidens
On paper there are several winners-in-waiting, the nicest of which would probably be Alash Orda, Angel Power and the aforementioned Gold Wand.
2yo's
Although Roger wouldn't be known as a 2yo trainer he has had some very useful ones in his yard, including Daahyeh and Pierre Lapin last season. The juvenile intake this year have been very pleasing in the main with a handful who would've run in April in normal circumstances. There's not too much to say about them yet, but the list does include a brother to Aljamaaheer, Daahyeh's Al Kazeem half-brother, some beautifully-bred homebreds of Sheikh Mohammed Obaid's- including a number out of half-sisters to Dubawi- and a Frankel filly out of Roger's Moyglare winner Cursory Glance. 
——————–
Stable Star(s): PIERRE LAPIN/TURJOMAAN
Dark Horse: WALIYAK
——————-
I hope some of you have enjoyed reading the above as much as I've enjoyed putting it together. There's no better time of year than when the season is just about to start, even though this year it's not quite as planned.
Best wishes for the season ahead.
Charlie Sutton
Racing Manager for Roger Varian

Fantastic stuff there from Charlie, I'm sure you will all agree. A huge thanks to him for taking the time to pull together the above report, it's exactly what we all need right now.
I had intended to sprinkle my own notes throughout Charlie's article but after reading it through I really didn't want to tamper with it and detract from such a superb and informative piece.
So, here's my two tuppence worth bolted on to the end…
AUSTRALIS is a horse I was very keen on last year once he had entered handicaps and he was maybe a shade unlucky not to have landed more than the solitary victory he did pick up. On his first handicap run at Yarmouth he had the misfortune to bump into the Mark Prescott trained Land Of Oz, who was running off 58 that day (Australis was on 72 at the time). The Prescott horse now sits on OR 93 (+35lbs!) whilst Australis starts this season on OR 81, a mark I'd be convinced is comfortably below the ceiling of his abilities.
PIERRE LAPIN looks exciting and the form of his Novice win at Haydock has worked out strongly to date, with the four that finished behind him all winning at least once before seasons end. He looked the type that will have benefited from a 'softly softly' approach during his 2yo season, which Charlie confirms in his notes above.
ASCENSION was a consideration for my recent 'Well Handicapped 3yo's' posts as I had noted that the two horses that finished directly behind him when he won at Newcastle in September both won next time out. His mark of 87 should see him capable of picking up a handicap at some stage this season and although the Nursery he ran fourth in at the back end of last season is yet to produce any winners, the horses that finished ahead of him did run to a speed rating above par for the class level (based on Proform figures).
I also pondered over the syndicate horse SWOOPING EAGLE for the well-handicapped list, as the Lingfield Novice he ran 6th in on his final start has produced winners (first seven home have run seven more times and won four) and Itkaann, who won the Kempton maiden Swooping Eagle ran third in on the 5th December, now finds himself on OR 83, which at the very least hints that OR 70 for Swooping Eagle looks more than workable, especially when stepped up in trip.
Once again, big thanks to Charlie for taking the time to produce this superb 'Stable Tour' report.
Keep up to date with the Roger Varian yard on their website – www.varianstable.com
Follow Charlie Sutton on Twitter – @sutts109
Ben (NTF)
p.s. grab all the latest FREE NTF reports by hooking onto the NTF free list…
19 responses to "Roger Varian Stable Tour 2020"