28
Sep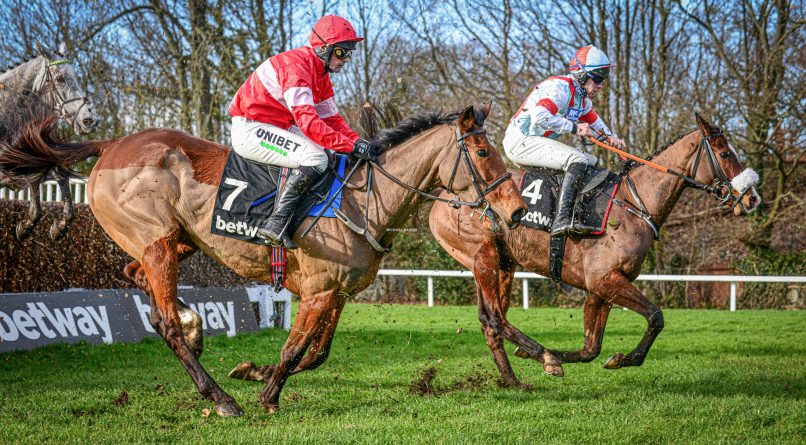 NTF Weekend Notes: Future pointers for your National Hunt notebooks…
Saturday's Market Rasen card was a bit more like it for us jumping fans.
We National Hunt lovers have been starved of decent jumping action for months now, in fact even more than usual given the lockdown that robbed us of Aintree, Ayr, Fairyhouse, Punchestown, Sandown…Sure we've had the odd race here and there to get the blood pumping but the really good stuff…that seems like some long gone forgotten memory… Things are, however, slowly staring to crank up a notch as we edge ever closer toward the good stuff 👌
I view last Saturday's Market Rasen card as a pivotal point for the National Hunt game, a time we can truly start to get excited about what is just around the corner for us.
That Market Rasen meeting also signifies the time when my exhaustive note taking kicks back into action for the jumps. It's a gentle intro back into that side of my analysis as I'm generally not interested in all the races on the meeting and I'm not over-burdened by other jumps cards on the day, meaning I have plenty time to watch the replays without trying to cram in multiple races.
I'm a constant note taker throughout the season, indeed I've constantly been chipping away at my National Hunt files all summer long, but things obviously step up a fair bit on that score when the chunky weekend action rolls around in the October to April period.
The weekend action is also of major importance for the full NTF Subscription Service.
Every Monday of the NTF season I supply full NTF members with exhaustive and detailed coverage of the weekends racing from my own personal notes for a section of the service called, funnily enough, 'Weekend Notes'.
But what are Weekend Notes?
Weekend Notes are an integral part of the full NTF service, with many NTF members using my information to construct their own bets as we thunder on through the long cold National Hunt winter months. Essentially I'm sharing my own private notes with NTF members from the weekends racing just past, tidied up a bit so that they are easier to understand and digest than my own short-hand notes that no-one could ever figure out!! Seriously, it's like my own language, sometimes I even go old school (to be fair I regularly go old school!) and jot stuff down on scraps of paper, usually found in random places round the house by Mrs NTF!!
It works for me though and that's the main thing. It also works fantastically well for full members, providing a thorough round-up of the weekends action and providing a vast quantity of information, stats, trends, thoughts and pointers for the coming weeks and months of the season ahead, even, in some cases, years ahead (I'm often keeping an eye open for bumper/hurdle runners that should, in time, turn out to be future chasing stars, my own betting is weighted towards the chasing side of the game).
Today I want to share with you my weekend notes from the Market Rasen card that has just entered the form book. They clearly are not anywhere near as deep and extensive as they will be once the season is in full swing, and we have a plentiful supply of NH racing to tuck into, but they will give you an insight of a part of the full NTF service you may not have seen before or, indeed, may not have even been aware existed…
---
NTF Weekend Notes – 26th September
www.narrowingthefield.co.uk
Saturday
.
12.35 – Market Rasen – Class 4 | Mares Novice Hurdle | 2m1f | Good | 11 ran
1st – PERFECT MYTH
A fine ride by Bryony Frost here and the 6yo has certainly benefited plenty for the wind-op during the summer (now 2-1-1 since undergoing the op). The B Frost/N King partnership also continue to catch the eye, especially in Chases & Hurdles at C3 level & below…where they are now…43/186 | 23% S/R | +£97.31 BFLSP – W&P 80/186 | 43% S/R – 21% above exp.
4th – HOWDILYOUDO
A bit of a learning experience on hurdling debut here for the 5yo but she started to get the hang of things as the race progressed and finished off strongly. She should come on plenty for the outing, which was her first run for 339 days. Should have at least a standard Novice/Maiden in her locker before too long.
5th – GO CHIQUE
Just didn't jump well enough here on hurdling debut, too many sticky jumps throughout costing her ground and fluency. Will need to sharpen up her jumping plenty.
.
1.05 – Market Rasen – Class 2 | Juvenile Hurdle | 2m1f | Good | 5 ran
1st – SOLDIER ON PARADE
No massive surprise that a dual course winner was able to dispose of the two fillies that were his main market rivals, with 15 of the last 16 renewals of this race being won by males (race splits = male runners – 15/132 | 11% S/R…female runners – 1/30 | 3% S/R). The race has been won by some decent types (the likes of Katchit, Barizan, Royal Irish Hussar & Leoncavallo have won this race) and Soldier On Parade looks to have plenty scope to hold his own against better opposition in coming months, he's worth keeping an eye on in future engagements.
www.narrowingthefield.co.uk
1.35 – Market Rasen – Class 5 | Handicap Chase | 3m0.5f | Good | 10 ran
1st – DO YOU KNOW WHAT
A fine 'waiting' ride from Harry Skelton here and the mare opened her chasing account at the fourth time of asking in fine fashion. The was only the second time she had raced past 2m5f (other time was in a maiden hurdle in 2018) and the step up to 3m certainly did the trick and there could be more to come still now she is over the staying trips. Also worth noting the record of Dan Skelton in C3 or less Handicap Chases at Market Rasen with those horses NOT making their chasing debut…17/53 | 32% S/R | +£39.66 BFLSP – W&P 28/53 | 53% S/R – 27% above exp…an angle DO YOU KNOW WHAT fitted here.
3rd – GAME LINE
The Peter Bowen runners are still running pretty flat at present (1/72 the last 90 days – 2/174 last 365 days) but this wasn't a bad effort and he is a horse that's likely to come on for the outing (he is 0/10 off a break of 16+ days compared to 3/9 off a break of 15 days or less). He would also prefer a flatter track, with his form on tracks with any form of undulations reading 0/10, 0p compared to 3/9, 2p on flat tracks. The 6yo is certainly handicapped to win at present (ran here off OR 90 – highest/last win was off OR 97) and he's possibly worth keeping in mind on coming starts, albeit the form of the Bowen yard does remain a worry. I'd have a set of loose Prime Conditions for GAME LINE as…DSLR 15 or less | OR 97 or less | Flat tracks…where he is 1114 (3/4, 1p – all 3 career wins).
5th – BALLYCRYSTAL COURT
Doesn't seem to stay these trips (now 0/7, 0p over 2m7f+ – both wins coming over 2m6.5f or less) but he's on a career low mark at present (OR 102) and a drop in trip could make him interesting.
PU – WAITONIT
The Twiston-Davies yard are not firing at their usual high autumn standards this year, with overall form figures of 2/26 in the past 30 days, and this was a poor effort from the 5yo, who started as fav. He got away with mistakes on chase debut last time out at Southwell but they caught him out here in open handicap company (last run was a novice handicap) and he'll need to sharpen up that side of his came sooner rather than later.
.
2.10 – Market Rasen – Class 3 | Handicap Chase | 2m 6.5f | Good | 15 ran
1st – DEAD RIGHT
Seems to love Good ground to bounce off (11221 when racing on ground officially described as good) and has a strong record off breaks of 61 days+ (11P121 compared to P822 off shorter breaks). This was only his fifth chase start (and tenth career start in total) so could well be more still to come, especially if stepping back up to 3m+ trips.
4th – VINNIE THE HODDIE
A decent enough effort from the 6yo but he couldn't get the lead in this and that does seem key for him, with both wins to date coming when able to lead from the front in small fields (form in fields of 7 or less reads 132261 compared to 447FU50303 in fields of 8+).
5th – LUCKOFTHEDRAW
Won this race last year from a 1lb lower mark under very similar conditions but a scrappy last fence jump cost him any chance of a repeat victory (in fairness the places were looking his best chance at that point). It looked a tired jump at the last and the Twiston-Davies runners do seem to, unusually, be needing a run to get going this season, with their seasonal debutant runners in August & September only returning the following…2/20 | 10% S/R – 43% below expectation. Those types have averaged out at around a 29% S/R in the past ten years although there are the odd years where they do indeed just need a run to get going. That seems to be the case this year round, so it may be we see a sharper effort from this one next time out.
8th – SLANELOUGH
Was up on the sharp end for a lot of this contest but those exertions started to tell at the second last and he was running on empty come the line. It was a better effort than the bare form suggested, however, and he should strip fitter for the outing. He's yet to win over fences (in ten starts) but he is now on a career low mark over the larger obstacles (and may go down further for this run) and I'd be hopeful of him breaking his chasing duck before too long. Testing ground may be optimum for him, with his form on Soft & Heavy reading 2/11, 5p compared to 0/11, 4p on quicker ground.
9th – MR CAFFREY
Never remotely put into this but he is still 3lbs higher than his last and highest winning mark so I suspect they are trying to get his mark down to a feasible area at present (should get dropped again for this effort). He's also never won going right-handed in 8 starts (0/8, 2p RH compared to 5/28, 6p LH). Dr Newland knows what it takes to get this horse winning (all 5 of his wins have come for Newland, he was 0/21 with his previous trainers) and he's worth looking out for on a LH track when racing from a mark of 122 or below, where he has a form line of 11122211 (5/8, 3p) since racing for Dr Newland.
.
2.45 – Market Rasen – Class 1 Listed | Handicap Hurdle | 2m1f | Good | 12 ran
1st – MARINE ONE
Now 3 from 3 since moving to Dr Newland. Newland has a decent record at Market Rasen over hurdles with his geldings aged 5yo+ that are returning within 30 days of their last start…15/42 | 36% S/R | +£48.76 BFLSP – W&P 25/42 | 60% S/R – 21% above expectation. Could still be more to come from this Frankel gelding, possibly back up to 2m4f sort of trips.
4th – DINO VELVET
Still winless at Listed level+ (0/8, 1p) and these types of races do look out with his level. He's also possibly a little high in the weights at present on OR 134. I'd have a loose set of Prime Conditions for the horse as… C2 level & below (race worth 13k or less) | 2m1f or shorter | DSLR 90 or less = 38311551221 (4/11, 4p – all 4 career wins). Running from a mark of OR 129 or less possibly also ideal (all 4 of his wins from that mark or less) but I'd be a little more flexible on that OR point.
5th – BEYOND THE CLOUDS
Looking to be travelling into this well enough as they turned for home but he found precious little when asked for his effort and I wonder if the handicapper just has him pegged at the minute on OR 145. He'd be interesting if they sent him chasing now, his pedigree doesn't scream 'chaser' but he does seem to have the scope to jump the larger obstacles. Worth a try over fences anyway.
.
3.20 – Market Rasen – Class 5 | Handicap Hurdle | 2m3f | Good | 11 ran
3rd – THE CRAZED MOON
First run off a wind-op here but she always needs her first run back (0/5 off a break of 61 days+) so she'll be better judged on her next effort. She also seems to need deeper ground than this to perform to her optimum, with all three of her wins coming on Soft or Heavy ground in the depths of winter (all three wins coming in December or January). She's on a winnable mark at present (OR 99) so worth keeping an eye on for when she gets some testing ground to attack. Under the following conditions…Dec/Jan | Soft or Heavy | DSLR 60 or less | OR 105 or less | field of 10 or less…she is…111 (3/3 – all 3 career wins)..and those are likely to prove Prime Conditions.
.
4.25 – Market Rasen – Class 5 | Bumper | 2m1f | Good | 11 ran
1st – SUN RISING HILL
A comfortable winner of this bumper and a rare bumper winner for trainer Alex Hales (only the third bumper winner for the yard since 2010, from 87 runners, a 3.5% S/R). When a yard that isn't renowned for bumper winners has one win in eye-catching fashion (like Sun Rising Hill did) it's always worth taking note as it's often a sign that they have a 'live' one on their hands. The horse won his only P2P start back in March in comfortable fashion so he's now 2 from 2 and signs are the yard have picked up a potentially exciting prospect.
2nd – HERE COMES JOHNY
Started as fav for this but the Olly Murphy bumper runners do seem to underperform at Market Rasen for some reason…1/11 | 9% S/R – 56% below expectation…so he's worth another chance away from Market Rasen.
3rd – DATSALRIGHTGINO
Another that was fancied by the market but Jamie Snowdon's bumper debutants often need a run to get going… overall figures of 6/98 | 6% S/R – 43% below expectation for his bumper debutants…so this one should benefit for his first run.
---
As part of the full NTF service I also provide two downloadable versions of the 'Weekend Notes'.
One is a PDF version of the notes for anyone who wants to print off the data and read it the old fashioned way (on the bus/train to work, having your breakfast, lunchbreak at work, on the toilet…🤨) and the other is a text version that has been formatted for easy upload to the Proform database.
As most of you are probably aware I am a dedicated Proform user and one of the features of the software is the ability to upload horse notes for a multitude of horses in one file (as opposed to the pain-staking task of manually adding the notes for each individual horse, one at a time). I know a few of my full NTF members also use Proform to store notes against horses so the second file (the text file) is specifically designed for easy upload to the software.
I have included both those files for your downloading pleasure (should you so wish) below…
---
---
Despite the Market Rasen card being a relatively low-level affair, it is a great 'warm-up' note taking day for me. The notes will become significantly more in-depth and detailed as we start to enter the proper girthy part of the jumps season, but this card, at the very least, fires my National Hunt brain back into proper thinking/analyzing/angle-seeking/pattern finding/future winner finding/under-the-radar spotting mode.
It's almost October folks, the heating is back on, the leaves are on the ground and the good stuff is just around the corner…
Ben (NTF)
p.s.
My 'Alternative to follow list' will be released to members of the FREE NTF list on very soon. If you are not already on that list then make sure you get on it today, so you don't miss my '2020/21 NTF alternative 20 to follow' …
…I've got a few free National Hunt guides in the pipeline for free members over the coming weeks, you don't want to miss out…
2 responses to "NTF Weekend Notes: Future pointers for your National Hunt notebooks…"