20
Jun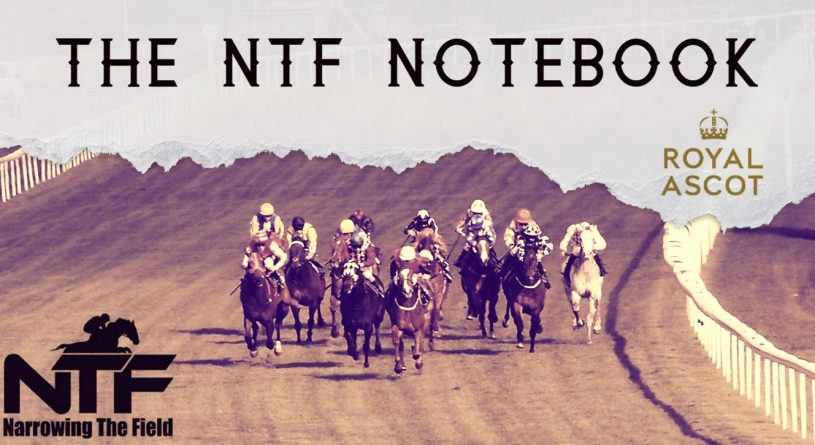 NTF NOTEBOOK: ROYAL ASCOT EDITION
Royal Ascot 2022… quite a week!
Hope you managed to find some tasty winners along the way?
On a personal level I was very pleased with my performance, the highlight undoubtedly being my one dart crack at the Platinum Jubilee Stakes NAVAL CROWN, who landed the G1 sprint at a massive 75.0 Betfair SP 😲 You always like to get at least one of those in the bank each season 😎
As for a star performer of the week…
It's kind of easy to forget about the monster that is BAAEED as he effortlessly went about his business on race 1 of day 1 and then spent the rest of the week with his feet up saying 'beat that suckers!'. I suspect he won the Queen Anne Stakes with plenty still up his sleeve and the Proform Speed Figure he banged in (without turning a hair) would have been enough to see him win all bar three of the previous 25 Queen Anne's… and he wouldn't have been far off in that three either. He's some horse…
Away from the winning machine that is Baaeed I'd put up Queen Mary winner DRAMATISED as the star performer of the week. She ran her own race down the middle/near side with precious cover in front of her and with the balance of speed drawn on the other side of the track, but still powered her way to victory with contemptuous ease. I was deeply impressed by her win last week and she is clearly a very high class filly in the making, even more so when you consider the fact that the horse she pulverised by 4L on her debut has since come out and won twice by wide margins, the other horses in that race have also boosted the form with wins and solid placed performances. I'm excited to see what Dramatised produces for the remainder of her 2yo season… and beyond.
Those were the winners that impressed me but now let's concentrate on the losers that caught my eye, in the the Royal Ascot edition of the 'NTF Notebook'…
---
.
NTF NOTEBOOK: Royal Ascot 2022
.
SAINT LAWRENCE
6th of 16, 5f Kings Stand, Group 1, 14th June
I wouldn't be convinced 5f is the optimum trip for this 4yo, nor would I say Good to Firm is prime underfoot conditions (4426 on G/F) and I'd be even less convinced he's a G1/G2 player (now 0/5, 0p at the top two levels) but he did plenty of good late work in this (which has become a theme of his recently over sprint trips…and especially over 5f) and he ended up posting a good figure with his 6L 6th.
Despite being winless at 3 (and so far in 3 starts as a 4yo) he has run some sound races and there was enough in this to suggest he could get back to winning ways before too long.
I'd be interested in him under the following *rough* set of Prime Conditions…
G3 or less | Good or slower = 332311 (2/6, 3p – both career wins)
…ideally over further than 5f (although if they get him in a race where there is a pace collapse in front of him his 6f/7f would likely come to the fore).
.
ARATUS
10th of 29, 1m Royal Hunt Cup, Class 2 Handicap, 15th June
This race played to the hands of those drawn middle to low and those drawn high and racing on the near side were at a definite disadvantage. This Clive Cox 4yo was drawn in 24 (21 when you take into account the non-runners) and finished 3rd best of those that raced near side, but that doesn't really tell the full story as he was travelling as good as anything as the groups begun to merge but his stamina reserves begun to waver on his first try beyond 7f and he just didn't quite see out this 1m trip.
It's actually the second race in a row he's been undone by the draw as he also found himself on the wrong side in the Victoria Cup (he was drawn in stall 9 whilst the first three home broke from stalls 27, 26 & 28) and that effort was also worth marking up plenty (he was a 6L 9th of 27).
The way he travelled here in the Hunt Cup from a poor draw, and before his stamina became an issue, suggests that his current mark of OR 100 (dropped 1lb for this run) shouldn't be an issue for him and he'd be interesting if they drop him back to 7f trips. Also well worth noting that he seems to hit peak form in the second half of the season, with form of 11121 in the July-Nov period (compared to 390 in April-June).
.
WHOPUTFIFTYINYOU
4th of 30, 1m Britannia Stakes, Class 2 Handicap, 16th June
Those drawn in the top quarter of this handicap (around 22+) really struggle to land a blow and were at a big disadvantage right from the off. They either ended up out on the wing of the main body of runners or, as a small group decided to do, race in a small breakaway group nearside. Adam Kirby made the decision right from the off to track across to the big group and that decision probably allowed him to achieve this 4th placed finish, I doubt he could have finished any closer due to how the track/pace played in this one. It was the 3yo's first defeat in five career starts but he comes out of this with his upwardly mobile reputation still firmly intact and he also managed to achieve a career best figure (on Proform Speed figures) despite the serious draw handicap he faced.
He still looks like one with plenty more to offer this season…
.
RHOSCOLYN
3rd of 29, 7f Buckingham Palace Stakes, Class 2 Handicap, 16th June
Low was the place to be in this, with the first two home breaking from stalls 2 and 6 and the 5th horse coming from stall 1. RHOSCOLYN broke from 18 and had to sit and suffer out back behind a wall of horses and hope that the gaps would open. The gaps DID open but not after a bit of weaving about by Danny Tudhope in the saddle but ultimately the 4yo would probably have liked to have got going sooner than he did and he just ran out of track.
He's slowly slipping down from his peak rating of OR 106 (ran here off OR 103 although has been upped 1lb to OR 104 for this run) and I'd be interested in backing him under the following…
C2 or less | April-August | DSLR 25 or less | Fields of 8+ = 21112015 (4/8, 2p – all 4 career wins)
… he may be at his absolute peak when running round a bend (all 4 of his wins have come round a bend) but I certainly wouldn't dismiss him on a straight track, as evidenced by this run.
.
STAR OF ORION
13th of 29, 7f Buckingham Palace Stakes, Class 2 Handicap, 16th June
Nothing went right for this 4yo straight from the off. He almost fell out of the gates and found himself on the back foot straight off the bat. Jockey Rob Hornby then decided to track over to the higher drawn numbers, which evidently wasn't the place to be, and managed to find doors closing on him left, right and centre. He finished off his race without ever really having any major buttons pushed and this just looked like a run to put a big black line through.
These 7f trips are probably ideal for him, although I'd also consider him over a straight 6f as well, and he's worth looking out for under the following…
Good or quicker | 6f-7f | June-Sept = 0212321 (2/7, 4p – both career wins)
…the 0 coming in this race.
.
QUEEN OLLY
4th of 16, 6f Albany Stakes, Group 3 Fillies, 17th June
This effort deserves marked up a huge amount as low again was the place to be and she ran a massive race from her stall 14 berth, finishing an excellent 2.7L 4th, after almost hitting the front at the furlong marker. Her effort reads even better when you look at where those draw beside her ended up finishing…12th (stall13), 8th (stall 15), 15th (stall 16), 14th (stall 17) & 16th (stall 18)…so stalls 13, 16, 17 & 18 filled 4 of the last 5 finishers. To get a close to the two favs in this (Meditate and Mawj, who finished 1st & 2nd) as she did, when they had a prime draw and she had a very poor draw, tells you just how good she could potentially be and I could see her landing a decent prize somewhere before seasons end.
.
BRILLIANT LIGHT
4th of 18, 1m4f Duke Of Edinburgh Stakes, Class 2 Handicap, 17th June
This has proven to be an impossible race to win from the bottom quarter of the draw, with horses drawn in that section of the draw returning 0/97 and winning none of the last 23 renewals (since race became 1m4f, ignoring the York renewal in 2005). That was again highlighted here, with 5 of the first 6 home drawn in stalls…18, 10, 16, 15 & 17… BRILLIANT LIGHT being the one to break that chain as he broke from stall 4, which clearly indicates he ran a massive race against a long held draw bias.
He's lightly enough raced for a 5yo, with this being only his 15th start and only 9th start on these shores (he's spent a couple of winters in Meydan). If you ignore his Meydan runs and look only at his starts in the UK I'd be giving him Prime Conditions of somewhere around…
1m2f-1m4f | G/S or quicker ground = 414112 (3/6, 2p – all 3 career wins)
…and this run suggests his current mark of OR 96 should be within the ceiling of his abilities.
.
FRESH HOPE
6th of 28, 1m Sandringham Stakes, Class 2 Fillies Handicap, 17th June
The high numbers comfortably held sway in this one, with the first 5 home drawn in stalls 21, 17, 24, 25 & 26 and 7 of the first 8 home drawn 11 of higher (6 of the first 8 home drawn 17+). FRESH HOPE from stall 6 was the only one from a single figure draw to break into the first 8 home and she was a big eye-catcher from the low numbers, travelling ominously well for a good part of the race.
Charlie Fellowes' New Approach filly actually won her side of the draw quite easily and had quite a wide margin over anything else drawn in a single figures and she did all she could on the far side, but could do nothing about those better advantaged by the pace on draw breaking from the higher numbers.
She could be very well-treated at present off OR 82, even more so when you consider she finished just over 1.5L behind the now 106-rated Tom Clover filly Rogue Millennium at Wetherby on seasonal debut in April (they were racing off levels that day) and I'd be shocked if she doesn't take advantage of her lowly mark sooner rather than later.
.
FRESH
9th of 26, 6f Wokingham Stakes, Class 2 Handicap, 18th June
This was a strange race to look at pre-race as there was no real obvious pace angles in it and it was far from easy to determine where the speed was housed. As it transpired you needed to be drawn high and if you were parked down low at the off you had very little chance of being involved in the finish, with the first 8 home being drawn…19, 29, 31, 28, 27, 15, 25 & 22.
FRESH was drawn in stall 7 and that simply was not a position he was going to really be able to make an impact from (given how the race played out). Danny Tudhope swung left as the gates opened to try and hook onto what was clearly the place to be but that meant he was stuck out the back behind a large body of horses and he had to change positions at least three times to try and weave a passage through. Whilst he was threading his route those that were able to just gun it straight were getting on with laying their challenges down and he probably did wonders to finish as close as he did.
He's perhaps not quite delivered quite what could have been expected yet in his 17-race career but I don't think he's ungenuine (which you could possibly think given he's only won 2 of his 17 starts) and I do think he's on a mark he can score from (OR 98) and he's worth looking out for under the following…
Handicaps | DSLR 16-65 = 04338212241 (2/11, 6p – both career wins)
.
GROUNDBREAKER
4th of 13, 1m2f Golden Gate Stakes, Class 2 Handicap, 18th June
Another of those Ascot round track handicaps where it paid to be drawn wider, with the first five home drawn in stalls 7, 13, 9, 2 & 10 (once non-runners were taken into consideration). GROUNDBREAKER in stall 2 is the one that stands out as he had to fight with congestion later in the day from his low draw, particularly between the 2f pole and the 1f pole, and he had to sit and suffer for a bit when he should have been starting to engage top gear. He finished strongly once he was in the clear but it was all too late by then and his draw (and a bit of a tardy start) cost him here.
Despite the troubles he still managed to equal his career best speed figure (Proform Speed figures again used as my gauge) and I'd like to think he'd have easily beaten that figure with a smoother passage/better draw.
His mark of OR 90 looks more than workable for him, especially when you consider he's had the likes of Al Qareem and Sea Silk Road behind him at Kempton last December, both of whom are rated quite a bit above him now.
---
---
Remember you can flick through all previous notebook posts by visiting the main NTF Blog page
…and to make sure you never miss any NTF news simply pop your name in the form below…
⬇️⬇️⬇️
.
Cheers – Ben (NTF)