7
Mar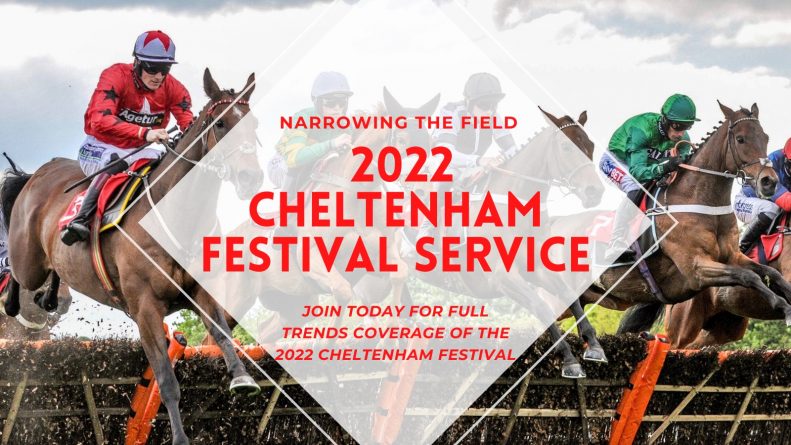 Five Cheltenham Festival stats that will need to be broken in 2022…
One. Week. To. Go.
One week to go and then the Irish invasion begins and the UK trainers scramble around for any scraps they can pick off to try and get something on the board for the 'home team'.
Will the Irish continue their domination at the 2022 Cheltenham Festival? 
Probably… but as punters we need to make use of these things… it's no secret… there is no point in moaning about it… you just need to try your best to profit from what is happening.
When it comes to punting the Ireland v UK trainers 'battle' should be of no real concern to us. An interesting side story, maybe, but on the punting front…well I don't care if the horse is trained in Timbuktu or bloody Maggieknockater (it's a place near where I grew up…always thought it was a funny name…there probably won't be any Festival winners coming from there🤷‍♀️) all I care about is does the horse have a chance of winning/placing in the race it is entered in and is it trading at a price I want to be backing it at… don't get sidetracked by the stories (leave that to ITV Racing!)…. concentrate on the horses, the stats and the trends… and most of all enjoy the four days!
Talking of stats and trends… today I'm going to look at five stats that will need to be busted next week if some of the well-fancied runners are to justify their position near the head of their respective markets.
Lets get stuck in…
Five festival stats that will need to be broken at the 2022 Cheltenham Festival…
1 – APPRECIATE IT and the 'running off a long break' stat…
If APPRECIATE IT (currently around 7/2 for the Champion Hurdle) is to lower the colours of red-hot fav Honeysuckle then he'll need to join a very select group of horses that have won a festival Grade 1 off the back of a 120+ day break…
Grade 1 races at Cheltenham Festival | Horses returning off a break of 120+ days
3/97 | 3% S/R | -£72 LSP – W&P 13/97 | 13% S/R – 50% below exp (since 2003)
It's well worth pointing out that 2 of the 3 winners came in the bumper… so if we only look at G1 Chases & Hurdles we get…
1/54 | 1.8% S/R | -£41 LSP – W&P 6/54 | 11% S/R – 71% below exp
Probably worth noting that the trainer of that one solitary Chase/Hurdle winner was none other than Mr Willie Mullins! Which shouldn't really surprise us as he is a serial disrespector of trends…
There is no denying that Appreciate It was VERY good when winning the Supreme last season but that facts are that we have no visual evidence as to whether or not he can cut the mustard out with the novice ranks…
That would be OK if it was the start of the season… but it isn't and he's being asked to step up to the plate at the first time of asking on the biggest stage of all against an unbeaten super-mare who he not only has to give race fitness to but also a hefty slab of 7lbs to!
If Mullins pulls a rabbit out of the hat here then fair play, I'll once again bow to greatness…
2 – STATTLER and the 'lack of experience over fences' stat…
If STATTLER (currently around 5/2 for NH Challenge Cup) is to get his head in front in the 3m6f marathon chase that closes out day 1 then he'll need to do it with less experience over the larger obstacles than your usual winner of the race…
Horses with less than 3 previous chase starts in the NH Challenge Cup
1/86 | 1% S/R | -£78.50 LSP – W&P 10/86 | 12% S/R – 83% below exp
Stattler comes into the NH Chase with only two chase starts on his CV… he's won them both… but two chase starts falls below the normal experience levels of the winners of this 3m6f contest.
Indeed if we look at the race since it has been a Class 1 contest (so the last 8 renewals) then every winner came into the race with at least FOUR chase starts to their name…
Those that lined up with three or less Chase starts on their CV returned…
0/41 | 0% S/R | -£41.00 LSP – W&P 6/41 | 15% S/R
In recent years this stat has been the downfall of the following fancied runners…
2021 – Next Destination (3/1) – Escaria Ten (11/4f) – Remastered (11/2)
2020 – Carefully Selected (10/11f)
2019 – Discorama (9/2) – Ballyward (9/4f) – OK Corral (4/1)
2017 – Beware The Bear (9/2)
2015 – Sego Success (9/2)
2014 – Shutthefrontdoor (4/1)
There are a lot of fences to be jumped in the NH Challenge Cup and some solid chase experience in the tank has been a major benefit for winners of this race, especially in recent times… Stattler looks a bit short on that experience…
3 – ENERGUMENE and the 'lack of Festival experience' stat…
If ENERGUMENE (currently around 4/1 for the QMCC) is to reverse form with Shishkin then he'll need to become only the third horse since 2007 to win the QMCC without previous festival form to his name…
13 of the last 15 winners of the Queen Mother Champion Chase had previous experience of the Cheltenham Festival
Energumene will be having his first taste of the festival environment this year, indeed it will be his first taste of Cheltenham full stop…
Hot-fav Shishkin already has two Cheltenham Festival victories to his name… he's already hardened to the rigours of Prestbury Park in the spring… Energumene on the other hand, well he'll need to adjust pretty quickly to the festival environment, figure out the undulations as he goes along and then try to find a way of reversing Ascot form with the Henderson winning machine… Good luck!
Whilst he's at it he'll also be trying to land Willie Mullins his first QMCC crown, the master trainer currently sitting with a record of 0/13, 3p in the two-mile showpiece…
*Note: This admittedly wouldn't be the strongest festival trend in the world… but ideally you'd want all the boxes ticked when you are trying to bring down such a talented opponent as Shishkin… and for me, with this stat in mind, Energumene doesn't quite have all the boxes ticked…
**I am also aware I'm living life on the absolute edge by flagging up negatives against three Willie Mullins horses 😵😬🙈 but hey-ho, life is short and sometimes you gotta throw a few haymakers at it or else you won't get anywhere…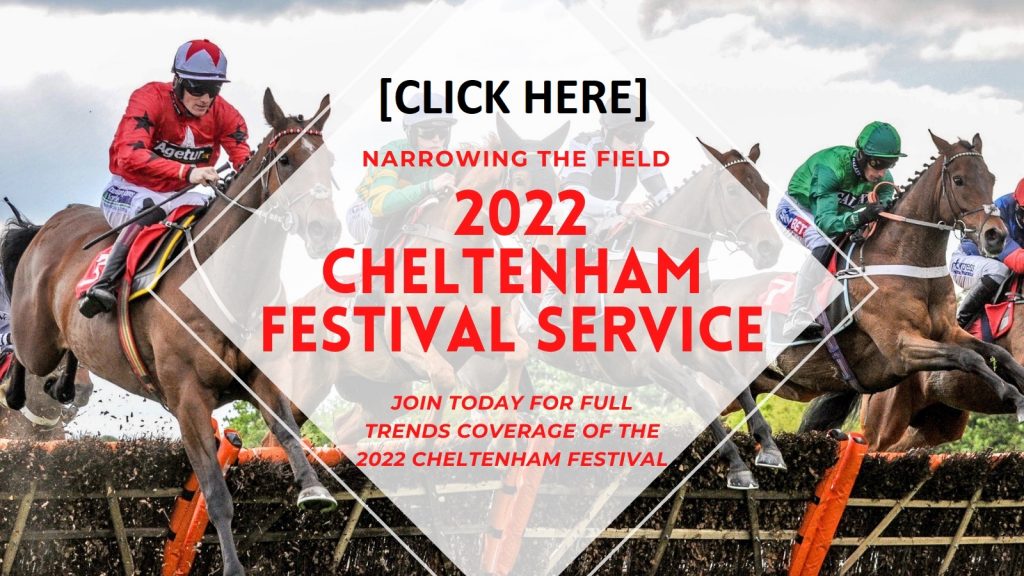 4 – CHAMP and the 'older horses in 3m+ G1 Festival races' stat…
If CHAMP (currently around 11/2 for the Stayers Hurdle) is to pick up another festival prize then he'll be the first horse since at least 2003 to win one of the 3m+ G1's aged in double digits…
Horses aged 10yo+ in Cheltenham Festival Grade 1's over 3m+ (since 2003)
0/104 | 0% S/R | -£104 LSP – W&P 11/104 | 11% S/R
So 104 (one hundred and four) 10yo+ horses have tried to win a festival G1 over 3m+ trips and all 104 have fallen short…
Champ is a 10yo, a 10yo that fluffed his lines in the Cleeve Hurdle last time out nonetheless, and I just can't have him for the Stayers Hurdle, he's too damn old!
Indeed if you look at the Stayers Hurdle in isolation and look at the last 24 renewals you will find that none of the winners were aged older than 9…
43 10yo+ horses have tried to win the Stayers Hurdle, none have won and only five have even placed…
This stat also takes care of fellow 10yo and Champ's Cleeve Hurdle conqueror PAISLEY PARK (currently 6-1 for the Stayers Hurdle).
It quite simply has not been a race for the oldies… and in this case Champ is classed as an oldie…
.
5 – CELEBRE D'ALLEN and the 'Philip Hobbs runners in handicaps' stat…
If CELEBRE D'ALLEN (currently around 5/1 for the Paddy Power Plate Handicap Chase) is to justify favouritism then he'll need to buck his trainers poor recent record in Festival handicaps…
Philip Hobbs' 10-year record in 'normal' Handicaps at the last ten Festivals
1/88 | 1% S/R | -£82.50 LSP – W&P 9/88 | 10% S/R – 81% below exp
And by 'normal' I mean not the X-Country Chase (when it was a handicap), which Hobbs did manage to pilfer with course specialist Balthazar King in the last ten years… I'm talking about regulation handicaps, the X-Country is a different beast altogether, it is a law to itself, X-Country/course experience trumps everything else in that…
In 'normal/regulation' handicaps at the Festival the harsh reality is that Hobbs' runners have really struggled to land any sort of a blow.
Indeed if we filter it to look only at Handicap Chases, which is obviously more relevant to Celebre D'Allen, then things look even worse…
P Hobbs | Cheltenham Handicap Chases (since 2012)
0/32 | 0% S/R | -£32.00 LSP – W&P 2/32 | 6% S/R
Just the measly two placed efforts to show… 😬
Take the stats back to 2003 and look at Hobbs' runners in Cheltenham Festival Handicap Chases and you get…
1/70 | 1.5% S/R | -£57.00 LSP – W&P 9/70 | 13% S/R – 75% below exp
…does not make for great reading at all…
---
So there you have it… five trends that need to be busted for the above five horses to be victorious at the 2022 Cheltenham Festival… and hey, they could all wind up in the winners enclosure, that's racing, you stick your neck on the chopping block enough times and you'll be made to look a fool on plenty of occasions… but to be right in this game you have to be willing to be wrong so unless something big happens between now and race time I plan to be fully against APPRECIATE IT, STATTLER, ENERGUMENE, CHAMP & CELEBRE D'ALLEN…
If you want to find out what I WILL be backing in those races, and indeed what I'll be playing over the full four days of the 2022 Cheltenham Festival, then you can hook onto the full NTF members service at the following page…
Cheers – Ben (NTF)
11 responses to "Five Cheltenham Festival stats that will need to be broken in 2022…"