23
May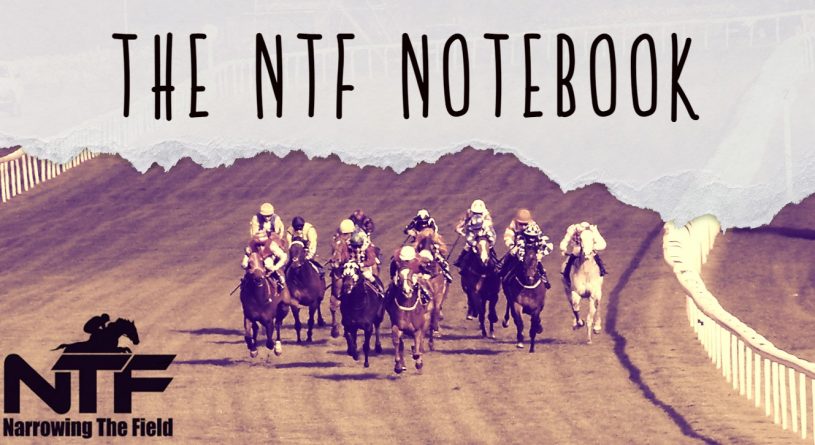 NTF NOTEBOOK: MONDAY 16th – SUNDAY 22nd MAY
Afternoon all
A selection of runners appeared on the track over the past 7-days from last week's Notebook Horses, a couple of them didn't have suitable conditions ( so were not of interest), one was undone by the draw for the second race in a row (Eldeyaar) and the other (Aberama Gold) ran a sound race in 5th to pick off some E/W returns at York. 
Here are the horses that entered my notebook from last week's racing…
.
---
.
NTF NOTEBOOK: MONDAY 16th – SUNDAY 22nd MAY
 .
CASSY O
2nd of 7, 1m Handicap, Carlisle, 16th May
This Camacho gelding usually takes a few runs to get his motor fully running and he's now 0/12 when you combine his first three starts in a season. His record on third and fourth start in a season reads 1-5-1-1 and he now becomes of interest on coming starts. The ground was also likely to be bang against him here as all his wins to date have come on Good to Soft or quicker and he's now 0/7, 1p on Soft ground, so plenty in this effort to suggest he'll warrant plenty interest in coming starts, especially if he rocks up under his Prime Conditions…
G/S+ | OR 78 or less | DSLR 30 or less | Hcps | Blinkers | June or later = 1021114 (4/7, 2p – all 4 career wins)
I'd be flexible enough on the OR angle as he's run some good races from higher than OR 78 and it may be his actual ceiling is a shade higher than that.
—–
COPPERLINE
4th of 8, 7f Handicap, Carlisle, 16th May
This Dandy Man 3yo fluffed the start a little here on his handicap debut and he took a while to get into his groove, doing all of his best work in the closing furlong once the three ahead of him had flown. To be honest I never expect much of the Easterby 3yo's when they make their handicap debuts in May, with those types from the yard returning the following figures…
3/103 | 3% S/R | -£84.00 LSP – W&P 17/103 | 17% S/R – 64% below exp
… the vast majority of them seem to be running to gain some race craft for future assignments.
Copperline himself never raced at two and then had three relatively quick spins during April to pick up a handicap mark, with those three races coming over 5f & 6f, based on this effort further than 7f could prove optimum for him (meaning he's gained a lowly handicap mark over shorter than ideal trips).
He may not be one to gain instant profits from but I suspect he'll prove better than what he's been able to show so far on his four starts.  
—–
JUST HISS
3rd of 10, 1m Apprentice Handicap, Ayr, 18th May
That was his 3rd run of the season and he's yet to win on any of his first three starts in season… now 0/21 on 1st, 2nd & 3rd start in season…
He's on a winnable mark at present and is worth looking out for under the following…
Hcps | OR 86 or less | DSLR 11-22 | G/S-Good | 1m-1mf | 3 or more starts in season = (5/8 – all 5 career wins)
—–
SPANISH MANE
3rd of 10, 1m Handicap, Yarmouth, 18th May
This mare usually peaks in the June-September period and her form out with those months reads 0/17, 3p, for her to only be beaten 1.5L come the line in this is noteworthy and suggests she's about ready to find her 7th career win before too long.
She usually performs best under the following Prime Conditions…
Good+ | 7f-1m Hcps | OR 58 or less | June-Sept = 5113155109131 (6/13, 2p – all 6 career wins)
She ran here off OR 57 so she's sitting on a winnable mark at present and looks about ripe for scoring.
—–
COLEY'S KOKO
3rd of 9, 5f Handicap, Catterick, 20th May
Nigel Tinkler's 4yo is now back on her last winning mark and she ran a sound race here under her inexperienced 10lb claimer. These were almost Prime Conditions for the filly…
OR 67 or less | C5 or less Hcps | 8 or less runners | DSLR 15 or less = 111 (3/3 – all 3 career wins)
…the 9-runner field being the only minor quibble here.
A fourth career win shouldn't be too far away and the return of Rowan Scott in the saddle wouldn't be a bad thing as he's been on board for all 3 previous victories.
—–
AL BAAHY
3rd of 17, 7f Handicap, York, 21st May
Ran well from wide draw as he had to sit and bide his time out the back whilst those that finished around him at the business end were able to sit handy throughout and/or were able to break from lower stalls (he was drawn in stall 17 whilst the two ahead of him were drawn 1 & 5 and the two behind him were drawn 14 & 8). He also had to switch to get running room late on and this run is a lot better than the bare form suggests.
This was his first start in handicap company and he looks to have started this stage of his career on a decent mark to go to war with (OR 79) based on his maiden/novice form. He was beaten comfortably by 11L on seasonal debut at Pontefract but the winner that day – Missed The Cut – has since come out and won a Salisbury Novice by 5.5L and finds himself rated 92. The horse he finished second to on his final start of last season – Notions – won first time out this season and is now rated OR 85. The two horses he split at Leicester on his second last start last season – Carbon & Mythical Dancer – are now rated 81 & 87. All evidence pointing towards AL BAAHY currently sitting on what should be a winnable mark.
This was a solid first handicapping effort, from a disadvantaged starting position, and he should be up to picking off a race before too long.
—–
HELM ROCK
5th of 20, 7f Handicap, York, 21st May
A single figure draw looked to be a key to this race, with the first three home being drawn 7-9-6. Helm Rock was parked wide in stall 17 and that pretty much had him on the back foot from the off. He did manage to pick his way through the pack down the home straight but he had to switch a couple of times to find the gaps and ultimately the handicap the drawn provided him with was enough to stop him reaching any closer than 5th.
This was still, however, a fine effort from the 4yo, posting a career best figure in the process (using Proform Speed Figures as my gauge) and he looks a horse still with plenty upside to come this season.
—–
RAIN CAP
4th of 12, 7f Handicap, Musselburgh, 21st May
This 5yo doesn't usually hit form until June and later (he's now 0/8 in the April-May period) but he posted a solid effort here and in fairness he's run well enough on all three starts this season, whilst all the time being able to shuttle his mark down to his last winning mark of OR 52. He looks about ready to find his way back to the winners enclosure again and he's one that would interest me under the following Prime Conditions…
OR 52 or less | June-Sept | DSLR 14 or less | 6f-7f = 1121 (3/4, 1p – all 3 career wins)…ideally no softer than Good to Soft
.
---
Add the latest NTF Notebook horses to your trackers so you don't miss them, or, alternatively, hook up to the full NTF service where I'll post in the NTF Stats Sheets when they are set to run (if I deem them to be running under Prime Conditions of course), along with all the other horse I've compiled notes on in recent weeks/months/years.
Have a great week 👍
Ben (NTF)
Join the full service by clicking on the following image ⬇️⬇️⬇️

2 responses to "NTF NOTEBOOK: MONDAY 16th – SUNDAY 22nd MAY"