14
Jul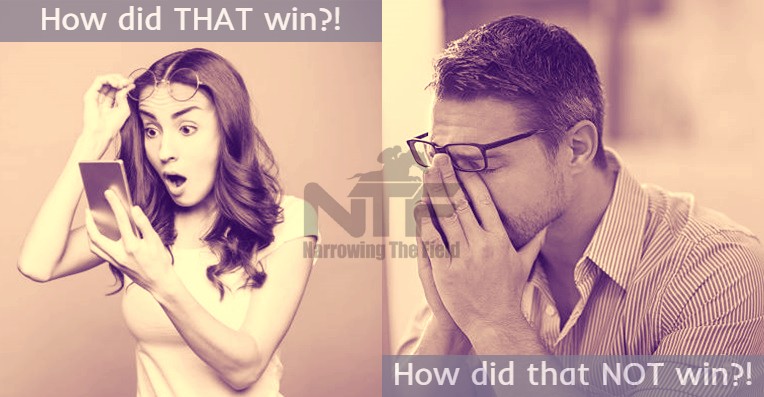 How did THAT win/NOT win? (14th July 2022)
Time for the latest instalment of…
How did THAT win/ How did that NOT win?!?
If you are new to the blog or just want a reminder of what these articles are about then slide over to the main NTF Blog menu and have a quick flick back over previous posts… 
Let's see what this week's post brings…
---
14th July 2022 – How Did That Win/Not Win
 .
How Did THAT Win?
DEFENCE OF FORT (P Chapple-Hyam) – WON at 12/1 (BFSP 15.66)
1.50 Ascot, Saturday 9th July
Before I start this one it is worth pointing out that there was a track bias at play on the straight track at Ascot this day, a bias towards the high numbers, and Peter Chapple-Hyam's debutant did benefit from that being that he broke from stall 12 of 12, but ultimately he did win by a yawning 4.75L come the line and that wasn't solely down to the track bias, there was more at play with this 2yo than simply taking advantage of a favourable draw, banging in a Proform Speed figure of 70 on your debut run (when the Speed Class Par is 61) is as good an indicator as any that this shouldn't be written off as simply a horse taking advantage of the draw…
That aside, and keeping with the theme of these posts, could we have spotted clues pre-race that may have led us to this double-priced winner? Well yes, there were, and the clues would have come from the sire of Defence Of Fort; STARSPANGLEDBANNER.
It's always worth remembering that Starspangledbanner had a bit of a 'false start' in the breeding sheds and it best to look at his stats once he went back to stud duties (as his first crop were limited…because…well…he couldn't be bothered 'getting in the mood' enough times on his first crack at stud duties…🤨) and the following stats are taken from the start of 2019 (when he realised stallion duties weren't actually all that bad a way to spend your retirement 😎)…
Take a look at the offspring of Starspangledbanner under the following…
Starspangledbanner 2yo offspring on career debut | Straight turf tracks | C1-C4 races
19/64 | 30% S/R | +£137.61 BFLSP – W&P 23/64 | 36% S/R – 207% above expectation
That angle has been profitable to follow each of the last four years and his last 10 qualifiers on the angle have returned the following form line…
1011815161 (6 winners from 10 runners)
…unlike their dad's first try at being a stud, the Starspangledbanner 2yo's have proven to be bang ready to go right off the bat and they've comfortably been outperforming market expectation on their career debuts…
.
How Did That NOT Win?!
YAHSAT (K Burke) – LOST at 8/11
3.15 York, Friday 8th July
Karl Burke's 2yo was a warm order to land this 5f Novice Stakes on the Knavesmire, starting as the well-punted 8/11 Fav (1.74 on Betfair). She had gone close in a Listed contest at the track in May (beaten a head) and she ran a solid race in the Queen Mary at Royal Ascot on her last outing, so on the bare bones of it I could see why she was at the head of the market.
Were there, however, warning signs that we should have picked up on in the stats that would have led us away from the short-priced fav?
Yes, I think there were and again it came from the pedigree side of things…
Take a look at the record of her sire Dandy Man at York in the June-October period…
Dandy Man offspring | York | June or later
4/132 | 3% S/R | -£103.83 BFLSP – W&P 23/132 | 17% S/R – 68% below expectation
…that's a heck of a lot of losers there and a hefty hole left in your betting bank if backing them all…
The figures dip a shade further when you look at those that didn't win last time out…
2/107 | 1.8% S/R – 79% below expectation
…we definitely need to be wary of those Dandy Man kids at York…
---
I'll be back same time next week with the next edition of 'How did THAT win/How did that NOT win?' 
Ben (NTF)
If you've missed any of the recent free NTF Blog posts then get them all on the main NTF Blog menu page
The latest 'NTF Notebook' post can be found HERE