7
Jul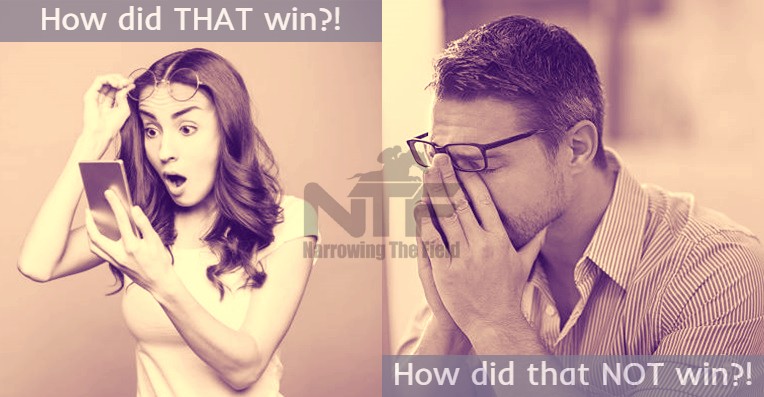 How did THAT win/NOT win? (7th July 2022)
Time for the next instalment of…
How did THAT win/ How did that NOT win?!?
If you are new to the blog or just want a reminder of what these articles are about then slide over to the main NTF Blog menu and have a quick flick back over previous posts…
Let's crack on with this week's post though…
---
7th July 2022 – How Did That Win/Not Win?!
x
How Did THAT Win?
FIGHTING TEMERAIRE (D Ivory) – WON at 40/1 (BFSP 44.17)
7.00 Nottingham, Saturday 2nd July
He was the 40-1 outsider of the entire field… he hadn't won since June 2020… yet he won this Class 5 Handicap going away at the line 🤷
Were there clues we could/should have picked up pre-race?
Possibly… yes… and it's to do with trainer Dean Ivory and his record at Nottingham, particularly under the following conditions…
D Ivory | Nottingham Class 4 or less Handicaps | April-July | Good or softer | NO TT worn
13/30 | 43% S/R | +£164.11 LSP – W&P 18/30 | 60% S/R – 363% above expectation
*The NO Tongue-Tie filter may be something about nothing…it's hard to say…but Dean Ivory TT wearer's in a Handicap over 6f+ generally seem to struggle (6/107 | 5.5% S/R – 45% below exp)… so I'm going with it 👍
Clearly you won't find many qualifiers on this in a year… but when they win at the odds Fighting Temeraire did on Saturday you're happy enough to hang around waiting for them! (and he wasn't the first to win at tasty odds either…)
If you had played all the qualifiers E/W you would have picked up +£205.95 points profit… so again, well worth waiting for that next Dean Ivory Nottingham qualifier to come along…
x
How Did That NOT Win?!
TRUSTY RUSTY (A CARROLL) – LOST at 13/8
5.20 Newbury, Thursday 30th June
Trusty Rusty came into this off the back of an eased down 4.5L success at Chepstow 20-days previous… she looked to be coming here bang in form so I suppose on that level you could see why she was fancied in the market for this Apprentice Handicap… what the market failed to factor in, however, was the record of her trainer Tony Carroll at Newbury with runners coming off breaks of longer than 8-days…
Tony Carroll | Newbury (Flat) | DSLR 9+
2/118 | 1.5% S/R | -£97.00 LSP – W&P 14/118 | 12% S/R – 78% below expectation
…oof! Decidedly dodgy to say the least 😬😬
Trusty Rusty finished comfortably beaten in 4th… and the signs were definitely there pre-race…
---
I'll be back same time next week with the next edition of 'How did THAT win/How did that NOT win?' 
Ben (NTF)
If you've missed any of the recent free NTF Blog posts then get them all on the main NTF Blog menu page
The latest 'NTF Notebook' post can be found HERE