30
Aug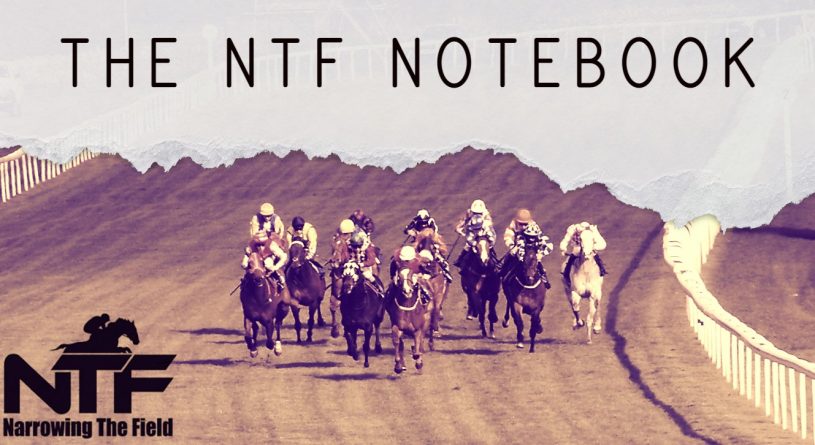 NTF NOTEBOOK: Monday 22nd – Sunday 28th August
All survive the Bank Holiday weekend all good?!
I dunno about you but my favourite part of Bank Holiday weekends is the Monday morning dog walk! It's deathly quiet, never a sole in sight and I'm pretty much walking around the town in splendid isolation…bit like QUICKTHORN when he won the Lonsdale Cup the other week at York 😆😆 …maybe I'm just getting old though… which is definitely true! Trimmed my beard the other day and when I looked down there was just a pile of white hair?!? I tried to blame it on dog hairs (our big greyhound is a white and brindle boy) but Mrs NTF confirmed it was my beard and followed it up with a cutting comment of 'nah, you're just an old man now' 😟
Ah well… with age comes great wisdom… 🤨
…and here is my latest splurge of wisdom for you all with this weeks 'NTF Notebook' post…
>
---
NTF NOTEBOOK: Monday 22nd August – Sunday 28th August
.

CLOTHERHOLME
4th of 10, 7f 4yo+ Handicap, Musselburgh, 24th August
Ann Duffield's 5yo was well fancied for this Class 6 (started as 5/2 fav) but he could only manage a 2.8L 4th come the line. He still managed to match his previous best speed figure, however, and that's notable as the Musselburgh track was, as it often is, favouring those up with the pace this day, with the winners on the round track being described as…
mid-division, left prominent over 4f out – chased leaders – prominent, led over 2f out – prominent, led 3f out – chased leaders
…as such CLOTHERHOLME'S mid-division/hold-up style was always going to be a tricky place for him to make an impact from.
He's been running well this season and he does usually keep his form until at least September and he's worth keeping in mind for when getting his Prime Conditions…
Turf C6 Handicaps | 7f-1m0.5f | June-Sept | DSLR 11-21 | wearing a Hood = 3251113 (3/7, 3p – all 3 career wins)
.

ZIG ZAG ZYGGY
6th of 11, 5f 3yo+ Handicap, Hamilton, 26th August
Jim Goldie is yet to get much from this 7yo since he's made his way back to the yard for a second spell, but I'm pretty sure the blinkers he's been wearing are doing nothing for him as he's 0/6, 0p with that particular headgear on and I'd hope for better from the horse once the headgear is removed or they switch back to the previously successful visor.
On his best form he's exceptionally well handicapped at present on OR 59 and he's possibly worth taking a swipe at under the following conditions…
OR 82 or less | Straight 5f-6f | C4 or less Handicaps | March – September | NO Headgear or a Visor = 6/13, 2p – all 6 career wins
*Zig Zag Zyggy is entered at Hamilton on Wednesday (31st Aug) and is wearing NO headgear
.

TRIPLE JAYE
4th of 9, 5f 3yo+ Handicap, Beverley, 27th August
Tim Easterby's 4yo filly was making her seasonal debut here after a 295 day break and she ran a big race against race fit rivals, only fading in the final furlong when her lack of race sharpness begun to tell. She still managed to bang in the second best speed figure of her career (Proform Speed Figure) despite needing the outing and she's of plenty interest going on from this.
She did all her winning at the back end of a busy season last year and all her wins to date have come in the August-September period (4/7, 1p in those months compared to 0/10, 1p in all other months) and I'll be looking out for her under the following Prime Conditions…
Aug-Sept | 5f | Fields of 12 or less | NOT season debut = 11112 (4/5, 1p – all 4 career wins)
*DSLR 15 or less also a positive
.

OO DE LALLY
10th of 11, 7f 3yo+ Handicap, Goodwood, 27th August
The top quarter of the draw is a very hard place to win from over the Goodwood 7f in double figure field handicaps, even more so in the better class levels (C2-C3), with only 5 winners coming from the top quarter of the draw since 2012 (from 60 races). Andrew Balding's 4yo was drawn 10 of 11 here and he simply could never land a blow in this, racing wide throughout and weakening in the final furlong. He was, however, only beaten 4.5L at the line and that's a solid effort given the draw handicap he was up against and the fact he does tend to struggle in these valuable races, with his form in contests worth 20k+ now reading 0/9, 1p compared to 5/8, 1p in races worth less than 20k to the winner.
He should get shuttled down a pound or two for this run and that will put him on or near his last winning mark of OR 101 (he was, rather handily, dropped 2lbs to OR 101 for this run 👍) and I'll be looking out for him under the following…
7f | OR 101 or less (could potentially defy slightly higher) | races worth less than 20K = 111110 (5/6 – all 5 career wins)
.

COPPER AND FIVE
4th of 11, 1m 3yo+ Handicap, Redcar, 27th August
Ruth Carr's 6yo had been stuck on a mark above his ceiling for a good few runs and had also been running in races above his class level comfort zone, but this race was more like his cup of tea and he produced a solid effort under what were his Prime Conditions. It's also worth noting that the track wasn't favouring front-runners this day, with nothing able to hold on off the front end in any of the 8-races on the card, and I'd be inclined to mark this effort up a few pounds with that in mind.
Connections should be able to find a winning opening for him shortly and he's worth keeping on the radar for when he meets with the following…
C4 or less 1m Handicaps | June-Sept | OR 83 or less = 4113133 (3/7, 3p – all 3 career wins)
Joanna Mason in the saddle would also be a positive as she is 1131 on the horse when he has Prime Conditions.
.
---

END OF SEASON SPECIAL OFFER
We are approach the last 5 weeks or so of the NTF Summer Service, the Stats Sheets have been clicking away nicely (see the two latest examples here) and the Race Trends Guides have also been doing their stuff as well… and I've got a superb end of season offer available for those that want to hook up for the tail end of the service, or indeed anyone who just wants to give the members service a spin with a view to joining up longer term when the jumps service swings back into view (which amazingly isn't that far away 😲)…
…there will still be plenty of members analysis from now until the end of the season and you can take advantage today by clicking the above link 👆⬆️👆⬆️
…and one last thing before you go…
As most long time readers will know, I'm a big supporter of retired greyhound charities/shelters, indeed I've only ever had retired greyhounds as pets, they are amazing pets and many charities do a fantastic job of rehoming the dogs once their racing careers are over… 
I've been following a Spanish Charity on various social media platforms (run by a British couple who moved to Spain) called Galgos del Sol. They do an amazing job, just outstanding what they do, the world needs more people like them 😊
Anyway I recently found out there are many ways to support the work they do and I wanted to help in some small way by promoting their charity here… I don't know these people and I've never been in contact with them… but I'm awe of what they do and as well as donating to them I wanted to try and do my little bit by promoting them to a wider audience…
Look, I know you are all here for racing content, naturally, that's what I do, and I'm definitely not one to ram charities down your throat, and if it doesn't interest you then that's cool, I won't lose sleep over it… but even if one of you looks at it and goes 'yeah, I'll donate £1 a month' then I won't have wasted my time and you will have, in some way, helped a dog very much in need, these dogs are treated awfully and without charities such as Galgos del Sol they would have a life of suffering and pain on the streets 😔
If it interests you then then find out more here…
Cheers – Ben (NTF)