1
Sep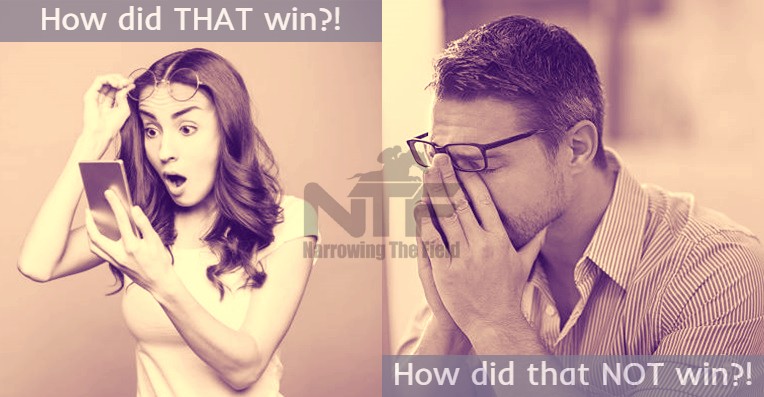 How did THAT win/NOT win? (1st September 2022)
Happy September all!
Plenty to look forward too this month…
Haydock Sprint Cup
Doncaster St Leger Festival
Leopardstown Irish Champion Stakes
Ayr Gold Cup
Newmarket Cambridgeshire
…to name but a few…
And all those races will be covered on the full NTF Membership Service…
For now though it's the latest instalment of…
---
1st September 2022 – How Did That Win/Not Win
.
How Did THAT Win?

BURTONLODGE BEAUTY (L Perratt) – WON at 50/1 (BFSP 79.54)
1st of 11, 7.53 Hamilton, Friday 26th August
A 14-race maiden who finished 11th of 12 and 10th of 12 on her last two starts… how indeed did THAT win!?
I was nowhere near landing on the Bungle Inthejungle filly pre-race but when something like her finds themselves in the winners enclosure I'm right in there digging to see if there were any pre-race clues, even more so now that I'm producing this weekly article here on the blog.
So were there any potential clues pre-race?
Well yes, possibly, and it came in the shape of jockey Mark Winn picking up the ride for the first time.
Things have really started to click this season for the young jockey, with 14 of his 15 career wins coming in 2022, 12 of those wins coming under similar circumstances to the ones under which BURTONODGE BEAUTY found herself racing under at Hamilton last Friday…
Mark Winn | C5 or less Handicaps | 5f-1m0.5f trips | horses with 13+ career starts
12/35 | 34% S/R | +£119.04 BFLSP – W&P 16/35 | 46% S/R – 129% above expectation
9 individual winning horses
Those are some solid stats for Mark Winn and he really seems to get a tune out of some of the more experienced horses he's been riding, something that is backed up by his wider career stats…
M Winn on horses with 13+ career starts = 14/67, 10p – 21% Win S/R
M Winn on horses with 12 or less career starts = 1/26, 2p – 3.75% Win S/R
It certainly wouldn't surprise me if a few more yards look to start using him, especially when his main yard (David O'Meara) don't have him legged up on something…
.
How Did That NOT Win?!

BOY BROWNING (E Johnson-Houghton) – LOST at 3/1
16th of 18, 2.45 Newmarket, Saturday 27th August
This Brazen Beau 2yo came into this valuable Class 2 contest off the back of a crushing 4.3L victory at Windsor on his last start, a run that backed up the promise he showed at Glorious Goodwood in July when he made his debut in the Class 2 maiden at the meeting (he finished an eye-catching 5th of 18 that day), as such I could see, to a certain extent, why he was in plenty punters minds for this 54k pot.
What hadn't been factored in, however, was the dreadful record of BRAZEN BEAU offspring when racing in Class 1 or Class 2 turf contests…
Brazen Beau offspring | Class 1 or Class 2 turf races
4/91 | 4% S/R | -£24.77 LSP – W&P 18/91 | 20% S/R – 55% below expectation
…they really just don't cut the mustard at these top levels and regularly fall short of market expectation.
Looking closer at those 4 horses that have managed to land one of the better races they've contested we see that one of them was the controversial Norfolk Stakes winner THE RIDLER, and I think we all know he really shouldn't have been keeping that race… 🤨
If you look at the Brazen Beau 2yo's only in C1-C2 races then you see stats of…
1/45 | 2% S/R | +£6.00 LSP – W&P 9/45 | 20% S/R – 77% below expectation
…the winner, obviously, being The Ridler from this year's Royal Ascot (so those stats should really be 0/45!)…
The next time you see a Brazen Beau kid near the head of the market in a Class 1 or 2 contests I suggest you think once, think twice and then probably look elsewhere… they just ain't getting the job done…
>
---
I'll be back same time next week with the next edition of 'How did THAT win/How did that NOT win?'
Ben (NTF)
If you've missed any of the recent free NTF Blog posts then get them all on the main NTF Blog menu page
The latest 'NTF Notebook' post can be found HERE