15
Sep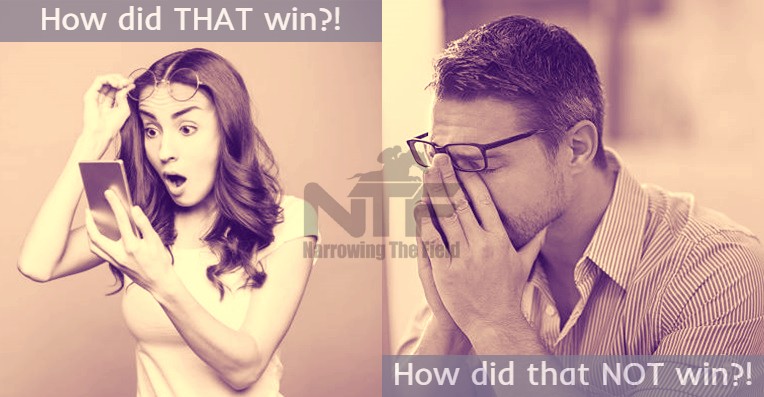 How did THAT win/NOT win? (15th September 2022)
After a bit of an unplanned break last week from the 'How did THAT win/NOT win?' posts I'm back in the full swing of things this week…
Let's crack on with things…
.
---
.
15th September 2022 – How Did That Win/Not Win?
.
How Did THAT Win?

SIXSTAR (T Easterby) – WON at 50/1 (BFSP 65.37)
1st of 9, 2.50 Carlisle, Wednesday 7th September
Beaten 41.1L 11th of 11 on his run prior to this and has since been beaten 75.7L 9th of 12… I REALLY wanted to find a way that we could potentially spot these types going forward… I don't believe ANY Tim Easterby horse wins by 'fluke', although it's not always obvious exactly what they are up to with some of their horses…
But I set about digging into this one and I 'think' I found a potential way in… or at least something that could be of some interest going forward…
I'm regularly chewing the racing fat with my good pal All-Weather Davy and recently we've been bouncing around some jockey switching ideas… and I did notice that SIXSTAR won this race with a different jockey on-board than when he got gubbed 41L+ on the start before this win… so I went data mining using the jockey switch angle as my starting point… and lo and behold I uncovered something I think we would do well to keep in mind going forward from this…
This is what I uncovered…
(Since 2007) Tim Easterby 3yo's in C5-C6 Handicaps in April-September | D Allan riding | Ridden by D Fentiman LTO and DIDN'T WIN | DSLR 56 or less
30/126 | 24% S/R | +£178.68 BFLSP – W&P 54/126 | 43% S/R (EW profits of +£144.99 LSP)
51% above expectation
Fentiman picks up plenty rides for Easterby and I think he could be a bit of a 'go to jockey' when the trainer wants one 'primed' for a future target… Fentiman on Easterby 2&3yo's that are unfancied by the market (20/1+…like SIXSTAR was on his run before he rocked up in the winners enclosure here at 50/1) is 14/947 | 1.5% S/R – 46% below expectation since 2003…in the last two seasons he is 2/176 | 1% S/R – 52% below expectations… he knows how to prep the Easterby youngster for future assignments…
.
How Did That NOT Win?!

HERMANN CLERMONT (G Elliott) – LOST at 10/11 (BFSP 2.03)
2nd of 3, 3.50 Perth, Monday 5th of September
A Gordon Elliott trained Sean Bowen ridden fav in a 3-runner field at Perth, a horse, no less, that had won his last two starts, both over or around this CD… how could that get beat?!?
Well my hard-punting amigo's… there were some hefty sire stats bang against this 5yo and he just could not overcome them, regardless of the other positives in his favour.
Check these out…
Al Namix offspring | trips of 2m7.5f+ | Good to Soft or softer ground
2/75 | 2.75% S/R | -£69.55 BFLSP – W&P 14/75 | 18.75% S/R
77% below expectation
Only ONE Al Namix kid has defied those stats and that was the high-class Paul Nicholls trained SAPHIR DU RHEU… both times he was massively favoured by the weights as well…
There are 30 separate Al Namix kids that make up those stats… they just don't act over those staying trips when there is juice in the ground… regardless of how 'simple' the task looks pre-race… you have been warned…
.
---
I'll be back same time next week with the next edition of 'How did THAT win/How did that NOT win?'
Ben (NTF)
If you've missed any of the recent free NTF Blog posts then get them all on the main NTF Blog menu page
The latest 'NTF Notebook' post can be found HERE
I'm also now, behind the scenes, beginning to make the transition from the summer game to the winter game, with the 2022/23 National Hunt season starting to enter into my thoughts and analysis.
As usual I'll be producing some excellent and informative free guides for all readers to help you navigate the bumpy waters of the National Hunt season.
If you are already on the NTF FREE LIST then you'll get the first of those guides shortly…
If you are not on the list and want to make sure you don't miss the free stuff then simply pop your name and best email in the form below…
4 responses to "How did THAT win/NOT win? (15th September 2022)"