12
Apr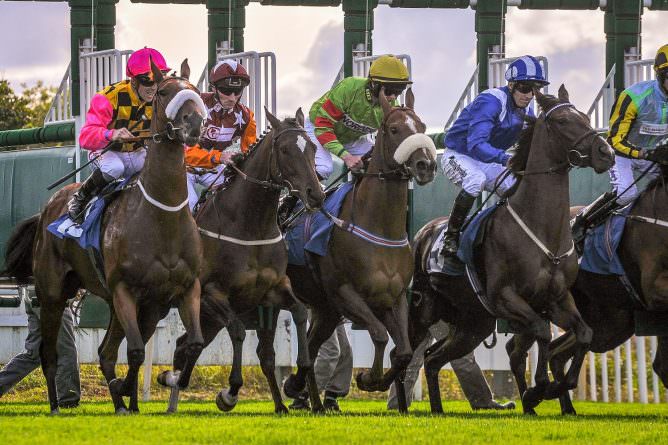 Newbury MansionBet Spring Cup Trends…
.
Spring Cup Handicap Trends – 3.15 Newbury
A busy day under both codes on Saturday so I won't hang about…
The Spring Cup isn't a race I usually get too deeply involved in but the trends have found us the winner here on the free blog for the last couple of seasons, so I've had a dig into the trends once again for the 2019 renewal and whittled the 27 strong field down to a workable shortlist, starting with the following five race trends…
1 15/15 OR 100 or less
2 15/15 26 or less (UK) Career starts
3 15/15 1-4 previous (UK) wins
4 15/15 no more than 3 (UK) Hcp wins
5 15/15 yet to win above C2 level
That's chops off a fair swathe of the field and leaves the following eleven…
RED STARLIGHT – RIPP ORF – HUMBERT – EXEC CHEF – IBRAZ – GEORGE OF HEARTS – WAFY – BORODIN – HISTORY WRITER – GREENSIDE – BUBBLE AND SQUEAK
I'll try and whittle that bunch down further using the following…
6 15/15 wore No headgear or Tongue-Tie
7 15/15 top 4 finish 1 of last 3 starts
That only knocks out two of the remaining eleven (HUMBERT & HISTORY WRITER) so lets fire up a few more trends to try and find a workable shortlist…
8 15/15 at least 2lbs higher than their last win
9 14/15 ran at C2 or C3 level LTO (UK start)
10 14/15 aged 4yo-5yo
11 14/15 no more than 2lb higher or lower than their last start
…which leaves us with a solid and manageable shortlist of…
RIPP ORF (D Elsworth)
IBRAZ (R Varian)
GEORGE OF HEARTS (R Hughes)
WAFY (C Hills)
BORODIN (R Fahey)
Before I dig any further into that shortlist here's how I see the pace working out…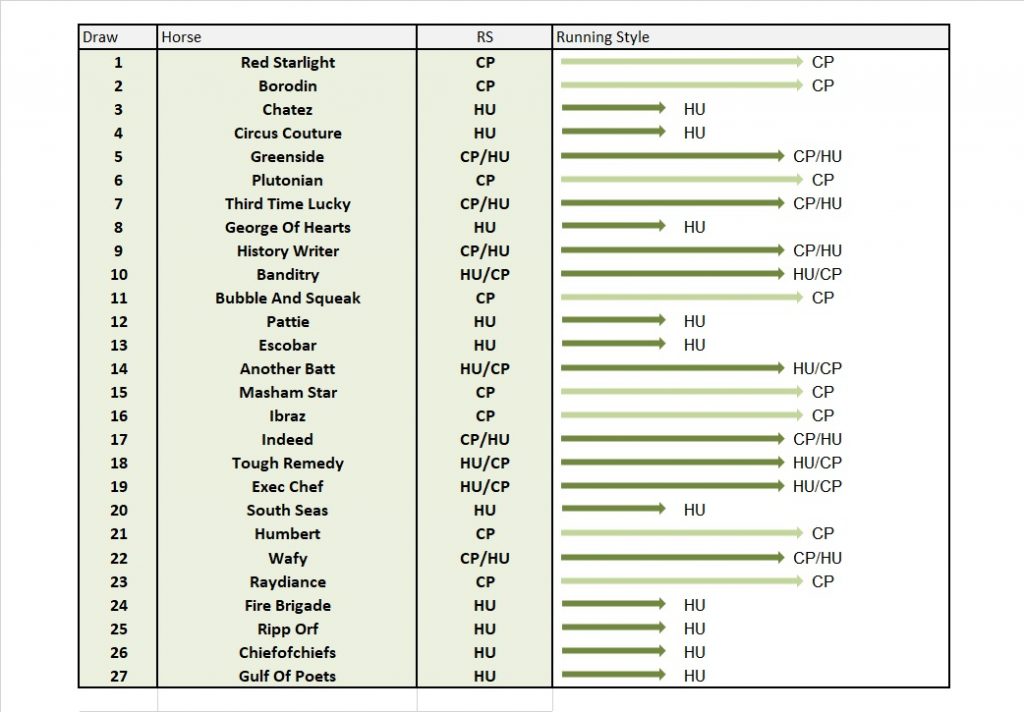 A distinct lack of pace here for a large field straight track handicap blast!
Where the pace comes from is a bit of guessing game pre-race although on balance there does seem to be a shade more hold-up horses drawn high than low and that may just about swing a pace advantage to those drawn in the bottom half.
Hard to be in any way confident about that, however.
Conclusion
Generally a race where it's wise to cover a few bases and the three I'm settling on are…
BORODIN (R Fahey) – Fahey knows how to target this race, having won 3 of the last 10 renewals, and this 4yo fits a similar profile to those winners (all 3 winners were…aged 4yo-6yo, OR 95-86 and had 1-2 previous handicap wins…a profile that Borodin as fits). He's proven on ground with cut, has form in a large field, is still very much unexposed after only 7 starts and he also enters this season on the very workable mark of OR 91, with a line through the now 97 rated Blue Mist (who he beat at Thirsk last September) one of a couple pointers hinting that there is more to come from this son of High Chaparral.
RIPP ORF (D Elsworth) – Been knocking on the door in plenty big field handicaps in the past 12 months and although they've mostly been over 7f his form over 1m (2-2-1-2-5) suggests he's more than capable of delivering at this trip as well. Big fields hold no fear for him (1-3-1-2-9-5 in 15+ runner fields) and under the following conditions…March-Sept | 7+ runner fields | DSLR 60 or less…he holds a form line of 41321921221 (4/11, 5p – all 5 career wins).
GEORGE OF HEARTS (R Hughes) – You feel there's a decent horse in there once the penny drops and with a wind surgery and a bit of a snip snip of the nether regions in the off season hopefully he can put it all together with a big run here.
Best of luck if you are getting involved in this year's Spring Cup, it looks the standard open affair, with plenty you can make a chance for, but hopefully something from the shortlist gets the job done.
Ben (NTF)
p.s. I'll be opening the doors to the 2019 NTF flat service in a couple of weeks so make sure you are on the free list so you don't miss out on the build up for the summer action (free guides, analysis, membership sign-up options…)
Join Free NTF list HERE
7 responses to "Newbury MansionBet Spring Cup Trends…"