3
Mar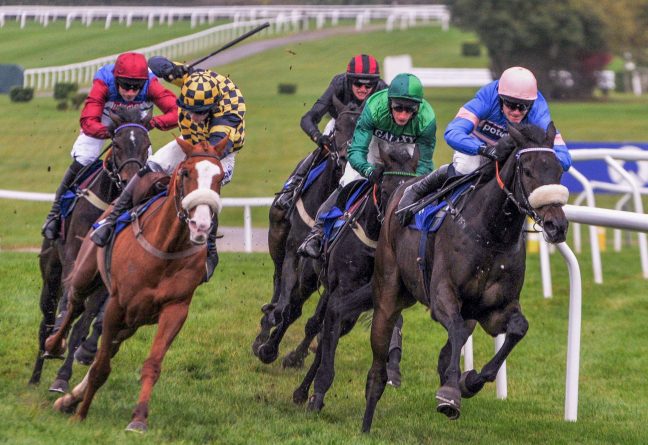 Five Cheltenham Festival stats that will need to be broken…
A week to go…
We seem to have survived whatever the weather has battered us with in the past few weeks but there's still a slight air of uncertainty regarding this 'beer virus' 😷
…for now, however, it's all systems go and we are currently staring down the seven days to go Cheltenham barrel!! Seven days until the madness kicks in… SEVEN god damn days!
As usual it's starting to consume my every thought at the minute, but I'm used to that, it comes with the territory.
I've very much been ramping things up on the festival front over the past week or so and hopefully you've all managed to download the first of my FREE Cheltenham Festival Guides by now?
If not you can get it here.
As always the free guides are packed full of trends and stats to help you 'narrow the field' over the four days and at the very least they should get your brain tuned up and fully focused for next weeks action.
Keeping on the stats front, today I want to take a look at a quintet of negative stats that will need to be busted next week, if some of the well-fancied runners are to justify their position near the head of their respective markets.
Lets get stuck in…
Five festival stats that will need to be broken…
1 – SHISHKIN and the 'ran at Huntingdon last time out' Festival stat…
If SHISHKIN is to justify Supreme favouritism then he'll need to become the first horse in the last 17 Festivals to win off the back of a warm-up outing at Huntingdon…
Now I'm sure you've heard this stat banded about a few times already in the past few weeks but bear with me, I'll be intertwining it with another Shishkin negative to give it a bit more beef.
Sticking with the Huntingdon stat for now…
Since 2003 128 horses lined up at Cheltenham off the back of a warm-up/last time out effort at Huntingdon and ALL 128 were beaten 
0/128 | 0% S/R | -£128.00 LSP – W&P 16/128 | 13% S/R
It could just be a statistical anomaly, yes, but equally there could also be something to it…
Huntingdon is a completely different track to Cheltenham (flat, easier configuration, Right-Handed)
The class of competition is significantly lesser
Track and opposition don't provide a stern enough competition to tune a horse up for the Festival
…and all that jazz.
Whatever the actual reason may be (if indeed there is a reason) is, to a certain extent, irrelevant. The facts are that the losses are mounting up and seeing your Cheltenham fancy coming to the meeting off the back of a Huntingdon run should start to ring alarm bells.
I also promised you another Shishkin 'negative' to add a bit of beef to the bone, so…
The form of his races is working out poorly, with no horse apart from himself coming out of the races and winning.
Remove Shishkin from the equation and the other runners from his races have a combined 0/50 record 👀
Now again, that's not always a huge worry when it comes to novice hurdlers as in the early days they can often find themselves up against inferior opposition prior to the Spring festivals. You would have perhaps, however, liked to have seen at least a couple find themselves in the winners enclosure to at least give an indication that Shishkin has been beating something of some sort of worth. As things stand, however, that is not the case.
The defence for Shishkin…
Only 17 of the 128 losers started at an SP of 10/1 or less at the Festival, meaning Shishkin is one of the 'better' horses to be trying to defy the stat. It must be noted, however, that dual Champion Hurdler Buveur D'air is one of those names on the ran at Huntingdon last time out list, so even if future stardom beckons it does not make you immune to the Huntingdon last time out 'handicap'.
Conclusion…
I do think he's a talented horse, of that I'm not questioning. Indeed, I'm not going to be shocked should he get the job done and start team Henderson off on a winning foot. However, do I want to be backing him at 5/2 with the Huntingdon stat hanging over him (and the fact he's the only one backing up his form)? No, probably not…
.
2 – PENTLAND HILLS and the 'yet to win in current season' Champion Hurdle stat…
If PENTLAND HILLS is to back up his Triumph Hurdle win from last season then he'll need to become only the second horse in the past 22 renewals to win the Champion Hurdle without a win to his name in the current season…
Two runs this season for the 5yo and both times he cruised up to win…but failed to get the job done.
Which on the stats side of things is a concern for his backers…
Only one horse in the past 22 renewals has won the Champion Hurdle having NOT WON in the current season…
The figures for those running in the race with no victory in the current season to their name read…
1/94 | 1% S/R | -£60.00 LSP – W&P 7/94 | 7.5% S/R – 71% below expectation
The one horse to defy those stats?
The hard as nails HARDY EUSTACE. A very different type of horse to Pentland Hills.
The defence for Pentland Hills…
He's undergone a breathing operation after his last run in the Haydock Champion Hurdle trial. If his breathing has indeed been holding him back then we could, possibly, see a stronger finish from the horse in the Champion Hurdle.
Conclusion…
He's got it all to prove for me and that 'yet to win in current season' is worrying stat, a stat that becomes even more worrying when you consider the record of Nicky Henderson festival runners that have yet to record a victory in the current season…
1/109 | <1% S/R | -£68.30 BFLSP – W&P 13/109 | 12% S/R
85% below expectation
Hmmm…🤨
.
3 – CHAMP and the 'didn't finish in the top 3 last time out' RSA stat…
If CHAMP is to justify RSA favouritism then he'll need to become the first horse in the past 22 renewals to win the RSA without finishing in the top 3 last time out…
At this point I must add that I'm not on an anti-Nicky Henderson assault here!! Just coincidence, I promise you…
Anyway…
CHAMP. Fell last time out in the Dipper Chase…
The last 22 winners of the RSA Chase all finished in the top 3 last time out…
Those that didn't are…
0/56 | 0% S/R | -£56.00 LSP – W&P 6/56 | 11% S/R
As already mentioned, Champ took a tumble last time out in the Dipper Chase on New Year's Day.
Which also brings into play the following stat…
Non-Handicap Chases at Cheltenham – FELL last time out
1/55 | 2% S/R | -£50.00 LSP – W&P 11/55 | 20% S/R
78% below expectation
A double-whammy for Champ supporters…
The defence for Champ…
To be fair to the horse the Dipper run was the only time he's really fluffed his lines in 12 career starts, being that it was the first time he'd failed to finish in the first two. He's also a multiple Grade winner (G1 X2 – G2 X1) so he's clearly got the talent.
Conclusion…
I would personally have liked to have seen them get a confidence booster into him somewhere. He's not really convinced in the jumping stakes on his three starts to date and another spin could well have just dropped the penny and got him jumping neater, cleaner and straighter.
As things stand I'm be looking to be against him.
.
4 – MONKFISH and the 'yet to run at Graded level' Albert Bartlett stat…
If MONKFISH is to capture the Albert Bartlett crown this season then he'll need to become the first horse to do so off the back of no previous Graded level experience…
The Willie Mullins trained MONKFISH comes into the Albert Bartlett, where he is current 11/2 second-fav, off the back of two wide margin victories at Thurles and Fairyhouse.
In four career starts to date he's been kept relatively low-key, with each run coming at Class 4 level or below.
Something that leaves him a bit short on the level of experience that is generally needed for an Albert Bartlett winner…
The last 15 winners of the Albert Bartlett had all previously run at Graded level
Those that were yet to run at Graded level are…
0/79 | 0% S/R | -£79.00 LSP – W&P 8/79 | 10% S/R
Furthermore…
14 of the 15 winners ran at Graded level last time out
Those that didn't are…
1/134 | 0.75% S/R | -£122 LSP – W&P 10/134 | 7.5% S/R
Monkfish, obviously, falling down on both those stats.
The defence for Monkfish…
Being by Stowaway out of an Old Vic mare you have to think he will relish the step up to 3-miles.
Conclusion…
The Albert Bartlett, for all it does throw up some huge priced winners, is one of the strongest Trend races of the four days. As such I'd be hard pushed to be jumping on anything with significant weaknesses on the stats.
.
5 – FAUGHEEN and the '11yo+' Non-Handicap Graded Chase stat…
If FAUGHEEN is to land any of the Novice Chases he's entered in he'll need to be the first horse since Moscow Flyer to win a Non-Handicap Graded Chase at the Festival aged 11yo+…
I've mentioned this stat before but it's always worth sticking it up again…
Only one horses aged 11yo+ has won a Non-Handicap Graded Chase at the last 22 festivals
1/67 | 1.5% S/R | -£64.50 LSP – W&P 9/67 | 13% S/R
69% below expectation
…and the stats make for worse reading when you look at those aged 12yo+ in the same races…
0/18, 1p
National Hunt greats such of Cue Card, Kauto Star, Sizing Europe, Moscow Flyer, Edredon Bleu and See More Business all failed to win at the festival as aging 12yo's, with 10 of those 18 12yo's actually finishing Pulled-Up.
The defence for Faugheen…
His old legs have already bagged TWO Grade 1 Novice Chases on home soil this season and he's not a million miles away from the best figures he recorded over hurdles, which, lets be honest, is a remarkable feat in itself.
Conclusion…
It is an ultra-tough environment for aging legs to get the better of younger competitors that are just reaching their peak and as much as I'd love to see him do it (truly LOVE him to smash this stat to smithereens) I'll always come back to the old adage of 'sentimentality in betting generally leads you to the poor house'.
Not for me old boy, I'm sorry…
---
Now don't get me wrong, the above stats could all get smashed out of the water, it's far from a 'they don't pass this specific stat so they can't win' kinda thing, but if you are looking for some negatives against some of the major players then the above are certainly worth considering in the wider picture…
NTF Cheltenham Festival Service
Doors now OPEN!
I will be covering around 22 of the top races from the 2020 Cheltenham Festival as part of my NTF National Hunt subscription service, using my tried and tested NTF Race Trends assault tactics.
I know there are a number of you who want to be on the NTF service for Cheltenham Festival week so this is your chance.
Full details are available on this page.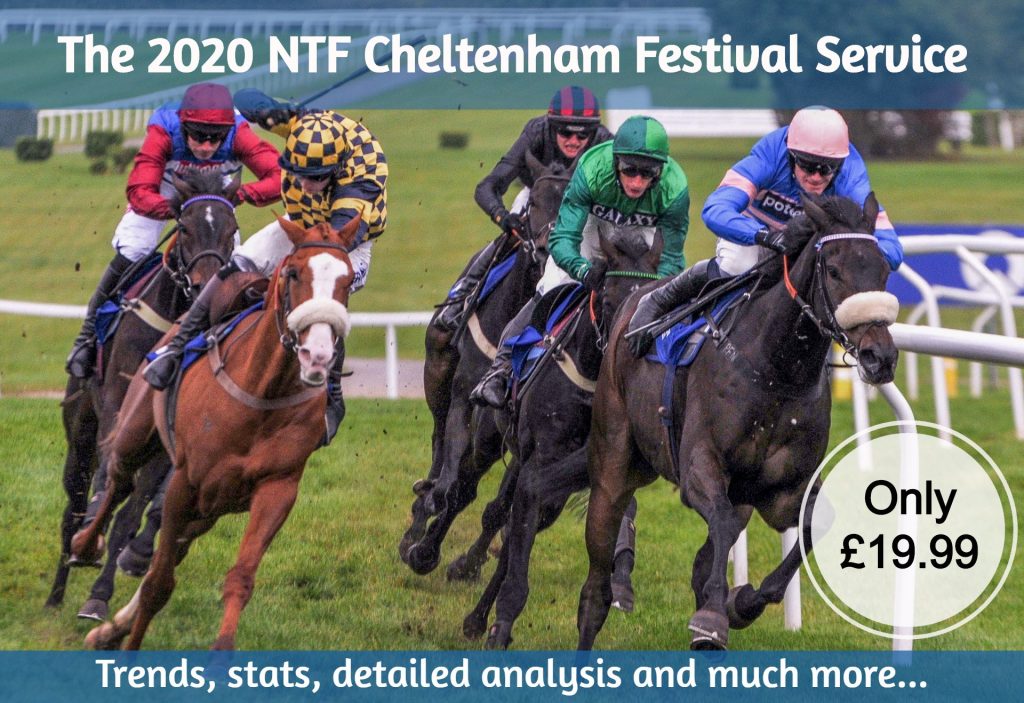 Cheers – Ben (NTF)
20 responses to "Five Cheltenham Festival stats that will need to be broken…"