2
Jun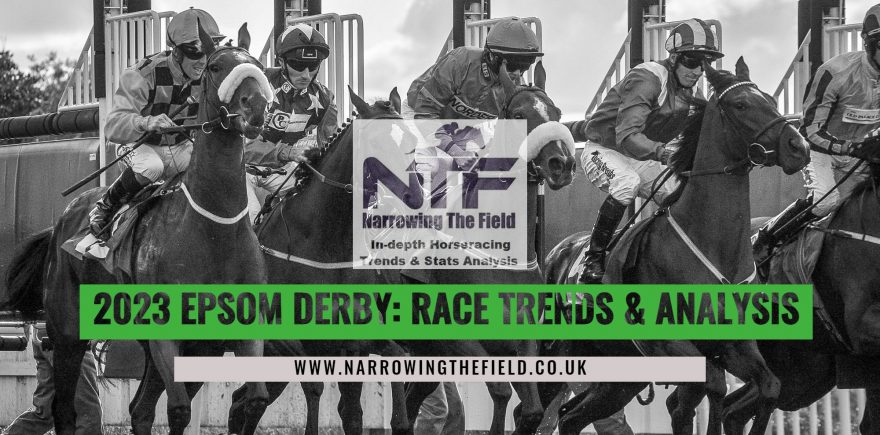 2023 Betfred Derby: Trends & Analysis…
It's Derby Weekend!
The 2023 Epsom Derby is one of three races Tony Mac and I have covered in the latest episode of The Racing Podblast, both of us keen to be against the current fav AUGUSTE RODIN 🤨
You can listen to our thoughts below or you can grab it from wherever you usually listen to your podcasts (we are on most directories now)…
In the pod I fire out a couple of Race Trends for the Derby but if you want to go into a bit more depth with your research here are the FULL set of trends I've used on my full NTF Members Service for the race…
15/15 top 3 finish LTO (beaten no more than 4L)
15/15 OR 107+ (or didn't have a rating yet)
15/15 won 1 of their last 3 starts
15/15 were sired by a G1 winner
14/15 had previously run at Graded level
14/15 won 1 of their first 2 career starts
…and you can get more on the race, as well as coverage of The Dash (320 Epsom) & The Lester Piggott Handicap (355 Epsom) in the latest PodBlast episode below…
,
.
Cheers and best of luck if you are playing in the 2023 Epsom Derby…
Ben (NTF)
🔥🔥🔥 The NTF Race Trends were on fire on Oaks Day at Espom!
CADILLAC very much being the highlight, winning the 345 Handicap at 12-1 (available at 16-1 earlier in the day)…
See for yourself by downloading the guide here>>>
I'll be producing the same level of analysis for full NTF members throughout the Summer NTF Service…
2 responses to "2023 Betfred Derby: Trends & Analysis…"