8
Jun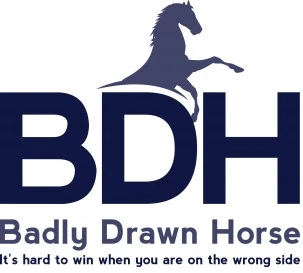 Badly Drawn Horse is back!
…well sort of…
Those with good (long!) memories may well remember the magical summers of yore when NTF's little sister BADLY DRAWN HORSE (BDH) ripped her way through the peak flat months, pinpointing a raft of winning horses to follow in coming starts after running eye-catching races from poor draws… hence the BDH tag-line of…
'It's hard to win when you are on the wrong side'
It was a seriously profitable angle that myself (and NTF readers/members) made full use of at the time… but when I decided to have the website rebuilt I pulled both NTF and BDH together under the NTF banner (NTF used to be the winter side of my work and then I moved to BDH for the summer analysis) and BDH was sent out to grass to live a life of luxurious retirement…
And to be honest I've no idea why I just didn't keep the BDH methods going over the summer months!? 🤷‍♂️🤦‍♂️
But it is what it is and as Fred Durst from Limp Bizkit famously says 🤨…
🎵 We cannot change the past
But we can start today to make a better tomorrow
Hit it 🎵
(We are all Limp Bizkit fans here? Right? RIGHT?!? Just me then… 🤘)
Whilst I'm not launching BDH back to her full glory I am pulling in the main part of the methodology used on NTF's old sister site and will be producing weekly 'Badly Drawn Horse' notes for full NTF Members, highlighting any horses that caught my eye from poor draws and noting them as horses to follow going forward… 
Those horses will be highlighted to members in the Daily NTF Stats Sheets when they are next entered up to run.
I don't have any hard and fast rules for how long I follow any noted horses but I tend not to hold on to them for too long if they are struggling to produce the goods. I'm never a fan of say 'follow these horses on their next 3 starts' and I prefer to keep things flexible and judge each horse on their individual merits.
The first BDH notes of 2023 are available today and you can download then for free on the link below…
…and yes, I do take a dive into that 'controversial' Dash from Epsom on Saturday… for all I don't have it as controversial as many others do… 
I'm seriously looking forward to producing these Badly Drawn Horse notes again… it's been way too long since they've been part of the NTF service, but I'm rectifying that from here on in 👍
To get your hands on these BDH notes for the remainder of the season (and all of the other NTF Members Analysis)…
It's been a brilliant start to the 2023 Summer Service… I guess taking a break for a bit really does work wonders for the brain… who'd have thunk it! 🤷‍♂️😅
Cheers – Ben (NTF)
Oh… I bet you are wondering what Limp Bizkit song I took the lyrics from, yeah? Aah come on, I know you are… well it was this one… (Parental advisory lyrics so if easily offended then don't press play 😶)
I did try and get my good pal Tony Mac to play this on his brilliant new Radio show today on Shed Hot Radio… but he was having none of it 🤷‍♂️