31
Jul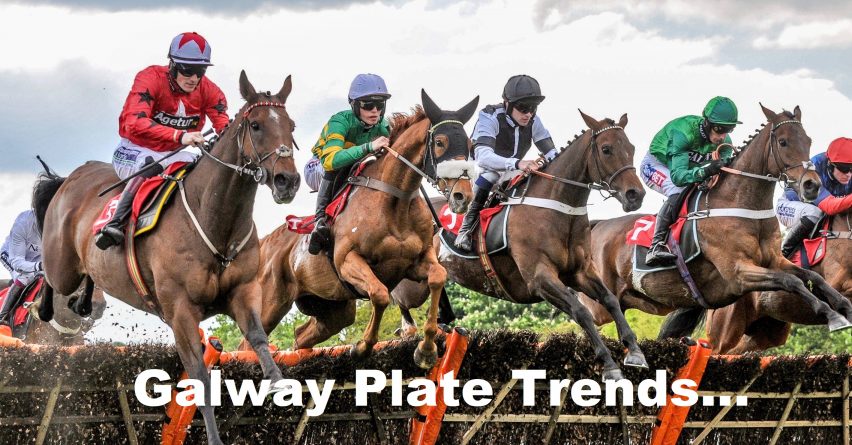 2019 Galway Plate Race Trends…
.
Spoiled for choice this week with the two 'Big G' festivals taking place and it's a damn busy spell under both codes. Be preferable if these meetings didn't clash…but it is what it is I suppose…
I'm fully committed to the Goodwood action in the NTF Members Area so here on the free blog I've decided to take a delve into the quirky brilliance that is Galway, starting today with…
7.20 Galway – thetote.com Galway Plate (Handicap Chase) (Grade A) (4yo+)
I never like to spread myself too thin on the analysis front so unfortunately Galway gets the rough end of stick this week. There are, however, a couple of races I do like to plow into using my tried and trusted NTF Race Trends methods, the first of those is today in the shape of the 2m6.5f Galway Plate.
The following are the trends I've used to smash into the 22-runner field…
1 15/15 OR 149-126
2 15/15 no more than 2 starts in current season (0/61 3+ starts)
3 15/15 no more than 10 previous handicap chase starts
4 15/15 previously won over at least 2m4f but no further than 3m (0/75 out with parameters)
5 15/15 last win came over no further than 2m6f
6 14/15 0-1 previous handicap chase wins
7 14/15 had previously run at Grade 1 level
8 14/15 aged 6yo – 9yo
9 14/15 carried 10-13 or less
10 14/15 had 5-16 previous chase starts (1/105 out with those parameters)
A pretty robust set of race trends and applying them to this year's field looks like this…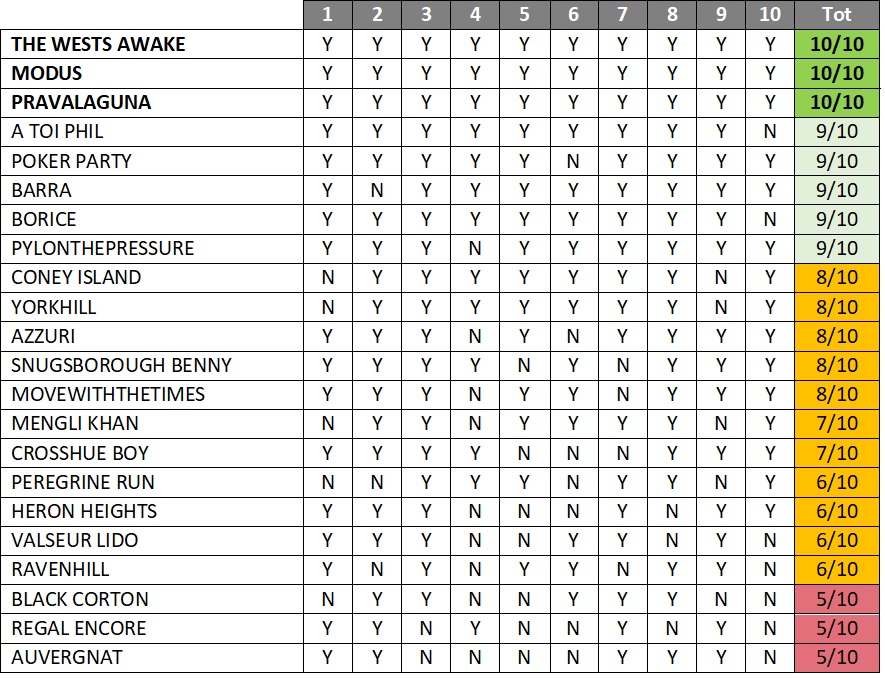 Three runners passing all ten trends…
THE WEST'S AWAKE
MODUS
PRAVALAGUNA
Before delving deeper it's always worth looking at the race from a pace angle as well.
The following was the running style (during the race) of the past 15 Plate winners…
FR-CP-CP-CP-CP-HU-CP-HU-FR-CP-CP-HU-HU-CP-CP
FR – 2 || CP – 9 || HU – 4
Ideally you want to be sitting close to the pace, although I wouldn't say it's any kind of major negative to be running from on the front or out the back, it is, however, definitely a positive to be tucked just off the leaders.
This is how I see this year's renewal working out from a pace perspective…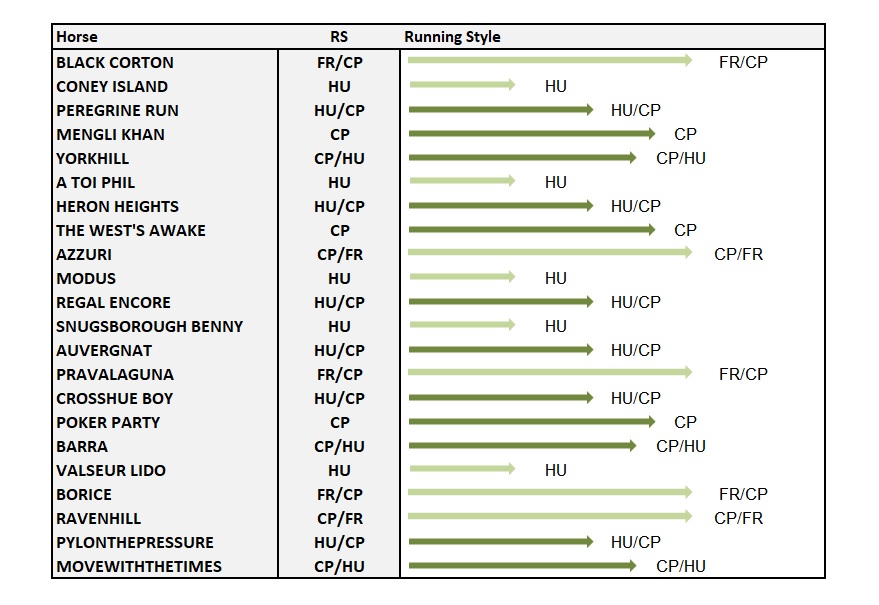 Certainly the potential for plenty enough pace on here and it's unlikely they'll be hanging about in the early stages.
Conclusion…
Of the three trends-toppers it's MODUS that particularly catches my eye…
MODUS (P Nicholls) – The 9yo now finds himself on a mark below his last winning Chase AND Hurdle mark and the fact he comes here off a decent break (DSLR 139) is also a huge positive. Given his record when returning off breaks of 60 days or more – DSLR 60+ = 3111312811 – he's clearly a horse that performs highly when fresh. That form line improves to 213111 when only considering runs off breaks of 121+ days. His trainer Paul Nicholls hasn't been making the journey over the Irish all that often in recent times but if you look at his record in Ireland under the following…21k+ races | 2m4f-3m | horses with 0-1 start in season…you get eye-catching figures of 17/33 | 51.5% S/R | +£18.49 LSP – W&P 20/33 | 61% S/R (since 2007)…and at the odds on offer for this lad I'm happy to take a dart.
THE WEST'S AWAKE is also of some interest…
THE WEST'S AWAKE (E O'Grady) – With all his wins coming on right-handed tracks and form of 2F311 in the June & July period it's not hard to think that he'll run close to his best here. Under the following conditions…RH tracks with undulations | May-Nov | 0-4 starts in season…he is F10111312 (would probably have won last time had he stayed on feet) and with those conditions met here there are plenty of indicators that he could out-run his odds.
It's possibly slightly harder to make a case for the other trends-topper PRAVALAGUNA but he is still relatively unexposed over fences (this being only his 7th chase start) and he's even less exposed in chase handicaps, this being only his second handicap start over the larger obstacles. He had a narrow advantage still on handicap chase debut in a valuable contest at the Punchestown Festival before departing 4 out, hinting that he may well be sitting on a winnable mark at present.
Thoughts on the others…
As is always the case with a race of this nature there are plenty in with a chance…
POKER PARTY has a very tidy record when faced with the following conditions…Handicaps on undulating tracks | DSLR 26+…where he returns a form line of 31111, which are all of his 4 career wins. He gets those conditions here.
BORICE, despite having plenty French experience on his CV, is still a bit of an unknown. He's demolished weak opposition over hurdles at Uttoxeter & Perth this summer and although that form isn't anywhere near good enough to land this, plenty of his French 'back-class' is and if Gordon Elliott has managed to unlock any of that then he will be a danger.
Willie Mullins has managed to sneak PYLONTHEPRESSURE in at the bottom of the weights and there's a feeling he could be well-handicapped if he's able to put together a clean round of jumping (which has been his Achilles heel in the past). For a 9yo he's still pretty lightly raced.
…but given the competitive nature of this race there's a chance I may not have even come close to mentioning the winner!
Hopefully the trends hold up this year and the winner comes from one of the trends-toppers (or at very worst one from the next group!).
Best of luck if you're getting involved and make sure you drop back tomorrow when I'll have the equally competitive Galway Hurdle under the trends microscope.
Ben (NTF)
P.S Make sure you don't miss out on the FREE NTF Summer guides that are currently available
10 responses to "2019 Galway Plate Race Trends…"