31
Jul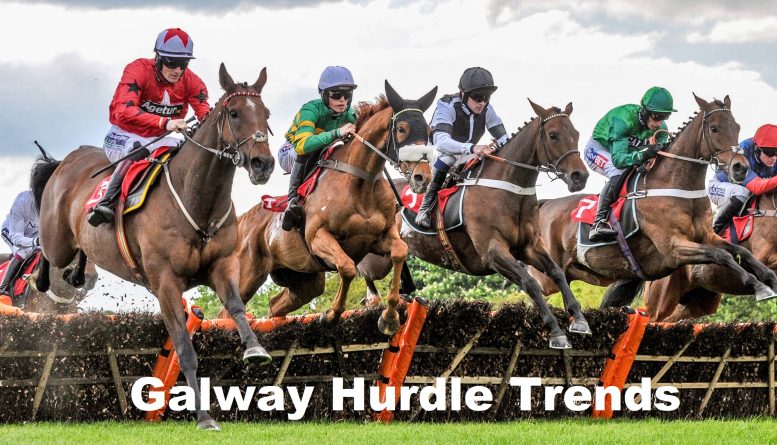 2019 Galway Hurdle Race Trends…
.
So Gordon Elliott DID manage to unlock that undoubted back-class that BORICE had in his locker!
Got to feel sorry for BLACK CORTON though, looked like it was his race for the taking as they jumped the last, some run from the top-weight and Miss Frost.
My main hope – MODUS – managed to sneak himself home into sixth. There were a trio of bookies paying down to sixth, if you are one of the lucky ones to hold an account with them (Paddy, Skybet, Boylesports).
The interesting runner for me was PRAVALAGUNA, who jumped the last upside but faded on the long run to the post and could only finish 7th. There was plenty in the effort by the mare to catch the eye and it may well be that she just doesn't quite stay 2m6.5f and will be better suited by a small drop in trip, 3 of her 4 career wins have come over 2m3.5f-2m4f trips. She's worth keeping on the radar…
After the crazy puzzle of the Plate I'd though I'd delve into calmer waters on Thursday…nah, who am I kidding! here's the NTF Race Trends for the Galway Hurdle…
4.55 Galway – Guinness Galway Hurdle Handicap (Grade A) (4yo+)
The Galway Hurdle is an even stronger trends race that the Plate, highlighted by the fact that ALL of the last 15 winners passed ALL of the following race trends…
1 15/15 aged 5yo-9yo
2 15/15 IRE or FR bred
3 15/15 yet to win at G1 level
4 15/15 6-15 previous Hurdle starts (0/105 out with range)
5 15/15 11 or less handicap hurdle starts
6 15/15 no more than 4 hurdle wins
7 15/15 0-2 handicap hurdle wins
8 15/15 top 3 finish 1 of last 3 starts
9 15/15 at least 1lb higher than their last victory
Applying those trends to this year's field gives us the following…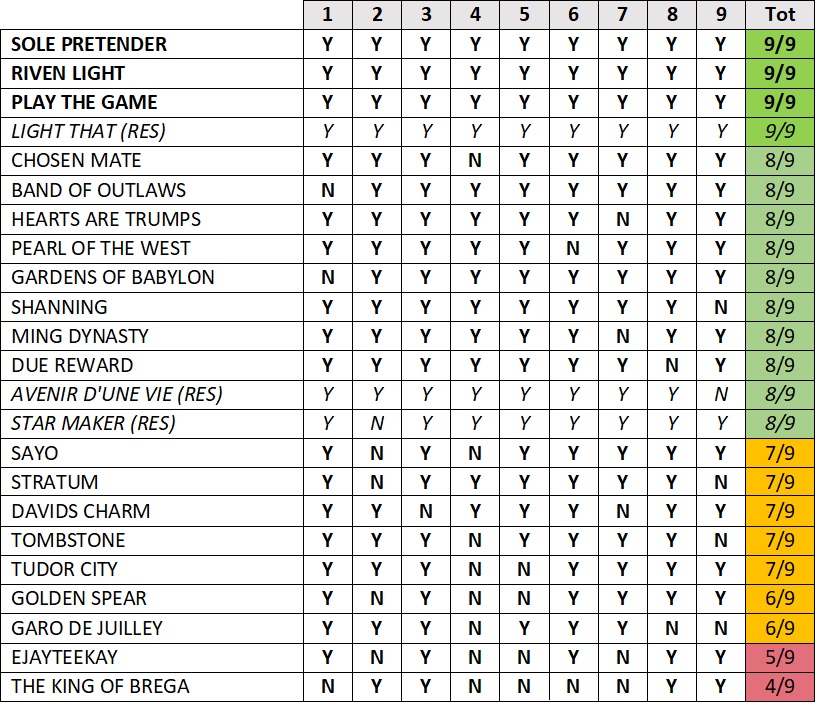 If those trends hold up this year then the winner WILL come from one of this three/four…
SOLE PRETENDER
RIVEN LIGHT
PLAY THE GAME
LIGHT THAT (Reserve)
Before delving deeper I'll take my customary look at the race from a pace angle.
The following was the running style (during the race) of the past 15 Galway Hurdle winners…
CP-HU-HU-CP-HU-CP-HU-CP-FR-CP-HU-HU-FR-CP-HU
FR – 2 || CP – 6 || HU – 7
A front-runner pops up from time to time but basically you want to be close to the pace or held up in this one.
This is how I see this year's renewal working out from a pace perspective…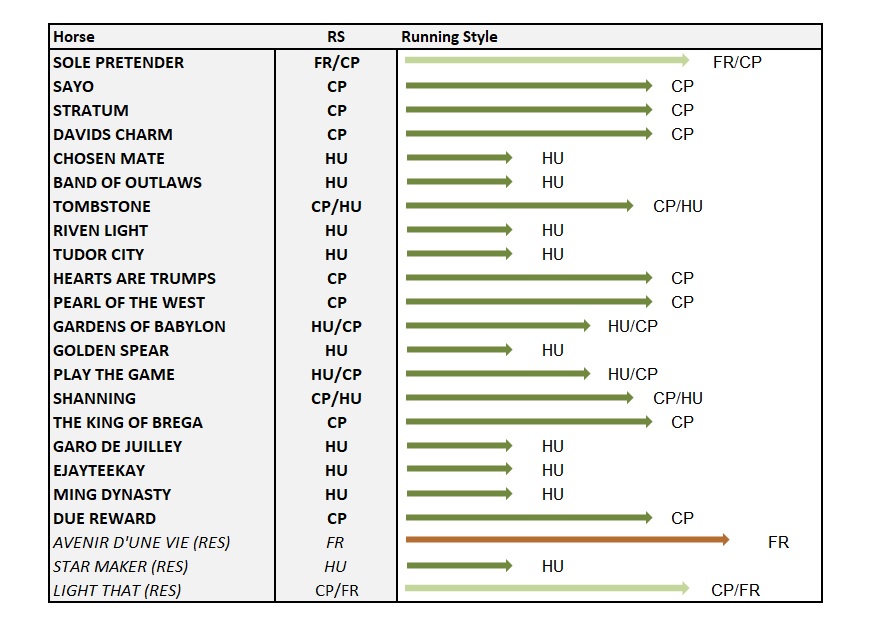 If AVENIR D'UNE VIE gets in the he will front-run and lead the pack. If he doesn't (he's first reserve at time of writing) then it may fall to SOLE PRETENDER to take the pack along off the front-end. Not a race that is chocked full of pace in all truth and there is a chance that Sole Pretender manages to get away off the front…
Conclusion…
SOLE PRETENDER is of plenty interest here as there is a chance he gets an easy time on the front-end and he could prove hard to catch if getting into a rhythm. He's a horse very much on the up – he's won his last 3 starts and 4 of his last 5 – is still unexposed after only 7 career starts (6 over timber) and stays at least half mile further than this trip, meaning he could prove hard to pass if it gets into a battle in the closing stages.
RIVEN LIGHT loves large fields (form of 11516 in fields of 16+), has excellent Galway form (form of 151) and comes alive in the July-September period (form of 11511); enough there to warrant pulling him into the equation I'd say.
Harder to make a case for the third of those at the head of the trends – PLAY THE GAME – but he does come in here off the best performance of his career (a 4L win at Listowel) and given that was when wearing a first time hood, and the hood remains here, there is a chance that piece of kit has unlocked his potential. The trends are so strong for this race and Play The Game is available at such tasty odds (25-1/33-1 in places) that I'm happy to take a flyer on him.
Like the Plate on Wednesday this is another tricky ol' puzzle to try and decipher, but the great thing about these contests is that when you do get it right you are generally handsomely paid.
Best of luck if you are getting involved in this one, if those strong trends hold up this year then the winner comes from one of those trends-toppers…
Ben (NTF)
2 responses to "2019 Galway Hurdle Race Trends…"