8
Nov

What we learned from the weekend: 5th & 6th November…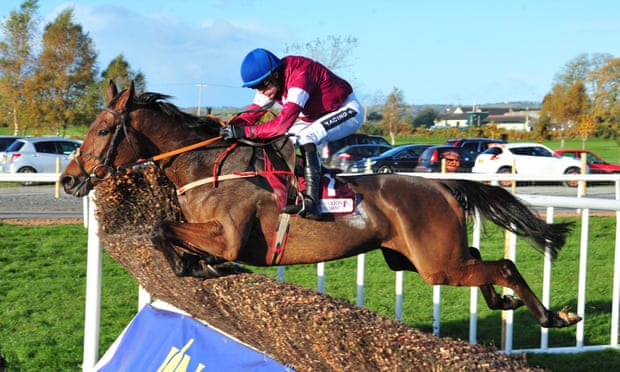 Valseur Lido. A contender for Gold Cup glory in March?
We may still be suffering from faster than expected ground, resulting in smaller fields and multiple non-runners, but boy was that a jam packed weekend of racing just past! I could barely catch my breath on Saturday!
Rain did materialise at some tracks over the weekend although there must be a worry that we go from fast ground to frozen ground now, if the coming forecast is to be believed! Best not panic yet though as if there's one thing we can be assured off it's that the weather forecasters only really strike at around 50% with their 'forecasts'!
Anyhoo, enough weather talk, lets crack on with the latest edition of 'What we learned from the weekend'…
What we learned from the weekend: 5th & 6th November… 
1. Valseur Lido threw down an early marker for Gold Cup glory…
There's always been talent in that big lean frame of Valseur Lido's and boy did it shine through at Down Royal on Saturday. He put in an exquisite round of jumping and an all round professional and polished performance to land the G1 JNWine Chase and stamp himself down as potentially a serious Cheltenham Gold Cup performer.
It was easily a career best effort from the 7yo on the figures, pulling in an RPR of 171 for his victory, the first time he has breached the 170 mark on that scale. It was still a bit away from the 178 figure Don Cossack fired in when winning the race last term but The Don already had a pipe-opener in the bank before landing the 2015 JNWine Chase, Valseur Lido, on the other hand, was making his seasonal debut and there's every reason to believe he will improve for the run.
This was only his 4th start over 3m+ and he now has figures of 1FU1 over staying trips, figures that could arguably be 1F11 had he not thrown away a race winning chance by un-shipping Ruby Walsh at the last when in full control of the Irish Hennessy.
There's one major factor that I like to consider for the Gold Cup and that's a horse's Dosage figures. If there is one race on the jumping calendar that holds up on that angle year upon year then it's the Gold Cup. You need a Dosage rating that firmly sits in the stamina side to take chasing's blue ribbon event and year upon year the winners fit in within the same constraints.
Without going into too much detail I want the Gold Cup contenders to fit the following parameters…
DP           15 of last 15 had 8 points or more in DP
DI           13 of last 15 had a DI of 0.90 or below
CD          13 of last 15 had a CD of 0.08 or below
Valseur Lido holds the following Dosage figures…
DP = 2-1-3-0-0 (6) DI = 3.00   CD = 0.83
Only 6 points in his DP is a big negative for a race such as the Gold Cup.
That almost instantly puts me off him for the race.
Add in the fact that I'm inclined to think he's marginally better on Right-Handed tracks (he's now 6/11 RH compared to 1/6 LH – over fences he is 4/8 RH – 0/4 LH) and I'm lukewarm at best on his Cheltenham Gold Cup chances.
He'll surely win more races this term, I've no doubt about that, but I'd be surprised should he cap his season with the Gold Cup crown.
Valseur Lido is a damn fine beast but I have my reservations over him for the Gold Cup…
Staying in Ireland…
2. Gordon Elliott continues his assault on the Irish trainers championship…
After the Willie Mullins/Gigginstown split big Gordy's received a significantly enhanced strike-force to land even more serious blows in pursuit of the trainers championship and the early signs are that he's not afraid to use those weapons.
Over the weekend he pulled in the following figures…
7 winners from 23 runners | 30% S/R | -£3.92 BFLSP – Win & Place 11/23 | 48% S/R
Sure we ain't gonna get rich backing all his runners but seven winners on a super-busy weekend of racing backed by a 30% S/R is impressive, to say the least.
Those wins extended his lead over Willie Mullins in the Irish trainers championship to just over 400k.
It's fair to say that Mullins hasn't fully unleashed his load yet this season but that's of no concern to Elliott, he's just chunking out the runners and picking up the prize money.
A closer inspection of the trainers championship suggests that Elliott could win this race by sheer volume of runners alone.
To date he has sent out a mammoth 547 runners this season!
That's almost 400 more than Mullins has sent out to date (167 runners as of today).
It's almost 350 more than third on the list Henry De Bromhead (211 runners as of today).
Ultimately, as the championship is decided on prize money, it's the major races that will decide the destination of the crown but Elliott does have plenty of major players in his yard, even more now considering he was the main beneficiary of the Gigginstown 'reshuffle', and I wouldn't be convinced the championship is as clear cut as the betting suggests…
At the minute it's 2/7 Mullins V 9/4 Elliott.
The next couple of weeks should tell us more as historically this is about the time Mullins starts to ramp things up, the time when we see more of his string unleashed and some the shackles being released on the bigger guns.
He suffered a significant blow over the weekend with the sad news that the magnificent Vautour suffered a fatal injury on the gallops but he still does have plenty strength in depth and he won't give up his crown without a fight. It's all about the big guns and he still has plenty sitting and waiting to be unleashed.
Willie could be about to silence big Gordy's charge…
.
3. Southfield Theatre again failed to tell us if he properly stays 3m+ trips…
I'm maybe being at tad harsh on Southfield Theatre here but after his last fence departure in the Badger Ales Trophy at Wincanton on Saturday he's now 0/10 over 3m+ trips.
That's in stark contrast to his form over 2m 0.5f – 2m7.5f trips of 8 wins from 10 starts.
OK his 3m+ form includes a 2nd in a Pertemps Final, a 2nd in a RSA Chase and a 4th in a Bet365 Gold Cup but the facts are he keeps getting beat in these staying races.
Would he have won had he jumped the last on Saturday?
There's a fair chance although Gentleman Jon is probably the stouter stayer and he could well have worn him down anyway.
Was his fall/mistake caused by his petrol tank starting to empty?
Quite possibly, yes. There is every chance that he was starting to reach the end of his stamina reserves and he couldn't quite muster up a race winning leap.
I actually liked his chances on Saturday (thankfully I also liked the chances of Gentleman Jon!) but there is just that niggle for me about his ideal trip and I really want to see him go and do it over 3m+ to put that nagging question to bed.
Is he maybe a bit of a Dynaste type creature? One who looks like he stays 3m+ trips but ultimately fails to win multiple times at the distance.
I hope not as I can be done without another frustrating bugger like Dynaste in my life!
A drop back in trip could be the key to Southfield Theatre?
.
Time for you to put NTF to the test this Cheltenham Bet Victor Open meeting…
My attentions will be fully focused on the Cheltenham races this weekend. Three days of high intensity jumping shenanigans from the home of the National Hunt game gives me plenty of racing to get stuck into from my unique Dosage and Trends approach.
My figures regularly hold up well at Prestbury Park and I've already started delving into the major races over the three days.
I'll also be providing NTF Members with a trio of Mini-Angles to attack the Open meeting with, angles that have proven extremely robust and profitable at previous Open meetings.
I also suspect there will be more than a few NTF Trend Horses taking their chances over the 3 days, adding even more spice for NTF Members.
And this is YOUR chance to jump on-board and give the NTF service a full road test at one of the most high-profile meetings on the National Hunt calendar.
I know from the feedback I have received that plenty of you are interested in being part of the full NTF service but are just not quite sure of the exact ins and outs of the service.
Well this is your chance to get inside the members area for one full week! I'm opening up the doors to 50 of you (on a first come first served basis) so that you can see EXACTLY how the service operates and road test it to see if what I offer is what you need to enhance your experience of the 2016/17 National Hunt season.
I'll be mailing out with full details on this tomorrow and doors will only be open for two days (Wednesday & Thursday) so don't dilly dally if you are looking to get on board for the trial, it's a busy weekend ahead and I won't be holding places once the doors close.
To make sure you don't miss out on the links to sign-up for trial week get yourself on the NTF free list HERE.
Ben (NTF)