2
Feb

What we learned from the weekend: 30th & 31st January…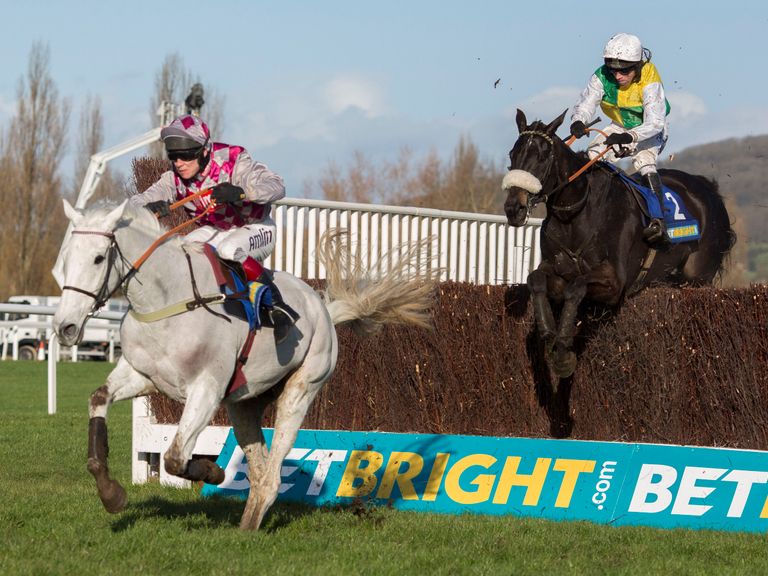 Did Smad Place stick himself in the Gold Cup picture on Saturday?
Cheltenham Trials weekend generally provides us with plenty to ponder over for the main event itself (you know, that big bash in March us jumping lovers look forward to for 365 days of the year!) and despite the hock-deep ground there were once again some serious markers laid down, as well as a few bubbles either popping or at least on the verge of popping.
With the likes of Yanworth, Barters Hill and Thistlecrack all doing the business I don't suppose too many ante-post vouchers went down the swanny, and it did seem more like a weekend of consolidating one's place at the head of your respective market, rather than a weekend for announcing yourself on the Cheltenham stage as a 'live' festival player. But that doesn't mean there wasn't plenty for us to learn, digest and ruminate over as our racing brains continue to focus deeper and deeper upon those four days in March.
So with my own weekend learning, digesting and ruminating now over here's this weeks 'What we learned from the weekend' post…
.
What we learned from the weekend: 30th & 31st January…
.
1. SMAD PLACE put himself bang in the Gold Cup picture…
Or did he?
There is no denying the galloping grey was hugely impressive in his BetBright Chase romp, slamming his field by upwards of 12L, and the bookies reacted by cutting him to as low as 10-1 in places for Gold Cup glory.
There is absolutely no doubt the key to him is to allow him to front-run and dominate his field from the front and although that's generally a difficult tactic to pull off in the Gold Cup Coneygree did prove last year that it can be done.
The front-running tactics are not, however, my main concern over his chances for the big one.
I'm more concerned about the current lack of a Grade One chase victory on his CV.
Consider this stat…
The last 15 Gold Cup winners had previously won a race at Grade One level
Smad Place is currently 0/4 in G1 chases. Overall he is 0/11 at G1 level.
There is plenty evidence that he is just a shade below the top level.
It probably is just a shade as well, he did almost win an RSA Chase, however, in what looks an tantalising hot Gold Cup a shade below the top level is likely to be enough to see him not winning.
Vautour, Cue Card, Don Cossack, Don Poli and Djakadam (more on him shortly) are solid Grade One winners. History tells us Smad Place ISN'T. It's unlikely he'll manage to change that this year when he runs against probably the hottest G1 competition he's ever faced.
It has to also be said that the BetBright Chase hasn't been all that great a trial for the Gold Cup in recent seasons.
Of the last 18 winners of the BetBright Chase only Looks Like Trouble has managed to do the double in the same season.
For whatever reason the trial race is anything but a solid trial for the main event.
Then there's that old chestnut about horses running in the Gold Cup after being previously beaten in the race (as in previously beaten horses struggle to land a blow in future renewals).
Only Kauto Star (one of the greatest steeplechaser of all time) and See More Business (who was carried out by another horse the previous season) have bucked that 'trend' in recent seasons. Smaddy was tonked 27 lengths in 8th in last seasons renewal of the Gold Cup. He would need to show significant improvement on that to get his head in front this year round, despite him indeed being a much better version of himself this season.
It's a funny old 'trend' that one (beaten in race previous season…) and I don't live or die by it at all but there is something about a defeat in the race previously that does put you off. These days it's not really a race that you get a few shots at to get right, it much more likely a vastly improving second season chaser or a horse still climbing his way up the 3m G1 ladder that takes the prize.
Smad Place is neither of those things.
You can't knock what Smaddy has done this term, and I would even begin to try, I'm a big fan of his, but there are plenty of signs that the Gold Cup is likely to be out with his grey grasp.
At least he should give a good shape to the race on a pace front…
Smad Place is vastly improved this term but the Gold Cup is most likely out with his abilities.
…and sticking with the Gold Cup…
.
2. DJAKADAM did himself no Gold Cup favours by ending up on the deck…
He was sent off as 5/6f for the BetBright Chase but never made it further than the 10th fence, blundering his way through it and landing in a heap on the landing side of the obstacle.
To be honest I had already commented (to Mrs NTF, who I dare say wasn't listening!) that I thought he had been jumping a bit low at his fences in the early part of the race and although he didn't make any significant errors before his fall I always felt he was on the edge of an error.
It's not something I had noted before, his low jumping action, although a quick watch back of his races does show a similar jumping style; low and quick.
It's a powerful weapon when it comes off as you spend little time in the air and are up, over and away in the double quick time, however, when you get it wrong the chances are you'll be making a race finishing error, especially at the top levels, which is exactly what happened on Saturday.
Now it's happened once will that dent his confidence?
It also brings into play the following stat…
Of the 103 horses that have come into the Cheltenham Festival off the back of a last time out fall (since 2006) only ONE has managed to be victorious.
1/103 | 1% S/R | -£86.00 LSP – Win & Place 8/103 | 8% S/R
If they now go straight to the festival with Djakadam he will have that imposing stat to overcome.
Oof!
Good luck with that!
The simple facts are that you DO NOT want to be coming in off the back of a fall for your Cheltenham Festival assignment.
It's up there with the worst of festival preparations.
A last time out fall is a serious no no.
So what do they do?
Do they get another run back into him?
Do they have time? He was slightly injured in his fall on Saturday and although he is (thankfully) OK now he will surely have to have a little bit of down time to recuperate. I'm sure he will be more than fully recovered by Gold Cup day but where does that leave him with regards to a prep race/confidence builder before the Gold Cup?
Probably in no-mans-land.
They may well just have to go straight to the festival off the back of that fall…which based on the figures above is clearly not ideal!
It's also worth pointing out the following splits…
Djakadam's form in Ireland – 11121
Djakadam's form in Britain – F82F
Clearly likes his home comforts! Granted the 2 in his Britain form string was in the Gold Cup but comparing the two form lines does start to suggest he's a much safer conveyance on home soil.
Djakadam's Gold Cup chances could be FUBAR after Saturday's performance…
.
3. THISTLECRACK proved the undulations of Cheltenham were of no worry to him…
He is clearly the outstanding staying hurdler of the season and on Saturday he answered the one quibble I had about him; would he handle the challenge of the Cheltenham hill in the same imperious fashion that he had displayed on his two previous outings so far this term.
The answer was a resounding YES.
Indeed on the figures he was even more impressive with this victory, slamming his field by upwards of 12 lengths and firing in yet another career best effort (his 6th in a row).
He had bombed out at the track the only other time he had run there and I had mentioned previously that you would just want to see him climb the hill successfully prior to his World Hurdle bid, just to put those question marks to bed. And put those question marks do bed he damn well did!
The form line of his last five starts reads 12111, with three of those races coming at G1 level and the only defeat being a 1/2l second behind Killultagh Vic at Punchestown when he was squeezed for room at a vital stage of the race.
At the minute he rightly sits at the head of the World Hurdle betting as a general 5/4-6/4 shot and the questions now are who the hell can challenge him?
Vroum Vroum Mag sits next in the betting but she is far from a certain runner.
Next in the market is the Mouse Morris trained Alpha Des Obeaux. He's not all that easy to assess as he's only won two of his nine starts and seems to prefer finishing second rather than first. He's also yet to score at G1 level. On the positive side for him he was still potentially ready to fight out the finish with Thistlecrack at Aintree last spring when he tipped up at the last.
Next up it's super-mare Annie Power. But we've not seen her yet and she could well take in an alternative target come the Festival.
Then it's last years winner Cole Harden. He's just not quite looked the same beast this year and it's worth pointing out he recorded diminishing RPR figures on each of his last three starts since winning last years World Hurdle.
After that we're at Nichols Canyon (far from a guaranteed runner), More Of That (can't see why they would revert back to hurdles) Aux Ptits Soins (potential but yet to be seen this term) and Saphir Du Rheu (he isn't Big Bucks!).
So where are the challengers for Thistlecrack?
I like to see if I can get favourites beaten but I must admit I'm struggling with this lad, he's done nothing wrong and the others haven't done all that much right!
Does Thistlecrack just need to turn up on the day?!
…talking of all things Festival…
Weatherbys Cheltenham Festival Betting Guide
Yes it's that time of year again when the guys at Weatherbys roll out their Cheltenham Stat guide and once again I've managed to secure an exclusive NTF discount for all readers.
By entering NTF in the Promotional Code box you will get £3 off the price of the book.
This year Paul Jones has stepped down from writing the book (he did a fantastic job, didn't he?) and has passed the mantle to Matt Tombs (racing writer for Oddschecker).
The book will be the usual blend of trends, stats and facts but just through the eyes of Matt and not Paul.
You can order the book from the following link…
https://www.bettrendsshop.co.uk/books/betting/weatherbys-cheltenham-festival-betting-guide-2016
…remember and stick NTF in the promo box to get £3 off.
Ben – NTF
Stats sourced from the excellent Proform Database
11 responses to "What we learned from the weekend: 30th & 31st January…"