6
Feb

What we learned from the weekend: 2nd, 3rd & 4th February…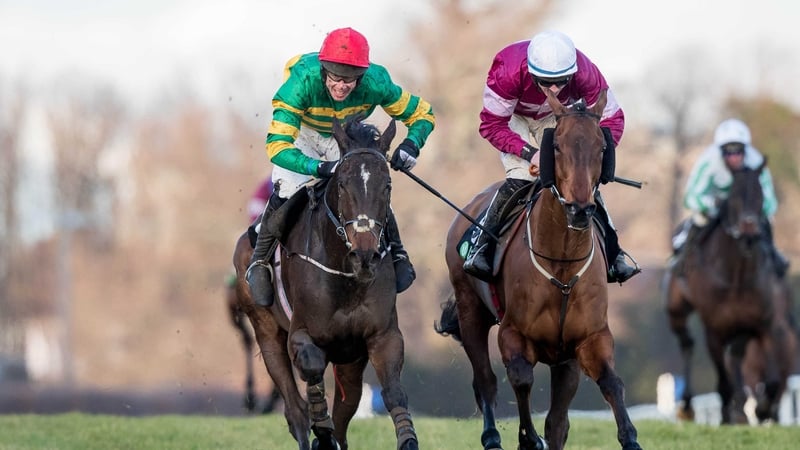 Edwulf nuts Outlander on the run-in to land the Irish Gold Cup!
Everyone caught their breath yet?
That was quite some weekend of racing that was lavished upon us and I think it's safe to declare the inaugural Dublin Racing Festival as a resounding success!
Samcro confirmed his reputation as the second coming…
Faugheen 'bombed' again by coming second in the Irish Champion Hurdle…
Footpad continued to dismiss his 2m fencing rivals…
Monalee put his last time out fall comfortably behind him…
Min continued to hint that he is as good as his hype…
Yorkhill told us what we all already know (he doesn't have the stamina for 3m nor does he have the speed for 2m)…
Edwulf produced a Lazarus like performance (in more ways than one!) to lift the Irish Gold Cup…
Joseph O'Brien put himself bang in the mix with the top of the tree Irish trainers…
Yep, it was all there at Leopardstown over the weekend and it's now left us all positively salivating for the 2018 Cheltenham Festival!
As always, however, we need to look back to look forward so here's this weeks edition of 'What we learned from the weekend'…
What we learned from the weekend: 2nd, 3rd & 4th February…
1. DEFI DU SEUIL again failed to show his juvenile sparkle…
Last seasons Triumph Hurdle victor entered this season with a seven from seven unbeaten record over timber, a record that included three Grade 1's and two Grade 2's. He won his Triumph by a comfortable 5L and hopes were high that he could continue his dominance when facing off against the older horses this term.
That, however, has not come anywhere near to happening, with two runs so far this term resulting in a 17L defeat at Ascot and a 27L defeat at the weekend at Leopardstown. Things have not gone to plan.
But is it entirely the horses fault?
Could it perhaps be more down to the form of the Hobbs yard, a yard that, lets be honest, have failed to sparkle at any stage this season.
At the time of writing Hobbs has 'only' managed to fire in 45 winners so far this season.
Given that in the previous four season's Hobbs has ended up with seasonal winner totals of…
111 – 113 – 102 – 106
…I think we can safely assume those are not totals he will be reaching this season.
But it's deeper than that. If you look at his record in Graded races this term you really start to see problems…
Hobbs record in Graded races this season – 0/17, 3p
Nothing. No winners. Not even one.
Compare that to recent seasons…
2016/17 – 8/52, 10p
2015/16 – 9/73, 9p
2014/15 – 7/68, 6p
2013/14 – 3/45, 7p
Yes we still have Cheltenham and Aintree to come but things really are not looking 100% at the Hobbs yard this term.
Indeed if we dig even deeper and look at his record in all Class 1 & 2 races this season we get the following figures…
5/59, 14p
For a trainer of Hobbs stature that is poor, very poor. Only 5 of his 45 winners this season have come at either Class 1 or 2 level. Wow.
Which begs the question 'Is there an issue at the Hobbs yard?'
If yes then Defi Du Seuil's form suddenly becomes less of a worry and, indeed, could be a bit of a blessing in disguise for the horse.
It's generally very difficult for a juvenile when they step up to take on their elders in their next season, most find things seriously tough and it can leave a mark on them for the remainder of their careers, often never quite reaching the heights once promised or finding the same level of consistency they showed in their glorious juvenile season.
Hobbs has clearly not been all that keen to fire Defi Du Seuil this term, with only two starts by the beginning of February, and that may end up putting the 5yo at a serious advantage come next season (2018/19). With a 'light' campaign under his belt this term he will have been given time to grow and mature away from the racetrack and all being well can come back bigger and stronger next season. Indeed he could be taking a similar path as 2009 Champion Hurdler Punjabi, who also only had two starts by the start of February in his second season hurdling (2007/08) and then went on to finish 3rd in the Champion Hurdle before landing the G1 2 miler at the Punchestown Festival. He then returned a bigger and stronger individual the next season, landing both the Fighting Fifth Hurdle AND the Champion Hurdle itself.
Now clearly Defi Du Seuil may not end up doing exactly that, but he doesn't become a poor horse overnight and this light campaign of his, whether intentional or unintentional, may well bear fruit further down the line. Especially when there are a few more shoots of life from team Hobbs…
Don't completely write off Defi just yet…
.
2. JP McManus went hell for leather for Dublin Festival glory…
…and it paid off.
The master of the green and gold hoops fired a mammoth 33 runners at the two day meeting (THIRTY THREE!) and managed to pull in three winners, the only owner to manage more than one winner in his silks.
Now clearly he had significantly more runners than everyone else (Gigginstown had 28, Rich Ricci had 12 & the rest had 4 or less) but the onslaught paid dividends and you can't say it wasn't worth it.
I'm now wondering if this will be a regular occurrence?
Will this now be a meeting that he targets?
I'd suspect it will be somewhere he has his sights firmly aimed at, the prize money is astronomical and he's never shied away from such rewarding challenges.
The challenge for us punters, however, is how the hell do we profit from his machine gun approach?!
If you had backed his runners blind at this meeting you would have made comfortable profits, the interesting things is how and where you backed them.
Take a look at the following…
SP returns (backing all McManus runners) – +34.00
Betfair SP returns – +81.55
Morning price returns – +104.00
Early Price (Evening before) returns – +109.00
That is a monster difference between the SP returns and the evening before prices. The evening price is even a decent boost on Betfair SP.
Those SP returns compared to evening before/morning prices fully suggest that McManus himself had nibbled at his winners and he's not a man to throw his money around willy-nilly, he's a damn shrewd punter and he must have been confident of some big runs.
Clearly this is only one meetings worth of figures and there is hardly any evidence this will continue in the future but those returns, depending on when you take the price on the McManus runners/winners, are very interesting indeed, and something that's certainly worth keeping an eye on at the major festivals…
If you can catch those McManus winners in the early markets the returns could pay for an extra holiday!
.
3. Henry De Bromhead is having a quiet time of it at the minute…
19 runners fired at the Dublin Festival over the weekend yielded only the one solitary winner for De Bromhead, and only 3 further placed horses.
In fact the trainer is a rather miserable – 2/48 | 4% S/R – Win & Place 9/48 | 19% S/R – 56% below expectation – since the start of 2018 and his yard are just not quite firing at present.
Which makes the victory of MONALEE on Sunday all the more impressive.
To win what on paper looked a deep and tight G1 Flogas Chase, off the front end and having to get down and dirty in the closing stages, is a serious piece of form, especially when everything else from the yard is failing to fire at the minute.
The win now sees him vying for RSA Chase favoritism, and rightly so.
Based on my stats the 7yo Milan gelding is likely to be an absolute prime fit for Festival glory on the Wednesday and this win, when the yard is firing someway below form, only goes to cement his place as one of the most exciting chase prospects in the 3 mile chase division.
Monalee is probably some way better than the bare form of his Flogas victory…
FREE Cheltenham Festival trends guide & NTF Cheltenham service…
With the 2018 Cheltenham Festival just over a month away I'll shortly be releasing a FREE Cheltenham trends guide to all members of the FREE NTF list.
My 'Ten essential Cheltenham Festival trends you NEED to know' guide is a must read for anyone that's serious about making a profit at this years meeting.
It won't be your standard trends and it won't be information that's readily available in the open market so you won't want to miss this.
I often release similar guides to the free NTF list at this time of the year but I ALWAYS make sure they are updated and as relevant as possible, there's nothing worse than getting a free guide that just been hashed together for the sake of it (well a paid guide that's been hashed together would be worse I suppose!!!).
If you're already a member of the FREE NTF list then rest easy, you will definitely be getting the guide.
If you are not yet a member of the FREE NTF list then pop your details in the box below and you will be guaranteed a copy when it's released…
I'm also looking to open the doors to my NTF Cheltenham service shortly. I usually wait until around a week to 10 days before the tapes go up on the Supreme before taking on Cheltenham subscribers, but I'm going to be producing some trends/early look stats for the Festival for full members shortly and think it would be worthwhile to let those looking to join for Cheltenham week to hop on early so as you can benefit from these posts.
It will only allow you access to anything Cheltenham related in the members area, the rest of the members post will only be view-able to full members, but there are a lot of you that only hook on for Cheltenham anyway so I feel this would be a great extension of that part of the NTF service. I'll have more details on this shortly but again if you are not on the free NTF list it would be wise to get your name on there now as this will be where I'll be posting sign-up links for all the Cheltenham stuff.
Cheers – Ben (NTF)
*Majority of stats for this post were sourced from the excellent Proform Professional