29
Nov

What we learned from the weekend: 26th & 27th November…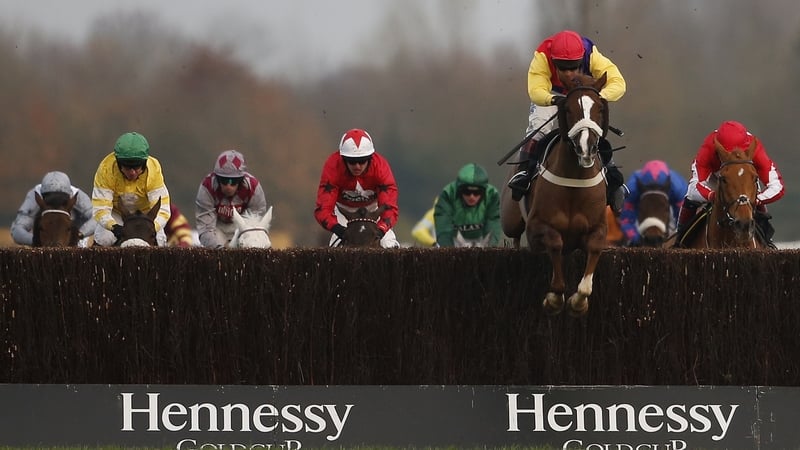 Native River on his way to Hennessy glory.
The Hennessy Gold Cup at Newbury is probably one of my favorite handicaps of the season. The large field and end to end gallop involving a large slice of second season staying chasers makes it a fantastic race to get involved in from a punting perspective and an even better one from a viewing perspective.
Sure, this renewal probably wasn't one of the strongest Hennessy Gold Cups in recent times but that shouldn't detract from the dogged battling qualities of the winner Native River, who was on the sharp end most of the way and then battled back like a tiger when headed around 2 from home, digging in even deeper when challenged on the lung-bursting run to the line. I would debate whether he is Gold Cup class (his Dosage certainly indicates he isn't) but his running style and attitude makes him a horse that's easy to love and he's sure to remain competitive when stepped into open graded company.
The was plenty else going on apart from the Hennessy, however, meaning there was juicy variety of National Hunt action for me to cherry-pick from for the latest version of 'What we learned from the weekend'…
What we learned from the weekend: 26th & 27th November…
1. Irving is far from a spent force in the 2m hurdling division…
Prior to this weekend plenty had lost faith in the Grade 1 winning hurdler and to a certain extent I could see why.
However, I was convinced there was a fairly simple pattern to his form figures and when he had his conditions he was well worth getting financially involved in.
This is what I wrote in the race guide to my members this weekend…
IRVING (P Nicholls) – Pace could be the key here and with a good chance of four of them going at it up front that could well set it up for Irving, who enjoys a fast pace to aim at and will benefit from sitting off the leaders early. It's interesting to note that he is 11F111 (5/6) on his first two starts off a break (would have most likely won on the F as well – 11PP2P64 (2/8) on all other starts) which would most likely explain his disappointing run in this last year (his 3rd run off a break, which was also his 3rd run within 3 weeks). The Soft ground will be ideal for him (5 of his 7 wins on Soft), he's won 5 of his 7 starts in November and Nicholls should have him bang fit for this.
The pattern in his form figures that suggested to me he was well worth taking a punt on at the weekend?
His record on his first two starts off a break.
After his Fighting Fifth win at the weekend he is now 11F1111 (6/7) on his first 2 starts off a break of 100 days or more (119P2P64 (2/8) on all other starts).
Being fresh does look the main key to him performing to his best.
Ground also seems to be a vital component to his success.
He is now 6/9 on Soft ground and a less pleasing 2/6 on quicker ground and he does seem to prefer plenty cut underfoot. The Soft condition as Newcastle on Saturday were ideal for him.
He's is also now 7/10 in the Nov/Dec period (1/5 in the Feb-Apr period) and a follow up victory wouldn't be out of the equation next month somewhere, depending on exactly where he is aimed at.
He has been called some names in the past but he's just one of those horses that needs a defined set of conditions to perform to his optimum.
When conditions are in his favour Irving is well worth having on your side.
.
2. Twiston-Davies unleashed an exciting novice chaser at Newcastle…
That horse is called Calett Mad, a 4yo that is a half-brother to Gary Moore's exciting chaser Ar Mad.
The youngster put in an impressive performance on what was his first start for NTD, his first start over here and his first start over fences. Like his older half-brother he looks one that's well worth following over sticks.
It's actually extremely worthwhile taking note of any runners Twiston-Davies sends to Newcastle. Since 2003 he has only sent 29 on the long haul north to the track but seven of them have won (24% S/R) and a further five have placed (41% Win & Place S/R), returning a +£17.63 BFLSP.
You can tighten the stats up further if you only consider those NOT wearing any headgear…
7/22 | 32% S/R | +£24.63 BFLSP – W&P 12/22 | 55% S/R
(all winners and placed horses)
He also sent Bristol De Mai up to the track on Saturday for a pop at the Rehearsal Chase, the 5yo's first spin over a 3m trip (almost 3 miles). He ran a fine second (boosting the NTD Newcastle stats) although he was probably out-stayed by Otago Trail on the run to the line. At the minute I don't think BDM doesn't stay these longer trips although I'm not yet fully convinced 3m+ will be the ideal route for him.
When NTD bothers to make the lengthy trip up to Newcastle it often pays to have a financial interest. 
.
3. Min took to his new job with the minimum of fuss…
He was very much a hype horse last year and it easy enough to be fooled into (wrongly) thinking that his second in the Supreme Novices' behind Altior was a disappointing run. It was far from that and if you consider that last year's Supreme has already produced 9 winners, including 3 at Graded level, it's clear the 2016 Supreme is likely to prove to have been an above average renewal.
They've switched to fences with Min this term and he made a winning start in that sphere on Sunday with an all the way win at Navan, a race where he barely came out of second gear. He still needs his jumping to be tidied up a bit on the evidence of Sunday but he improved as the race went on in that department, certainly in the middle part of the contest, and the run should also have knocked the freshness out of him.
Whilst it was great to see Min back on the track it was a set of stats attached to his trainer Willie Mullins that particularly caught my eye.
Mullins November chase debutantes have a superb conversion record since the start of 2012…
24/38 | 63% S/R | +24.70 BFLSP – W&P 30/38 | 79% S/R
50% above expectations
Although we are now approaching the end of the month it is something to keep in mind for coming seasons, profitable Mullins angles are not always that easy to find.
This season alone his November chase debutantes are an impressive 5 from 5, returning a +£13.21 BFLSP.
Keeping on the embryonic Willie Mullins chasers angle…
If you look at his chasers on their SECOND ever chase start they also return healthy figures…
49/116 | 42% S/R | +£19.86 – W&P 68/116 | 59% S/R
Improving to…
34/68 | 50% S/R | +£32.12 BFLSP – W&P 44/116 | 65% S/R
…when you look at those that finished in the top 2 on chase debut.
No doubt Mullins has his chasers ready to the business on their first couple of starts.
Ben (NTF)
*Stats sourced from the excellent Proform Professional database
7 responses to "What we learned from the weekend: 26th & 27th November…"