5
Dec

What we learned from the weekend: 1st, 2nd & 3rd December…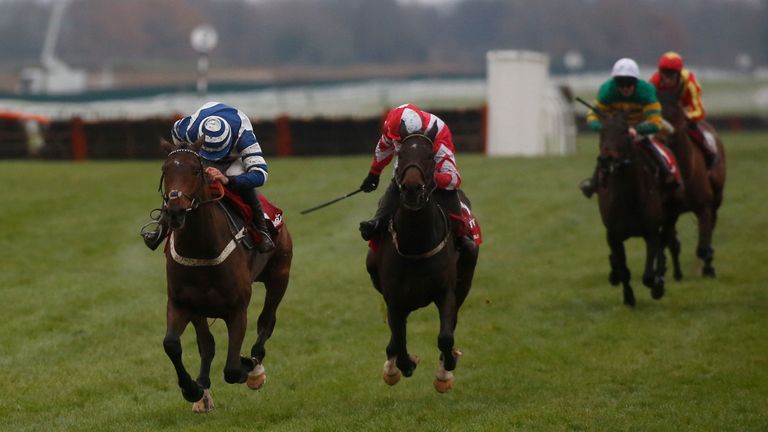 Ya b*st*rd Total Recall, ya b*st*rd…
The Ladbrokes Trophy/Hennessy Gold Cup at Newbury is easily one of my favorite handicaps of the season. The large field and end to end gallop, involving a large slice of second season staying chasers, makes it a fantastic race to get involved in from a punting and trends perspective and an even better one from a viewing perspective.
It's always been a race that has proven strong for my race trends and this year again proved to be a similar story, with the three trends-toppers on my figures being WHISPER, A GENIE IN ABOTTLE & TOTAL RECALL. Now unfortunately I talked myself out of Total Recall and plumped for the first two named so I'm still a bit 'tender' after the result! I genuinely thought Whisper was going to run away with it jumping two out, but oh no old Willie Mullins had other plans and decided to spoil my party right at the death! God damn you Mullins…
Cracking race though!
There was plenty else going on apart from the Ladbroke Trophy, however, meaning there was juicy variety of National Hunt action for me to cherry-pick from for the latest version of 'What we learned from the weekend'…
What we learned from the weekend: 1st, 2nd & 3rd December…
1. Thistle was well and truly cracked on comeback…
Sure it was Thistlecrack's first run since January and sure, the Long Distance Hurdle wasn't the be all and end all for him but even his most ardent of fans must have been disappointed with his 13L 5th of 6 on Friday.
Pre-race Colin Tizzard waxed lyrically about having him fitter than he's EVER BEEN for his seasonal debut. Really? Or did he mean to say 'this is a warm up for the King George, he's been off with injury for 10 months, we just want a clear round'?
It was a strange one for sure but without those 'bullish' pre-race comments I'm sure most of us would have thought it was a satisfactory enough run on his first start for 307 days. But the things is we KNOW they expected more and the horse simply didn't deliver. The facts are it was a disappointing effort, resulting in his lowest RPR figure since running in the Imperial Cup at Sandown in 2015.
All roads still, however, lead to the King George Chase on Boxing Day and that's no surprise, he was an impressive winner last year and connections obviously want to defend their crown.
However, let me float the following stat out there…
19 of the last 20 King George winners had finished in the top 3 on their final prep run before winning the Xmas showpiece
Those that didn't are 1/54 (Kauto Star being the only one to defy the stat)
Now it's only one trend and there is plenty more to consider when looking to find the likely winner of the Christmas Grade 1 but the facts are that a disappointing warm-up (outside the top 3) is NOT the usual route of King George winners.
Can Thistlecrack bounce back and defy the trends?
.
2. Rose Dobbin continues to quietly improve her string…
Rose Dobbin isn't a trainer that makes the headlines much and it's safe to say she skips under most folks radars. But she shouldn't, she should be bang on your radars!
She wouldn't have the biggest string to go to war with but she's making the most of what she's got, highlighted by her figures from last weekend…
3/7 | 43% S/R | +£14.75 LSP
Winners coming at Newcastle, Carlisle and Doncaster, suggesting she knows where to places her horses to best utilise their abilities.
Those figures are no fluke either, she's been a consistent trainer for the last few years as she looks to hone her training skills and start to move up the training ranks. Something I feel she's on the cusp of achieving.
The last four seasons have seen her return the following winners…
2013/14 = 15 
2014/15 = 16 
2015/16 = 16 
2016/17 = 16
As I said, pretty damn consistent!
This year, however, she's already fired in 11 winners and all being well should smash through her season best tally with minimum fuss.
And there are two horse in her yard that really catch my eye…
One is the Graded winner JONNIESOFA, who I've covered on here a few times in the past.
The other is one of her winners from the weekend COOLE HALL.
Coole Hall is starting to put together some decent form on the north circuit and he remains one to keep on side in the short and long term. He's a tough battling type who has already visited the winner enclosure twice from three start this term and it would be no surprise to me to see him fire in another couple of victories before going Novices Chasing next term. He will be very interesting when going over fences in the 2018/19 season and is one of a number in the Dobbin yard that will continue to propel her up the trainers table.
Rose is a trainer that's really starting to blooming…
.
3. They need to stop running Flying Tiger in conditions races…
…and right now!
Not because he isn't good enough, far from it, but because they are in danger of blowing his handicap mark.
The Fred Winter winner currently sits on OR 140 and to me that looks an exploitable mark waiting to be exploited!! The mark won't last long, however, if they keep running him in races like the Elite Hurdle and the Fighting Fifth Hurdle and he continues to finish 4L off the winners, especially when he's likely to be chasing the likes of the Champion Hurdler Buveur D'Air home.
They got lucky after this last effort as the handicapper has decided to leave him on the 140 mark after the run but you couldn't have blamed him if he had seen it fit to put the 4yo up a few pounds for finishing within hailing distance of the winner.
There are any number of valuable Handicap pots they could plunder off OR 140 before putting him back in against the best and we know that Nick Williams is more than capable of readying one for such contests, just think of the likes of Diamond Harry, Aubusson, Tea For Two and Agrapart, so come on team Williams, just hang fire a bit and plot a route to chunky Handicap prize, without blowing his mark on the way there…
The Tiger can fly high in handicaps if handled with care…
Ben (NTF)
p.s. there will be no 'What We Learned from the Weekend' next week
5 responses to "What we learned from the weekend: 1st, 2nd & 3rd December…"