22
Dec

What we learned from the weekend: 19th & 20th December…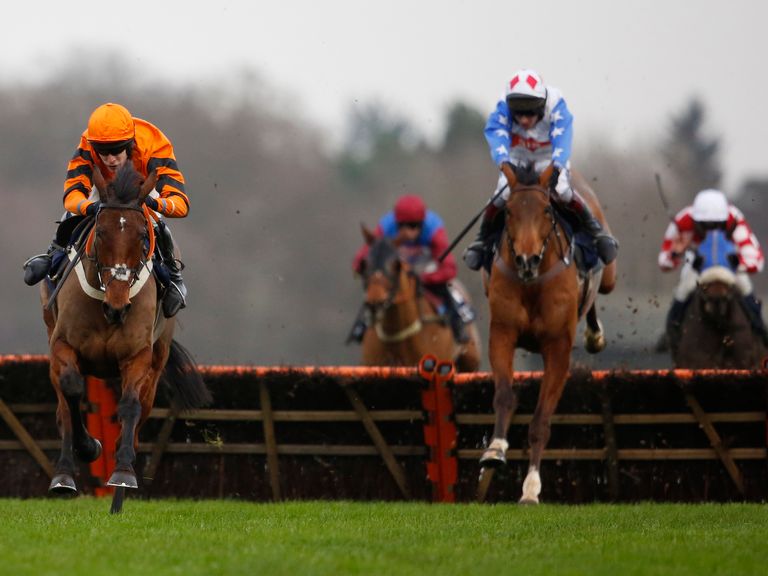 Thistlecrack continued on his upward curve at Ascot…
It's often a bit of a 'calm before the Christmas storm' couple of days but there was still plenty of talent on show last weekend, with a number of horses enhancing their spring festival credentials in the process.
Once Christmas Day is out of the way we are positively smacked around the chops on a daily basis on the racing front so before all that consumes us lets stop, take a breath and have a calm and considered look back at last weekends racing with the latest instalment of 'What we learned from the weekend'…
What we learned from the weekend: 19th & 20th December…
1. Thistlecrack looks the one they all have to beat in the staying hurdle division…
Colin Tizzard's 7yo added the G1 Long Walk Hurdle to his G2 Long Distance Hurdle crown, making it two from two for the season and landing the second G1 of his fledgling career.
Off the back of his uber-impressive victory on Saturday he was trimmed into (a rather tight) 11/4 fav for the World Hurdle in March.
He's impressed on the figures this season, particularly at Ascot on Saturday where he recorded his second career best RPR figure on the bounce and smashed his personal best Proform speed figure, and already is running to marks that are good enough to win at Cheltenham in the spring.
His RPR figure of 169 from Saturday is already better than what Cole Harden recorded when winning last season's World Hurdle and it's only 3lb shy of what More of That recorded when winning the 2014 renewal.
On the Proform speed figure front he ran to a rating of 91, which is significantly ahead of what both Cole Harden and More Of That recorded when winning their World Hurdle's. In fact that figure of 91 is better than ANYTHING Cole Harden or More Of That have recorded anywhere in their careers to date.
There may be hype surrounding Thistlecrack but it's well deserved, he has been backing up his performances on the figures front, as well as visually pleasing with the manner of his victories.
He also passes the Dosage test for the World Hurdle, a race that is extremely strong on that front.
His figures are…
2-0-11-4-5 | (20+) | 22 | 0.52 | -0.45 
For those of you that are not aware those figures contain the perfect hefty splash of stamina influences that's needed to lift the crown.
So are there any chinks at all in his armoury?
Well it's not a chink, it's more a minor quibble, but it's well worth mentioning.
It's that complete bomb out he had the only time he's tackled the undulations of Cheltenham; January this year on trials day in the G2 Classic Novices' Hurdle.
He finished a rather poor 7th of 9 beaten 61 lengths that day. That was, however, only his second hurdle start and he was thrown in to the deep end there so I wouldn't be saying he doesn't handle the track based solely on that run. I would, however, want to see him tackle and master the hill prior to March, which we probably will, all being well, when he takes in the Cleeve Hurdle.
As I said it's more of a minor quibble than a full on penetrable hole but it's still a niggle that I'd want to see answered before he lines up in the World Hurdle.
Is he less effective round the Prestbury Park contours and will the ups and downs of the track halt his ascent to the top?
Thistlecrack is the new force in the staying hurdle division but does he have the tools to master the demanding Cheltenham Hill?
.
2. Nigel Twiston-Davies' Ascot record worsens with each passing meeting…
Since the beginning of 2008 NTD Ascot runners have recorded the following figures…
4/107 | 3.5% S/R | -£71.12 BFLSP – Win & Place 20/107 | 19% S/R
60% below expectation
Four more defeats were added to the tally on Friday and Saturday and the facts are that his string, for whatever reason, just don't act at the track.
It doesn't, however, stop people from backing the NTD runners at the track as both Big Casino and Ballybolley were well backed before the off in their respective races, only to inevitably end up well-beaten.
The Twister yard is one I know extremely deeply. I've studied it in-depth for a number of years and they have provided me with a rich source of profits year upon year. It's not just about profits, however, it's also important to know when not to waste your money, where you should be holding fire and waiting for better opportunities.
Twiston-Davies at Ascot is one of those places and you would all do well to remember that going forward from here.
Avoid the Twister runners at Ascot!
.
3. Fingal Bay continues to frustrate over fences…
On the face of things a 2 length 3rd in a valuable listed handicap is a decent return. And I suppose it is. He picked up just over 10k in prize money and he gave his connections more than a run for their money.
That 3rd place, however, brings his chase record to one win from eight starts. In seven of those eight starts he has started at 6-1 or less, indeed on five occasions he's started at less than 2-1.
His 1/8 fences record is also completely over-shadowed by his 6/8 record over hurdles (and his 1/1 bumper record).
It's not as if he can't jump fences either, he's actually more than capable over fences.
So what's the problem with him?
I think they key may be trip.
Look at his splits…
3m+ races – 153324P
2m7.5f or less races – 11O1122111
Does he maybe not fully stay 3m+?
He looked all over the winner on Saturday as they entered the home-straight but he just didn't quite see it out all the way to the line.
He clearly still holds plenty of talent but maybe it's time to switch targets and look to drop back in trip a little, seven of his eight career wins have come over shorter than 3 miles, he's maybe just not that robust a stayer…
It's time for team Hobbs to look over shorter with Fingal if they want to get him back to winning ways.
I would like to take this opportunity to wish all NTF readers a very Merry Christmas. I hope you have a great day but also remember to leave plenty in the tank for a racing fans real Christmas Day – the feast of National Hunt racing that is Boxing Day! Punting on the races with a hangover is a recipe for disaster, just remember that when you are downing your 20th Jack Daniels!!
I'll leave you with a bit of an alternative Xmas song for you to enjoy. Something a bit different from the usual turd we get force fed at this time of the year!!
Cheers and Happy Christmas Punting – Ben (NTF)
Stats sourced from the excellent Proform Database