23
Feb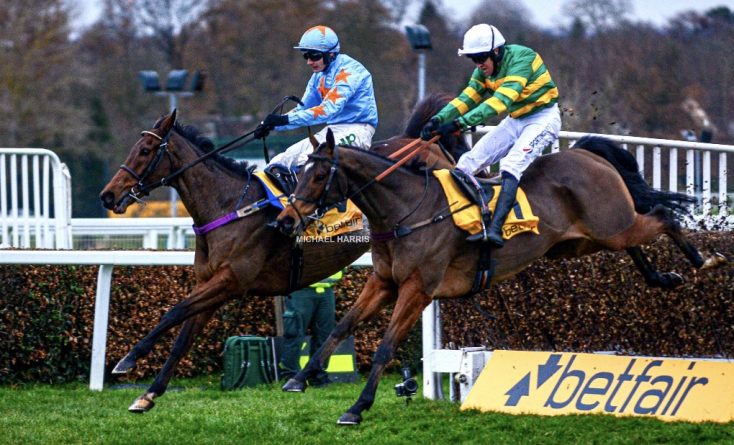 What we learned from the weekend: 19th, 20th & 21st of February…
Three weeks until the 2021 Cheltenham Festival…
We'll all being doing the 'Cheltenham Roar' from our sofas this year round, but beggars can't be choosers, so we'll make the most of it and scare the bejesus out of our neighbours when the tapes go up for the Supreme 😱
Thankfully temperatures are on the up, racing is back rolling again and I was able to get a girthy eight pages of weekend notes out to full NTF Members yesterday.
Plenty for us to chew over so let's crack on with the latest copy of 'What We Learned From The Weekend'…
What we learned from the weekend: 19th, 20th & 21st February…
.
1. CHAMP has the gears and, perhaps more surprisingly, the jumping ability to cut it with the top 2-milers…
It's been a long time coming but we finally got to see last year's RSA champion, CHAMP, back on the racecourse and strutting his stuff, with the 9yo making a somewhat surprising return over 2-miles in the rescheduled Game Spirit Chase on Sunday.
Given his sometimes less than fluent jumping technique and his undoubted stamina reserves it seemed an 'odd' opening hand to play by his trainer Nicky Henderson, but you know what, I was impressed, seriously impressed. Champ more than held his own against some extremely classy and seasoned 2-mile speedsters and apart from a slightly wayward leap at the last it was hard to fault his jumping. He's a bit like 2012 Gold Cup winner Synchronised (also owned by JP McManus) in that he has his own way of getting from A to B at times, but it works and a 2L second to the high-class Sceau Royal, who had his Prime Conditions to attack and was getting 3lbs from Champ, is serious form, it was in fact a career best on RPR figures and a career second best on Proform Speed Figures.
But where does that now leave Champ on the stats front for his crack at the Cheltenham Gold Cup next month?
Let's have a look…
22 of the last 23 Gold Cup winners ran over 2m5.5f+ on their final start before Gold Cup
1/32, 4p for those that ran over 2m5f or less (winner being Don Cossack, who strolled home over 2m4f at Thurles against inferior opposition)
That's not really surprising in all honesty, we know the Game Spirit is an odd 'warm-up' for the Gold Cup and the stats would back that up. Over a 23 year period only 32 have tried to win the race off the back of a warm up run over shorter than 2m5.5f, so I'm inclined not to worry too much about that stat…
23/23 had a break of 33 days or more before winning their Gold Cup
0/87, 14p for those running in Gold Cup off a break of 32 days or less
Fancied runners like Clan Des Obeaux (2019), Our Duke (2018), Cue Card (2017), Long Run (2012), Kauto Star (2008), Beef or Salmon (2003) & Teeton Mill (1999) have all fallen foul of this stat.
This stat is perhaps a bit more of a worry for Champ. The Gold Cup can be a desperately gruelling race and a longer break from your last run is certainly preferable…then again maybe Henderson knows this and that's why he gave him a spin over 2m rather than a potential slog over 3m…
20/23 had recorded at least one victory in the current season
3/121, 14p for those coming in with no victory on their CV in the current season
Again, it's unusual, although not unheard of, for the Gold Cup winner not to have slotted a W onto their CV in the current season prior to Gold Cup glory…
So on the stats front, yes, there are worries.
Major worries that he can't overcome? I'm not sure about that…
There was a hell of a lot to like about Champ's effort in the Game Spirit Chase, a hell of a lot. He's got gears, he stays and his jumping looks significantly cleaner than it ever has, like Synchronised before him, if he can stay close enough to the pack coming down the hill he'll certainly be coming back up the hill stronger than most…
He's had an unusual prep but Champ looks a serious Gold Cup player…
.
2. LISNAGAR OSCAR is coming to the boil nicely as he prepares for his Stayers Hurdle defence…
The Rebecca Curtis 8yo sprung a huge surprise when lifting the Stayers Hurdle crown at 50-1 last season and he'll likely line up relatively unfancied again for the defence of his crown this year, with the Oscar gelding currently trading at around the 16-1 to 20-1 mark.
But is he in danger of being overlooked or was last year indeed a 'bit of a fluke'?
He warmed up for the festival with an excellent 2nd in the G2 Rendlesham Hurdle at Haydock on Saturday, going down by less than a length after hitting a small flat spot after the last, before staying on strongly in the final 50-yards. He'll likely have need the run as he's 32F2 off a break of 49 days or more, with all his wins coming off shorter breaks than that, as such the run should have put him spot on for next month.
More importantly, however, is the fact he's now bang in his prime months and it's during this stage of the year you are always likely to see the best of him…
Form in the January-April period = 213F3511 (3/8)
Form in all other months = 74932223 (0/8)
Rebecca Curtis also defies the recent poor stats of 'the North & Wales' based trainers at the Festival and she certainly knows what it takes to get one primed for meeting, indeed all five of her festival winners would have been found using the following…
R Curtis Cheltenham Festival | 2m4.5f+ | 6yo-8yo | top 3 finish LTO | DSLR 60 or less | NOT making track debut
…which gives overall figures of…
5/12 | 42% S/R | +£72.38 LSP (+£144.32 BFLSP) – W&P 6/12 | 50% S/R
(from a pool of 51 total runners)
An angle LISNAGAR OSCAR will be fitting this year…
It will be tough for the 8yo to land back to back Stayers crowns, undoubtedly, but at the very least there's a good chance of him making his presence felt and snatching a place…
Last year's Stayers champ shouldn't be overlooked…
.
3. Philip Hobbs continues to struggle in the top end Ascot Handicap Chases…
JERRYSBACK started as 3/1 fav for the Listed Swinley Chase at Ascot on Saturday but not for the first time a Hobbs handicap chaser in these types of contests failed to hit the mark, with the 9yo never really looking fully competitive and ending up Pulled-Up before 2-out.
I had highlighted the poor stats for Philip Hobbs runners in C1-C2 Handicap Chases at Ascot to my full members in the race preview and the effort of Jerrysback simply added to the poor figures, which now read…
P Hobbs Ascot Handicap Chasers | Class 1 & Class 2 races
3/67 | 4.5% S/R | -£21.41 BFLSP – W&P 28/67 | 42% S/R
58% below expectation
In fairness the place side of things isn't quite as bad (and his Musical Slave did add to that pot in this race, albeit some 16L back in third) but overall the stats tell us we should be avoiding Hobbs Handicap Chasers in these high-class Ascot contests (or at least be having some seriously strong positives on our side if we are to risk punting one).
Be wary of those Hobbs Ascot handicap chasers at the higher levels…
---
---
I'm still working away behind the scenes with my festival prep work, diving deep into the Cheltenham trends and stats, and I'll have my usual free Cheltenham Festival guide(s) with you lot in due course.
To make sure you don't miss out on that work just make sure you are on the free NTF list…
Cheers – Ben (NTF)
12 responses to "What we learned from the weekend: 19th, 20th & 21st of February…"