14
Nov

What we learned from the weekend: 11th & 12th November…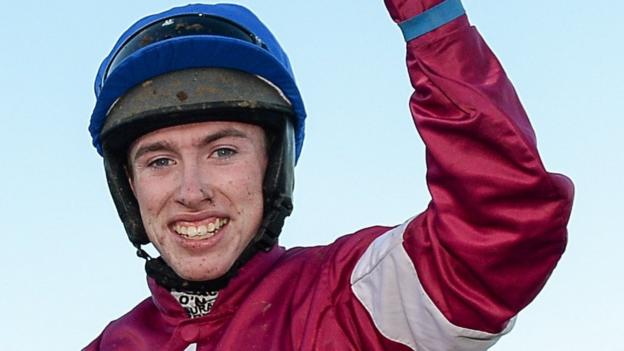 Jack Kennedy was in red-hot form over the weekend…
Unowhatimeanharry, Top Notch, Apples Jade, Footpad, Might Bite… yeah we're in full swing now friends!
An interesting, albeit a little bit quieter than what's to come, kind of weekend, but what did we learn from the action…
What we learned from the weekend: 11th & 12th November…
1. Jack Kennedy continues to be a young jockey on the up…
We all know this young lad is a serious talent, you really don't need me to be telling you that. Yes he has the powerful backing of Gigginstown House and Gordon Elliott but he still needs to get the job done, and boy does he do that!
Take a look at his figures from the weekend…
5/9 | 56% S/R | +£35.78 LSP – W&P 6/9 | 67% S/R 
182% above expectation
No other jockey riding this weekend came close to those types of figures (Mark Walsh was 3/7 so I guess he kinda did but the others weren't even in the same ballpark) and he just keeps on impressing us all, week after week, month upon month.
It's not only last weekends figures that look good, his seasonal figures also look pretty smart…
25/100 | 25% S/R | +£17.82 LSP
The likes of Davy Russell (333 rides), Ruby Walsh (213 rides), Sean Flanagan (307 rides), Mark Walsh (192 rides) and Andrew Lynch (350 rides) have picked up significantly more rides than young Kennedy so far this season but only Ruby betters him in terms of strike-rates (29%).
Due to the nature of the connections Kennedy is riding for he's going to be on-board plenty of favourites, but you know what he doesn't let that phase him in the slightest.
Take a look at his stats when he's ridden a clear favourite this season…
18/24 | 75% S/R | +£12.32 LSP – W&P 23/24 | 96% S/R
41% above expectation
A 75% S/R is exceptional! He's there to get a job done and that is exactly what he does.
Furthermore he has only failed to at least place on ONE of those 24 favourites he has ridden!!
Indeed 23 of the 24 favs he's ridden this season have finished in the top 2! The only one that escaped him was an unseat at the first at the end of October.
Those are insane stats! Proper crazy stuff from the young lad. If you are a favourite backer you really want this boy on your horse!
I'll tell you now, no other jockey (that's ridden at least 10 favs) comes close to those stats this season…
Jack Kennedy is on a fast track to the top…
…staying in Ireland…
2. Footpad made an exemplary start to his life over fences…
As far as chase debuts go this season I don't think it's stretching it too far to say the run produced by Willie Mullins' 5yo at Navan on Sunday sits right on top of the pile.
He traveled and jumped like a seasoned pro, barely put a foot wrong and won as easily as he liked.
Off the back of the victory he was quickly shortened into clear favorite for the Arkle Chase at the 2018 Cheltenham Festival and, I suppose, that's fully understandable.
It is worth noting, however, that all his wins to date have come on Soft or worse ground…
Form on Soft or worse ground – 1311F1121 (6/9)
Form on Good to Soft or better ground –  43432 (0/5)
Unless we have a wet spring he's going to have buck that trend to be a proper Grade 1 performer. Indeed only 2 of the last 20 Arkle's have been run on worse that Good to Soft so he's far from likely to get 'his ground' come March.
It's also worth noting that all wins have come in fields of 8 or less (131111421 compared to 3F243 in fields of 9 or more) albeit he's unlikely to face any large fields in the early stages of his chase career.
Things can very much change once a horse switches codes but he has had plenty experience for a 5yo and small fields on testing ground have been his forte so far…
Will conditions be in Footpad's favour come the spring?
.
3. Might Bite, as always, split opinions…
The enigmatic 8yo made his seasonal return on Sunday with an effortless success in the Graduation Chase at Sandown over 3 miles.
In victory he recorded an RPR figure of 167, only 3lbs below his RSA triumph and 1lb below his Aintree success, it was also the 3rd best performance of his career, according to the RPR scale anyway.
Personally I'd agree with that. He did what he had to do, the race was chosen by Nicky Henderson as a warm-up for his King George tilt next month and the horse only engaged the necessary gears needed to take care of his 'inferior' opposition (in no way is that meant as an insult to the other 3, who are all fine horses in their own right).
Plenty, however, were unimpressed by the performance. Describing it as 'workmanlike' or 'labored', questioning who exactly he beat…
…I can only assume they were watching a different race to me!?
Everyone is entitled to an opinion though (well, almost everyone!) and that's what makes this game great, we all have different opinions, we all read and see things every so slightly differently (or in this case very differently!).
To my eyes, however, this was a pretty much perfect seasonal debut from the horse and all roads now, seemingly, lead to the King George…
And while he clearly holds a serious chance in that one I would, personally have liked him to have had a warm-up in something a little bitter hotter than a Listed Graduation Chase, given the following stat…
18 of the last 20 King George winners had their start in a G1 or G2 race
Furthermore…
29 have tried to win the King George off the back of a race at Listed level or below and ALL 29 have been beaten (only 3 have placed)
Also worth noting that…
14 of the last 15 (and 17 of last 20) had their last run in the 16-38 day bracket before landing the King George
Might Bite will be coming off a 44 day break…
Now clearly he has a lot of other things in his favour and he is hardly miles out on the DSLR stat…but they are negatives to be considered, especially if you are looking for a way in to oppose him (apart from relying on him being a bit of a mental b*stard!!).
He's undoubtedly going to make my shortlist for the race… I may end up backing him…but he's far from bomb-proof for the Christmas Grade 1…
Would a higher profile warm-up for the King George have been a better option for Might Bite?
*Stats sourced from Proform Professional
Put NTF to the test at Cheltenham's Bet Victor Open meeting…
My attentions will be fully focused on the Cheltenham races this weekend. Three days of high intensity jumping shenanigans from the home of the National Hunt game gives me plenty of racing to get stuck into from my Race Trends approach.
My figures regularly hold up well at Prestbury Park and I've already started delving into the major races over the three days.
I'll also be providing NTF Members with a clutch of Mini-Angles to attack the Open meeting with, angles that have proven extremely robust and profitable at previous Open meetings.
I've also started ramping up my 'Front-Runner Focus' in the NTF Members Area, something that will be interesting to see in action at Cheltenham, if the figures suggest we should be taking an interest. Even if the stats are not strong at Cheltenham there are other meetings that I'll likely be delving into on that angle.
And this is YOUR chance to jump on-board and give the NTF service a full road test at one of the most high-profile meetings on the National Hunt calendar.
I know from the feedback I have received that plenty of you are interested in being part of the full NTF service but are just not quite sure of the exact ins and outs of the service.
Well this is your chance to get inside the members area for one full week! I'm opening up the doors to 50 of you (on a first come first served basis) so that you can see EXACTLY how the service operates and road test it to see if what I offer is what you need to enhance your experience of the 2017/18 National Hunt season.
I'll be mailing out with full details on this tomorrow and doors will only be open for two days (Wednesday 15th & Thursday 16th) so don't dilly dally if you are looking to get on board for the trial, it's a busy weekend ahead and I won't be holding places once the doors close.
To make sure you don't miss out on the links to sign-up for trial week get yourself on the NTF free list HERE.
Ben (NTF)
2 responses to "What we learned from the weekend: 11th & 12th November…"