13
Dec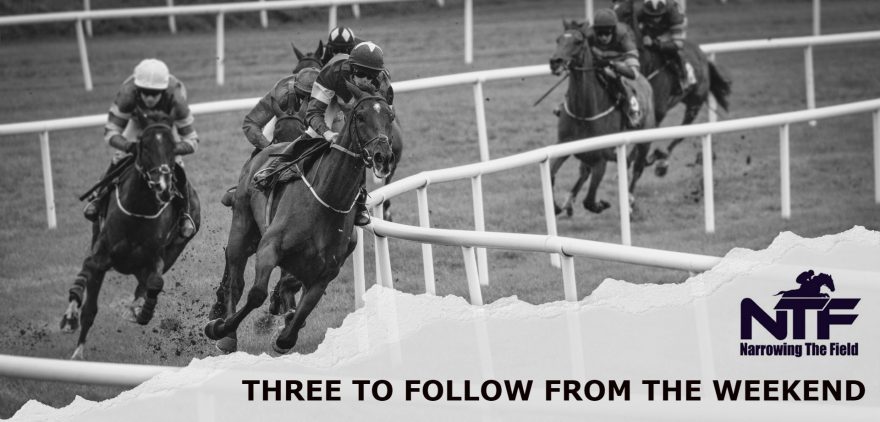 Three to follow from the weekend: 9th, 10th & 11th December…
Clearly a bit of a limited pool to choose from for this weeks '3 to follow from the weekend', what with the mass decimation of National Hunt racing due to the cold snap we are currently experiencing 🥶🥶🥶
But fear not there was enough racing for me to keep the 3 to follow show on the road and here's the latest bunch for your notebook…
.
Three to follow from the weekend: 9th, 10th & 11th December…
.
TIMEFORATUNE (P Nicholls)
4th in a Class 3 Novices' Hurdle – 1240 Cheltenham (Friday 9th)
It would be interesting if they sent this 6yo handicapping now. His mark of OR 126 looks very workable and with 4 hurdle starts and 4 bumper starts already on his CV he should have more than enough racecraft to deal with the cut and thrust of handicap company.
Offspring of his sire – Yourgunnabelucky – also have much better stats in Handicap Hurdles (12/73 | 16% S/R) than Non-Handicap Hurdles (3/81 | 4% S/R). A switch back to a right-handed track would probably also be ideal as he does have a tendency to hang right-handed in his races.
.
UNDERSUPERVISION (N Twiston-Davies)
3rd in a Class 1 Handicap Chase – 225 Cheltenham (Friday 9th)
Yet another Cheltenham defeat to add to his CV and he is now 0/6, 1p at the track compared to 2/5, 1p away from the track… and I just don't think he enjoys the test Cheltenham provides.
I'd be hopeful that there is more to come from him this season over fences and as still only a 6yo we may now see his stamina traits starting to really come through.
I wouldn't yet have strong Prime Conditions for him but preferable conditions would be somewhere around the following…
3m2f+ | Soft-Heavy | NOT Cheltenham = 121 (2/3, 1p – both career wins)
…albeit I'd be flexible enough for now with him, stamina may be the absolute key with him so a marathon trip and/or testing ground may be fine for him.
.
LE CHIFFRE D'OR (P Nicholls)
1st in a Class 3 Novices' Handicap Chase – 215 Doncaster (Friday 9th)
A smooth victory on chase debut for this 6yo and he put the race to bed with ease.
Offspring of his sire – No Risk At All – have some decent stats on their 1st and 2nd Chase starts… 15/53 | 28% S/R | +£54.68 – W&P 27/53 | 51% S/R… and Paul Nicholls has a strong record with his chase debutants at Doncaster, especially his geldings aged 6yo-7yo… 112311141… both angles worth keeping on the radar going forward.
Le Chiffre D'Or himself had been off for almost a year before this run, since disappointing in a Novice Hurdle at Doncaster last December, but prior to that he had looked a promising sort and this run suggests he's one to look out for now chasing, this run being a big career best and chasing (and possibly also his wind-op) looking to have allowed him to kick on to another level.
*Le Chiffre D'or translates in English as 'The Golden Figure' 🗼
.
---
Cheers – Ben (NTF)
p.s All free NTF guides for the 2022/23 National Hunt season are still available when you hook up to the FREE NTF List…
>>>Sires That Fire!
>>>16 Winter Warmers
>>>Do you remember the first time?
>>>Weekend Notes (28/29/30 Oct)
To gain instant access to them all simply slide your name and best email into the box below…
.
Talking of French 'Golden Figures'… I'm still on for some juicy returns from Argentina if they win the World Cup 🤞🤞🤞 but I can't deny the French have me worried… I did take cover on them in the outright market during the group stages but Argentina would by far be the best result for me… just need to keep the boy Mbappe quite… providing we are not staring at a Croatia V Morocco final 😯😯😯