5
Dec

The road to the 2014 Cheltenham Festival: The Cheltenham Gold Cup…
How much of a worry was the seasonal debut run from Bobs Worth?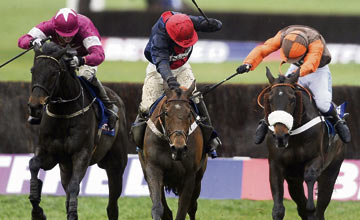 The early season Gold Cup 'trials' are pretty much in the form book now and it's safe to say they have given us plenty to think about already. The biggest talking point perhaps would be the rather lackluster seasonal opener from the reigning Gold Cup champion BOBS WORTH. His 'disappointing'  6th place finish at Haydock in the Betfair Chase surely begs the question…
Should we be looking for a new Gold Cup Champion or was this simply a minor blip on seasonal return? 
To my eyes it never looked likely that Bobs Worth was going to win at Haydock, he never really looked a threat and was beaten a long way out. Plenty have mentioned his Cheltenham form, which is a fair enough point as he is 5 from 5 at the track, including 3 successive Festival victories, however before Haydock you could also have waxed lyrical about his Left-Handed track form (he was 7 from 7 pre-Haydock on LH tracks) and his excellent record fresh (he was previously 11112 after a break of 90 days or more). He was also 7 from 7 when being sent off favourite for a race, the market had never got him wrong previously, when the money was down it had always been given back with interest. What's to say his sturdy Cheltenham record also wont give way in spectacular fashion when he next sets hoof on the hallowed turf of Prestbury Park?
Similar to my Champion Hurdle/Hurricane Fly article from last month I went back and looked at the seasonal debut performance of the past 15 Gold Cup winners to see how they fared, both in terms of finishing position and the RPR figure they recorded that day. My conclusion was…
It is an advantage to have run to a solid RPR figure on seasonal debut in your Gold Cup year.
In the Betfair Chase Bobs Worth finished a well-beaten 6th and recorded a lowly (for his uber-high standards) RPR figure of 142.
So how does that shape up with previous Gold Cup winners on their seasonal debut run in their Gold Cup winning season?
Let's take a look…
2013 – BOBS WORTH: 1ST with an RPR of 174
2012 – SYNCHRONISED: 7TH with an RPR of 129 (HURDLES) – First Chase start of season produced a 1ST and an RPR of 171
2011 – LONG RUN: 3RD with an RPR of 170
2010 – IMPERIAL COMMANDER: 2ND with an RPR of 177
2009 – KAUTO STAR: 1ST with an RPR of 162
2008 – DENMAN: 1ST with an RPR of 183
2007 – KAUTO STAR: 1ST with an RPR of 176
2006 – WAR OF ATTRITION: 1ST with an RPR of 164
2005 – KICKING KING: 1ST with an RPR of 159
2004 – BEST MATE: 2ND with an RPR of 162
2003 – BEST MATE: 1ST with an RPR of 171
2002 – BEST MATE: 1ST with an RPR of 172
2000 – LOOKS LIKE TROUBLE: 3RD with an RPR of 165
1999 – SEE MORE BUSINESS: 4TH with an RPR of 168
1998 – COOL DAWN: 7TH with an RPR of 99
In summary that is…
12/15 Top 3 on seasonal debut
13/15 RPR of 159+ on seasonal debut
Clearly the figures are indicating that you want to start the season as you mean to continue by firing in a solid RPR figure and grabbing a top 3 finish in the process; Bobs Worth was unable to achieve either of these.
To give an indication of where Bobs Worth seasonal debut RPR figure sits with other potential 2014 Cheltenham Gold Cup candidates I've compiled the following list. It has been sorted so that it runs from highest RPR figure to lowest RPR figure…
DYNASTE: 2nd with an RPR of 175 on seasonal debut (14-1, current best price for Gold Cup)
SILVINIACO CONTI: 3rd with an RPR of 173 (10-1)
CUE CARD: 3rd with an RPR of 172 (7-1)
AL FEROF: 1st with an RPR of 168 (16-1)
FLEMENSTAR: 1st with an RPR of 164 (33-1)
ROCKY CREEK: 2nd with an RPR of 164 (50-1)
——————————————————————
HARRY TOPPER: 1st with an RPR of 154 (25-1)
FIRST LIEUTENANT: 3rd with an RPR of 152 (16-1)
TRIOLO D'ALENE: 3rd with an RPR of 153 (RPR 164 in Hennessy) (33-1)
LORD WINDERMERE: 8th with an RPR of 152 (33-1)
UNIONISTE: 3rd with an RPR of 148 (66-1)
BOBS WORTH: 6th with an RPR of 142 (5-1)
LONG RUN: 5th with an RPR of 118 (33-1)
KATENKO: FELL no RPR recorded (40-1)
——————————————————————
SIR DES CHAMPS: Yet yo run, runs Sunday (6-1)
BOSTON BOB: Yet to run (25-1)
A couple are still to play their hands yet this season and a couple have run again since their seasonal debuts.
Of the ones that have run again…
Cue Card has obviously fired in a high profile 2nd run and produced an even better figure than on seasonal debut, recording the heady figure of RPR 180 in winning the Betfair Chase.
Long Run has also run and improved upon his seasonal debut figure (RPR 161 in Betfair Chase) but perhaps importantly he is yet to grab a podium spot from his 2 runs. From the past 15 Cheltenham Gold Cup winners all of them managed a top 3 finish on 1 of their first 2 runs in their Gold Cup season. Even Cool Dawn and Sychronised podium-ed on their 2nd run of the season. At this stage it would need a Carl Froch style comeback and a 'timely' intervention by the referee to see the 2011 champ winning the Gold Cup again.  
First Lieutenant has also run again but worryingly for his supporters he looks to have gone backwards and produced a worse RPR 2nd time out (RPR 142) than he did on debut.
The interesting one could be Triolo D'Alene. To some he was a surprise winner of the Hennessy Gold Cup last Saturday although NTF subscribers were completely un-surprised by his victory; he was solidly on the short-list for the race and put up by myself as the value alternative in the ultra-competitive Grade 3. The RPR of 153 he recorded on debut didn't shout 'potential Gold Cup winner ahoy!' but the RPR figure he recorded in winning the Hennessy (RPR 164) certainly puts him in the wider picture. If he can improve upon that next time out then he has to be considered for Chelteham in March. The one concern would be the race really doesn't appear to be on Nicky Henderson's radar for his Hennessy champion, in fact only 1 bookies appears to have him in the betting for the race!
Staying on the 2nd run front it would appear BOBS WORTH is heading over the Irish Sea to take in the Lexus Chase as the next step on the rung towards the defence of his Gold Cup crown and it's safe to say a much improved performance is needed for him to justify his position at the head of the Gold Cup market.
It's may be easy to have a go at the current champion after his dismal Haydock run but the facts are that the majority of recent Gold Cup winners have started the season in fine fettle, not necessarily with a victory but at least with an RPR figure pushing 160. Regardless of his unblemished Cheltenham record Bob has some serious questions to answer for me. But…
What are your thoughts on Bob?
Was Haydock a minor blip on the way to regaining his crown?
Are you looking elsewhere for this season's Gold Cup champion?
Does the 5-1 on offer provide any sort of value?
It is still a long road to travel before we get to the Gold Cup but there are questions to be answered about Bob and I want to hear your opinions!
23 responses to "The road to the 2014 Cheltenham Festival: The Cheltenham Gold Cup…"