4
Feb

The road to the 2014 Cheltenham Festival: On trial at Musselburgh…
How good a 'trial' are the sharp turns of Musselburgh?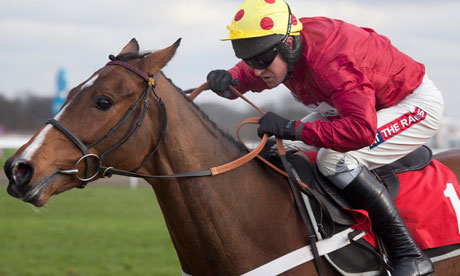 .
Another weekend past and another 'Festival Trials Day' in the form book. This time it was Musselburgh that provided a full card of 'Cheltenham clues'.
Whilst reviewing the action (I only managed to live watch some of it, blame Mrs NTF for that!) I got me a-thinking "just how good a trial for the Festival is Musselburgh?". Don't get me wrong, I'm a huge fan of Musselburgh, I think the trials day is a fantastic idea and it gets people through the turnstiles, but on a pure racing basis do the races get a horse tuned up nicely for their respective March targets? I mean Musselburgh is Right-Handed, flat, sharp, I would imagine that the soil composition is quite different to Cheltenham, the class of opponent would be a bit below what you would usually find at places such as Kempton & Newbury (no disrespect to Musselburgh, of course)…
That, however, is just me chewing the fat out loud and as you know I would rather have my thinking backed up by some hard facts, so it's into my trusty Proform database to see what I can uncover…
Basically I'm looking at the last 5 Festivals and seeing how many runners had their final prep-run at Musselburgh and how they fared in their respective Cheltenham race.
The basic figures came out as…
3 winners from 42 runners | 7% Strike-Rate | +£74.18 BFLSP – Win & Place 6/42 | 14% S/R
In truth that is better than I expected although at the same time not overly noteworthy. A fair enough number do go straight to Cheltenham from Musselburgh and although the Edinburgh track doesn't quite pack the same punch as a Leopardstown or Kempton warm-up it certainly shouldn't be dismissed out of hand.
A closer look at the 3 winners (Divers, Zemsky & Salubrious) tells me they all won their 'trial' race so is it worthwhile giving the Musselburgh winners closer attention? Let's have a gander….
3 winners from 22 runners | 14% Strike-Rate | +£94.13 BFLSP – Win & Place 4/22 | 18% S/R
The BFLSP (Betfair Level Stakes Profit) figure is a bit misleading as Zemsky won at a massive BFSP of 85.0 but overall they are not a set of figures to be scoffed at. They are obviously a bit on the light side and there isn't a great deal to work on but considering I started the post with the notion that Musselburgh possibly wasn't an ideal track to warm up at I think even these limited figures make me bin my initial thoughts.
So what of the winners from this weekend at Musselburgh? The first thing that is evident is that a handful of them probably won't turn up at the Festival. Reading between the lines you would have to think SEEYOUATMIDNIGHT, SWIFT ARROW, CLEVER COOKIE & THAT'S RHYTHM won't make the trip and plans for RUMBLE OF THUNDER are not really clear either (no obvious race for him at Cheltenham?). That then leaves us with WYSE HILL TEABAGS (go on the tea-bagger!), BROUGHTON & ERICHT.
I'm still not convinced John Ferguson (trainer of Broughton) knows exactly what it takes to prepare one for Cheltenham, either that or the type of runners he has in his yard are simply not suited to the undulating and testing nature of Prestbury Park, so with that in mind I probably wouldn't have his juvenile winner at the forefront of my mind.
The Tea-Bagger (as Wyse Hill Teabags is known in some circles!) showed plenty of grit and determination in his pillar to post victory in the opener and he would be of potential interest come March, depends really on what the handicapper does. He would certainly fall into the 'lively outsider' category.
The one that really interest me, however, is the Henderson Novice Chaser ERICHT. He was receiving weight from some of the others in this contest but he still came out the best horse on the figures. It was a cosy win and he could have easily won by much further than the eventual 9 lengths Barry Geraghty allowed him to stroll home by. Like 'The Tea-Bagger' a lot does depend on what the handicapper does after this run but given this was only his 3rd chase start it is fair to assume he has plenty improvement to come over the larger obstacles. The initial plan, according to Nicky Henderson, is the Rewards4Racing Novice Handicap Chase, that plan now, however, rests in the hands of the handicapper. Connections may be forced to play him in open handicap company but that wouldn't be completely outwith his ability, far from it on this evidence. The horse is actually yet to win at Cheltenham but his form in 3 visits holds up well enough; 6th in the 2011 Champion Bumper, a close 3rd in the Grade 2 Sharp Novices' Hurdle on Hurdling debut and a close 5th in last season's Coral Cup at the Festival. None of that is winning form but it's strong enough to suggest he handles the track without any problems.
The other interesting thing about ERICHT is that his 2 best RPR figures have come in his 3 chase starts. He had yet to surpass a figure of 136 over Hurdles but already over fences he has fired in a 141 RPR and a 146 RPR, his win at Musselburgh hinted he could easily break the 150 barrier.
If there is a potential Cheltenham winner to come out of the Musselburgh trial races I would be looking towards the Henderson horse myself. Plenty can, and will, change in the coming weeks and come race day, and once I have compiled my final figures, I could myself be thinking something different, but as things stand ERICHT has my antenna twitching for potential Cheltenham Festival success…
Ben (NTF)