20
Sep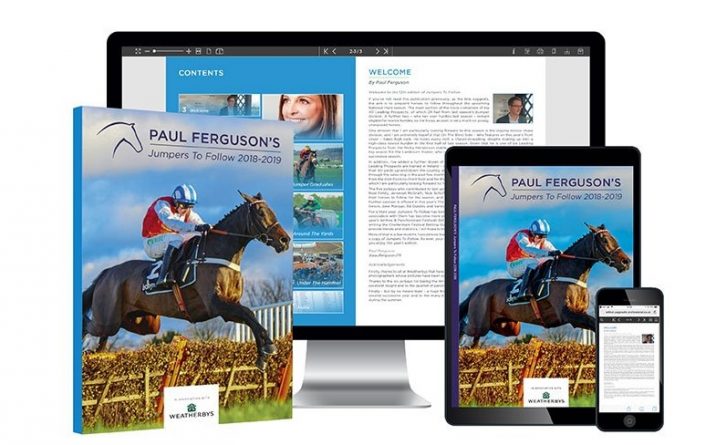 Paul Ferguson's Jumpers To Follow – NTF Q&A
.
You know the National Hunt game is about to get serious when Paul Ferguson's guest post appears on NTF!
We (that's Paul and I) have taken a different approach to the post this year though.
Remember the NTF Q&A articles I used to produce on the site a while back?
(the Tom 'Pricewise' Segal one is here, but read it later, read Paul's one first, Tom's one is a few years old now)
Well I've decided to resurrect the Q&A stylee for a one off special, with Paul being the focus of those questions.
Enjoy…
NTF Q&A – Paul Ferguson
Name – Paul Ferguson
Occupation – Author of Jumpers To Follow, currently working for Weatherbys and also contribute to Racing Ahead magazine.
Years involved in racing – My first published article appeared in the race card at Haydock on Friday 4th June 2004, which was a feature on local jockey, Martin Dwyer.  I started writing for Racing Ahead shortly after the magazine was formed and Jumpers To Follow is now in its 12th year.
First horseracing memory – Watching racing on TV with my Grandad and Dad (when not at the match watching Everton).  I remember West Tip winning the Grand National and Desert Orchid's Gold Cup a couple of years later.
Background…
What first stirred your interest in horseracing?
Saturdays were spent either going to watch Everton or sitting in my Grandad's living room watching the racing on TV.  I was pretty much hooked from a very young age.  My Dad took me to Windsor when we were staying with my auntie in Buckinghamshire during one summer holiday and I remember loving seeing the horses up close in the paddock.  After that, I'd go to Aintree's Grand National meeting on the Thursday (when it fell during the Easter holidays, of course).  I actually worked for BT on work experience in 1996 on site at Aintree, which gave me access all areas – I didn't learn too much about installing phones, but made the most of my pass.  Viking Flagship won the Melling Chase and was a favourite of mine in those days.
A couple of months later – after I had turned 16 – Frankie Dettori rode his famous 'Magnificent Seven' and I was already keen on following the form and actually backed four of them in a 'Yankee'.  I told some of my Dad's friends in the pub before the match that I thought he could go through the card and (pre mobile days) they had been on the phone to my Mum before we even got home – she was waiting for us, thinking I had backed them all in an accumulator and I was coming home with thousands.  Sadly not, but a good story.
The following February, I persuaded my Dad to take me to Newbury to see Viking Flagship run in the Game Spirit Chase.  We arrived on course early and actually bumped into his trainer David Nicholson, to whom my Dad explained the reason for our trip.  He was on his way to the office to declare him a non-runner, then kindly offered me the opportunity to visit him at Jackdaws Castle, which I did in November 1999, on what was his final day as a trainer.  We had breakfast with a young – slightly older than me – Richard Johnson and then headed to Newbury for the Hennessy.  Back to Newbury in February 1997, I saw Shadow Leader win the novice hurdle and duly backed him in the Supreme Novices' the following month, on what was my first Cheltenham Festival.  Still 16, I thought backing festival winners was easy one race in.
How did you become involved in the 'Jumpers to Follow' side of horseracing?
It was something that I always wanted to do and once I began writing for Haydock and Racing Ahead, I thought I would give it a go.  The very first one was a booklet of horses to follow, literally printed on paper by a local printers – similar to the way plenty of people do online now, but there was no Twitter 13 years ago – then I produced the first Jumpers To Follow the following year.  It was produced for 9 years by Cheshire Country Publishing – a small company run by a lovely man, Mark Bevan – before Weatherbys approached me ahead of the 2016-17 edition.
The reason that I always wanted to go down that route is I always loved reading that kind of thing pre-season when I was younger and I like trying to find future stars during their early days.  The majority of horses featured hail from bumpers and it is rewarding to see them progress through the ranks.
The 2018/19 National Hunt season…
Which Bumper performer from last season are you most looking forward to going over Hurdles this term?
Just the one, that's tough.  Olly Murphy has a cracking bunch of young horses and Brewin'upastorm might well be the pick of them.  I loved the way he travelled when beating subsequent Aintree bumper winner Portrush Ted at Hereford and he was given plenty to do in bad ground at Newbury on his second start.  I've seen him a couple of times over the summer – most recently at Olly's owners day last Sunday – and he looks well.  I'm hopeful that he will make his mark over hurdles.
Which of last season's Novice Hurdling crop are you most looking forward to…
1) Going second season hurdling?
At the time of writing, we don't know for certain which route Samcro and/or Laurina will take, but they were the best two novice hurdlers for me last season and I think both can go all the way.  They'd be rather obvious, so I'll select Lord Duveen who ran twice over hurdles last season, but didn't win and remains a novice for this campaign.  It was well documented that Philip Hobbs endured a difficult season, but he has certainly turned the corner and this horse ran two highly encouraging races.  Fifth at Exeter on debut – in a race in which Lalor and Kilbricken Storm filled the frame – he then shaped well in second at Kempton in March and being a half-brother to Balthazar King, he should flourish when going up in trip.  He's a chaser in the making, but should win races over hurdles this season.
2) Going Novice Chasing?
Nicky Henderson looks to hold a strong hand in the staying novice chase division and On The Blind Side – who dons this year's front cover – looks an exciting prospect.  He developed into a really smart novice hurdler in the first half of last season and his Sandown success was one of the best performances of the season from a novice.  Having missed Cheltenham, I'd be inclined to forgive his Aintree running as his preparation might well have been rushed, and he looks every inch a three-mile chaser.  One of the nicest looking youngsters to take my eye in the paddock – more than once – last term, I can see him making up into a leading contender for the RSA Chase, with the Feltham (Kempton, Boxing Day) and Ascot's Reynoldstown other possible targets.
Which of last season's Novice Chasing crop are you most looking forward to taking on the big boys this season?
It would have to be Footpad, who did little wrong – bar that first fence down the back in the Arkle – as a novice last season.  I loved the way he jumped and think he might improve as he goes up in trip.  Something like the John Durkan over 2m4f would be a good starting point and whilst I would love to see him clash with Altior, I wouldn't be surprised if he ended up in the Ryanair Chase.
Which purchase in the sales ring caught your eye the most?
I was hugely impressed by Feel My Pulse who won a Point-to-Point by 15 lengths for Donnachadh Doyle at Lismore and is now with Gordon Elliott, and also Lecale's Article who scored at Largy and is now in the care of Nicky Henderson.  He showed a fair bit of speed, so I'd expect him to start off in a bumper and he will carry the yellow and black colours of Mrs Donnelly, owner of Melon and Al Boum Photo.
Which horse on the north circuit do you feel has the potential to mix it with the big players from the south?
The obvious one would be Ruth Jefferson's Waiting Patiently, who has already shown that he is up to the task at Ascot last season.  I really hope that he returns in a similar vein, as he looks a top-class chaser who can fly the flag for the north.  The same connections have a nice youngster called Return Ticket, who won a bumper on his second start and won impressively on his hurdling debut at Ayr in May.  He is one to note in novice hurdles in the north, although I'm not sure whether or not he will be sent south this season.
Which of the Irish Horses do you think has the best chance of Cheltenham Festival success this season (Hurdler & Chaser)?
The trio that I've already mentioned – Footpad, Samcro and Laurina – would top the list, but without knowing which route they take, it isn't an easy call.  Although I would love to see her take on the boys, I wouldn't be at all surprised if Laurina headed down the mares route and come March, she could be very short indeed for the OLBG Mares' Hurdle.  She's 3-1 at present and if she is restricted to racing against her own sex, I can see her dominating the division.
If you had to have a bet on the 2019 Cheltenham Festival right now, where would your money be going?
At the prices, I think 20-1 about On The Blind Side for the RSA Chase represents a bit of value.
Are there any 'Dark Horses' we should be keeping an eye on?
Willie Mullins has a nice filly to look out for from France called Chante Niege.  She raced just once on home soil, shaping with plenty of promise and the form reads well.  And, keep an eye out for another mare, this time trained in England by Polly Gundry, called Moor Freedom.  Likewise, she ran just once last season – when sent off 50-1 for a bumper at Warwick – and really caught the eye with how she ran on to take second spot.  She should be capable of winning a mares' bumper if they chose to start off in one, before making her mark over hurdles against her own sex.
Which of the 'lesser known' trainers impressed you the most during your yard visits this summer?
I wouldn't call Olly Murphy a 'lesser known' but he is still very much in the infancy of his training career and he has assembled a nice string of youngsters for the season.  I would expect him to do well in the novice hurdle division and, later on in the campaign, in bumpers once again.
Quickfire…
Cheltenham Gold Cup or Aintree Grand National?
Tough one.  Gold Cup from a purists point of view, but being from Liverpool and growing up watching the Grand National, I'd probably lean that way.
Kauto Star or Denman?
I loved both, but possibly just Denman.  I was at Newbury when he won his two Hennessy's and the second was something else to witness live.  One of the best performances I have ever seen from a chaser.
A P McCoy or Ruby Walsh?
Another tough one, again I have huge respect for both.  But, I was a massive 'AP' fan as a teenager, so he just gets the vote.  Not very 'quickfire' this is it……apologies!
16 runner 2 mile Novice Hurdle or 16+ runner long-distance Handicap Chase?
Novice hurdle.
Just for fun…
If you could have any superpower what would it be and why?
I've no idea.  Maybe I could have the power to alter football results, so I can enjoy a bit of success watching Everton!
Many thanks to Paul for taking part in this one off resurrection of the NTF Q&A sessions.
You can purchase the latest copy of Paul's Jumper to Follow on the following link…
https://bettrendsshop.co.uk/paul-fergusons-jumpers-to-follow-2018-2019/
Again I would like to give Paul a huge thanks for his time and expertise and I for one hugely recommend his excellent Jumpers To Follow publication, it's simply a must have for any and ALL National Hunt fans.
Also, if you ever manage to get that superpower Paul could you maybe see to it that Scotland win a few more games? Much appreciated 🙂
Ben (NTF)
P.S. I know a lot of you take the summer off, steering clear of the flat game, but resting time is over guys, it's time to get back in the game! Wake yourselves up, dust yourselves down, slap yourself about the chops!! Do what ever it takes to get back in the land of the living!! The National Hunt stuff is almost here!!!
I'll be adding plenty of my own thoughts between now and the start of the season via various articles, analysis and free NTF guides, including…
NTF Jockeywatch – The new breed
Ten well-handicapped horses you NEED on your side (parts I & II)
The NTF alternative 20 to follow
October 90+ day trainers guide
NTF Winter Warmers
And much, much more…
Make sure you don't miss ANY of this by getting yourself on the FREE NTF list…
Join NTF today…
[optin_box style="10″ alignment="center" opm_integration="N" email_field="email" email_default="Enter your email address" integration_type="aweber" double_optin="Y" gdpr_consent="disabled" consent_1_enabled="no" consent_2_enabled="no" consent_notes_field="missing_integration_type" thank_you_page="https://www.narrowingthefield.co.uk/blog/" list="1970061″ name_field="name" name_default="Enter your first name" name_required="Y" opm_packages=""][optin_box_field name="headline"]Here's The Headline For The Box[/optin_box_field][optin_box_field name="paragraph"]PHA+R2V0IHJlYWR5IGZvciB0aGUgMjAxOC8xOSBOYXRpb25hbCBIdW50IHNlYXNvbi4uLjwvcD4K[/optin_box_field][optin_box_field name="privacy"]I value your privacy and would never spam you[/optin_box_field][optin_box_field name="consent_1_label"][/optin_box_field][optin_box_field name="consent_2_label"][/optin_box_field][optin_box_field name="top_color"]undefined[/optin_box_field][optin_box_button type="0″ button_below="Y"]Jump in![/optin_box_button] [/optin_box]
One response to "Paul Ferguson's Jumpers To Follow – NTF Q&A"