1
May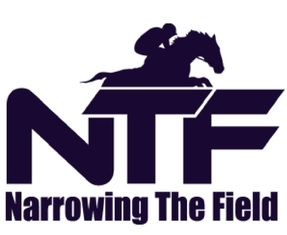 Newbury Spring Cup Trends…
Newbury Spring Cup Handicap – 3.45 Newbury
A busy day under both codes today so I won't hang about…
The Spring Cup isn't a race I would usually get overly involved in but the trends found us the winner last year, so I've had a dig into the trends for the 2018 renewal and whittled the 25 strong field down using the following…
The last 15 winners passed all of the following trends…
1             15/15 OR 100 or less
2             15/15 26 or less (UK) Career starts
3             15/15 1-4 previous (UK) wins
4             15/15 no more than 3 (UK) Hcp wins
5             15/15 yet to win above C2 level
That still leaves a fairly chunky number…
ELUSIVE HEIGHTS – CONTRAPPOSTO – REPERCUSSION – AFAAK – STAR ARCHER – LEADER WRITER – TAQDEER – HUMBERT – LORD OF THE ROCK – GRAPHITE STORM – KEYSER SOZE – MAZYOUN – GILGAMESH – PROST – PATTIE – FOX TROTTER
I'll whittle that bunch down using the following…
6             15/15 wore No headgear or Tongue-Tie
7             15/15 top 4 finish 1 of last 3 starts
Which leaves…
ELUSIVE HEIGHTS – CONTRAPPOSTO – AFAAK – TAQDEER – LORD OF THE ROCK – GRAPHITE STORM – KEYSER SOZE – GILGAMESH – PROST – PATTIE – FOX TROTTER
Still a fair few to play with there so I'll strip that number down even further using…
8             14/15 ran at C2 or C3 level LTO (UK start)
9             14/15 aged 4yo-5yo
10           14/15 GB or IRE bred
Which leaves a solid and workable shortlist of…
AFAAK
TAQDEER
GRAPHITE STORM
KEYSER SOZE
GILGAMESH
PATTIE
Before I dig any further into that shortlist here's how I see the pace working out…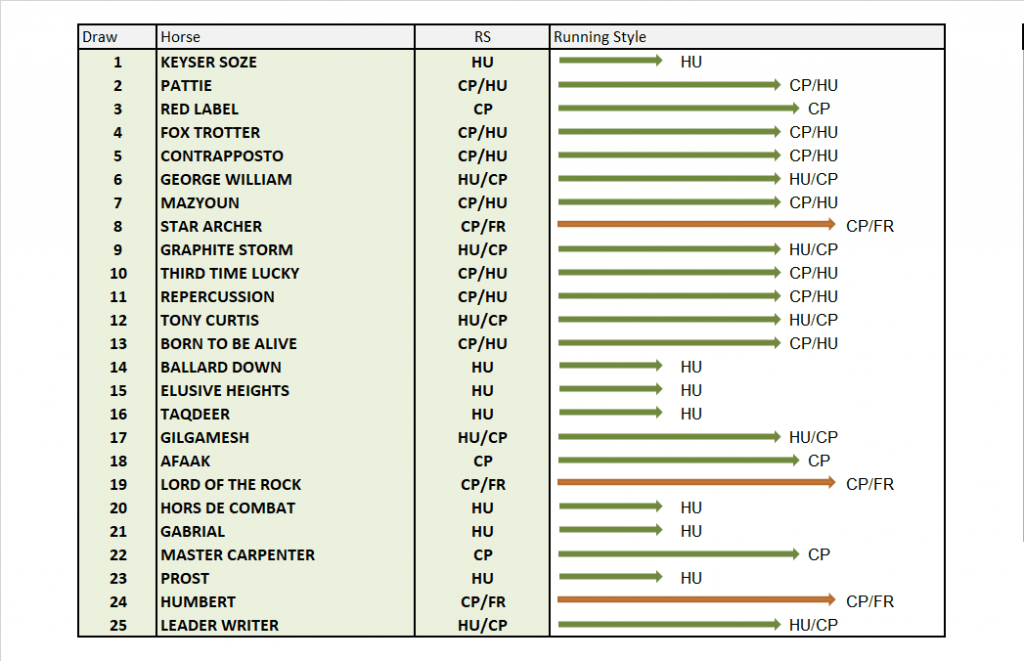 A potential for this to favour those drawn middle to high, with the pace horses being LORD OF THE ROCK (stall 19) & HUMBERT (stall 24), albeit STAR ARCHER (stall 8) is also likely to be close on the pace so the lower portion of the draw are far from devoid of any pace horses.
Hard to make any hard and fast conclusions on the pace/draw front to be fair but put a gun to my head I'd be looking at the main pace to be from the top half (high numbers), whether it's going to have a huge say in the final outcome, however, is hard to guage.
Conclusion
Very much a race where it's wise to cover a few bases and the three I'm settling on are…
TAQDEER (J Gosden) – Easy to forgive this one ending up a beaten fav in 7th in the Spring Mile LTO, given that it was Soft ground that day and also his first run for 692 days. He should be sharper for that effort and find the ground much more to his liking and if the pace does play to the middle to high numbers then he's ideally placed in stall 16 to strike.
GILGAMESH (G Scott) – The booking of Buick catches the eye here (only second time he's ridden horse) as he's a jockey that rides the track very well (10/34 | 29% S/R last couple seasons) and he's a jockey who's riding exceptionally at the minute (10/26 | 38% S/R the last 14 days). The horse himself looks primed for a step up to the 1m trip (first time here) and with only six starts on his CV there's surely plenty more still to come from him.
PATTIE (M Channon) – I want cover from the other side of the track here in case the draw does pan out unexpectedly and with this one hard fit from an early year A/W campaign, winning form over the 1m trip and winning form on Good to Soft I'll take a flyer on him at lofty prices. – NON-RUNNER
Best of luck if you are getting involved in this year's Spring Cup, it looks the usual open affair but hopefully something from the shortlist gets the job done.
Ben (NTF)
Doors to my summer analysis service will be open soon, make sure you are on the NTF Free list so you don't miss out…