1
May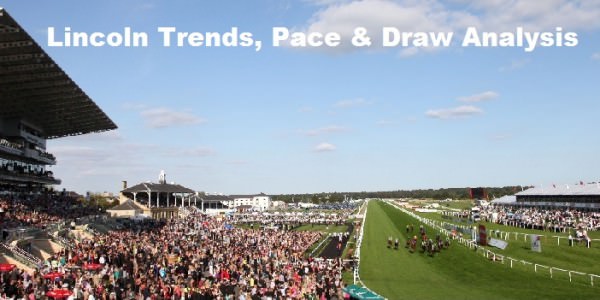 2018 32Red Lincoln Handicap: Draw/Pace and Trends Analysis…
Somehow the flat season has rolled around already!?
I mean I'm still sore from the Cheltenham battle we all just indulged ourselves in! As always I was hoping for a bit more down-time to recharge the old grey cells! Think I've also gathered a few grey hairs after the latest Cheltenham episode, but's that's another matter altogether!!
No point in in trying to make sense of it though, the flat is here and it's ready to engage first gear, with the Lincoln field set to gun it down the Donny straight at 3:35 on Saturday, and I'll deal with it the only way I know how; with some good old Race Trends profiling.
Naturally I'm still in full NTF mode at present (I'm currently taking the first steps in my preparations for the NTF assault on the Aintree National meeting) as I don't make the switch to the flat side of the tracks until around Newmarket Guineas time. However, as the jumps game is trudging through the horrible void that is the Cheltenham/Aintree limbo land (what a horrible place that is!) I wanted to take a little deviation into the flat stuff for the opening day of the 2018 season.
For me it's an excellent opportunity to get a 'Trends sighter' for the flat season that's to come, a chance to waken the flat side of my brain in preparation for the flat analysis that takes up most of my summer.
The Lincoln is also a race that is prime for the post-race BDH methodology (horses running well from the wrong side of the draw) but it's also a worthwhile race to tackle pre-race as well, especially from a draw angle.
The 22 runners blitzing down the straight Donny mile won't necessarily split into two or three groups but even within one large group there will most likely be a pace bias and that can boost the chances of some, whilst inconveniencing others, leaving them with nothing significant to aim at as they make their surge to the line.
Here's how I see the pace angle in this year's renewal…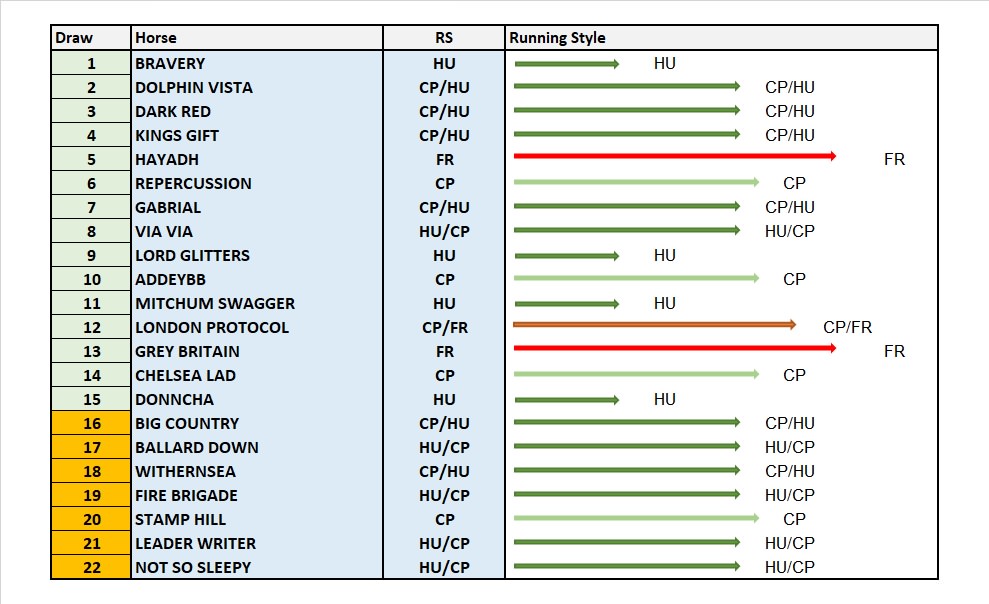 These are the pace breakdowns of the last 15 Lincoln (Doncaster) winners…
HU-HU-HU-CP-CP-CP-HU-CP-HU-HU-CP-CP-CP-CP-CP
FR = 0 | CP = 9 | HU = 6
Pace very much looks to be housed in the middle to low portion of the draw. HAYADH (Stall 5) and GREY BRITAIN (Stall 13) look the two most likely to burst from the gates at full tilt and lead the pack along, whilst LONDON PROTOCOL (Stall 12) won't be far off them as he's another that can be bang on the sharp end.
Overall I would conclude this is likely to be run at a solid early pace with those drawn middle to low being best positioned to take advantage of the early speed.
Next I want to take a look at some race trends to help us whittle out the pretenders and focus our attentions on the trends contenders in the 22 runner field.
I used the following five Race Trends to initially cut the field down…
p.s. I'm only looking at renewals run at Doncaster, I've not included the 2007 Newcastle or the 2006 Redcar versions.
1             15/15 aged 4yo – 6yo
2             15/15 no more than 32 (UK) career starts
3             15/15 2-25 previous (UK) handicap starts
4             15/15 4-10 (UK) starts in last year (365 days)
5             15/15 at least 1lb higher than their last victory (Flat or A/W)
That only cut out ten of the 22 entries so I then applied the following three Race Trends to the remaining 12 entrants…
6             14/15 ran in a C2 or C3 (Flat) Handicap LTO
7             14/15 not ridden by a claimer
8             14/15 Days Since Last Run 121-240
Applying those three trends leaves a workable shortlist of five…
*All five score FULL marks on the trends (8/8)
CHELSEA LAD (M Meade) – Stall 14
KINGS GIFT (M Dods) – Stall 4
ADDEYBB (W Haggas) – Stall 10
REPERCUSSION (C Fellowes) – Stall 6
FIRE BRIGADE (M Bell) – Stall 19
The Micheal Bell trained FIRE BRIGADE sits at the head of the market, and I totally get why he's favoured by plenty, but as the highest drawn of my shortlist (and, obviously, the shortest priced) I'm more than happy to strike him off first. If I'm right and the pace plays against those drawn high (and there is no guarantee I'm right!) then I can be done without backing a 5/1 shot that's drawn on the wrong side. Bell's 0/20, 3p record at the track in the past couple years also adds a further negative to the script.
REPERCUSSION I'm not overly keen on myself. Form of 760 (0/3) in his 3 starts at C2 level to date, with the same form line in fields of 12+. Not overly keen on Stephen Donohoe in C1 or C2 Handicaps (17k+ to winner) either (1/71 | 1.5% S/R | -£54 LSP – 78% below expectations). I'll side-step him on this occasion.
That leaves three…
CHELSEA LAD – KINGS GIFT – ADDEYBB
ADDEYBB comes in here fully unexposed after only 5 career starts and finished last season very much on the up. He looks to have a prime draw in stall 10 and should be able to take full advantage of the early pace. The recent record of his trainer William Haggis at the track also appeals plenty (13/52 | 25% S/R – W&P 29/52 | 56% S/R) and there has been enough indications from the horse that he's better than his current mark of OR 99.
CHELSEA LAD brings some solid straight track form to the table (121P4) and his two previous visits to Doncaster have yielded two second place finishes (both by 1L or less). He was strongly fancied for the Spring Cup at Newbury last season and although things didn't go to plan that day he did run well in numerous hot handicaps throughout the season, his 4th in the Cambridgeshire being one of a number of efforts where he caught the eye. Stall 14 puts him bang beside the pace runners in the middle of the track and he should be able to hook onto the back of them and get a decent tow into the contest.
KING'S GIFT is available at tasty odds and I'll probably pull him into the equation as well. He had a terrible winter as the poor lad had his bits snipped (ouch!) but if that's brought about any improvement then there's every chance of him being involved in the business end of this race. A return to his Greenham 4th behind Barney Roy from last April (where he was outclassed and racing on ground too quick) would make him a big danger.
Best of luck if you are dipping your toes into the waters of the early season flat betting skirmishes…
Ben (NTF)