1
Aug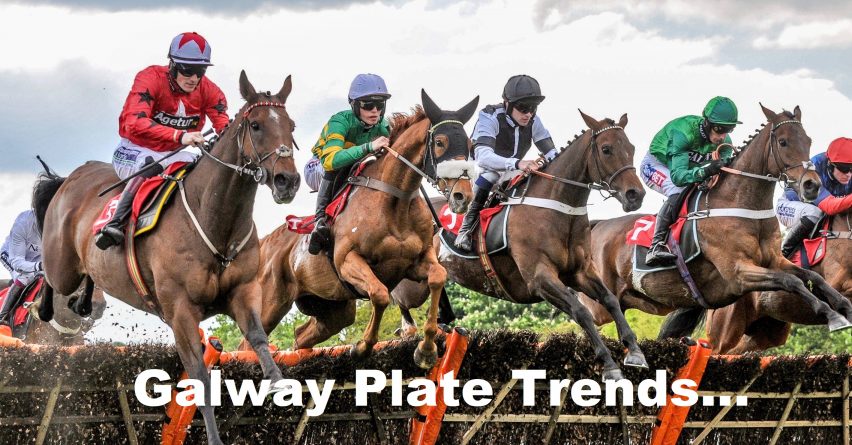 2018 Galway Plate Race Trends…
With the two 'Big G' festivals taking place this week it's a damn busy time under both codes, so I won't hang about and waffle, I'll just get stuck straight in…
7.20 Galway – thetote.com Galway Plate (Grade A Handicap Chase)
Galway, for all it's quirky brilliance, isn't a meeting I delve too deeply into in all fairness. The other G (Goodwood, in case you had failed to notice) takes up most of my brain space and that's where my focus is mainly concentrated upon.
There are, however, a couple of races at the Irish meeting that I will swing towards, the main one being today's Galway Plate.
It's always been a strong contest on the Race Trends front and these are the ones I've used to smash into this seasons 22 strong field…
The last 12 winners passed ALL of the following trends…
1             12/12 5-16 previous Chase starts
2             12/12 aged 6yo-10yo
3             12/12 OR 149 & below
4             12/12 carried 10-13 or less
5             12/12 9-31 previous career starts
6             12/12 0-2 starts in current season
7             12/12 0-8 Handicap Chase starts
8             12/12 4 or less Chase wins
9             12/12 previously won over 2m4f but no further than 3m
10           12/12 didn't run in a hurdle race LTO
11           12/12 4-13 starts in last 365 days
Which this year leaves the following very workable shortlist…
CONRAD HASTINGS
DE PLOTTING SHED
DRUMCLIFF
PEREGRINE RUN
It's also worth noting that two of the reserves also pass the trends…
PATRICKS PARK
THE WEST AWAKE
As they are currently not in the line-up proper I'm happy to stick them on the shelf at present.
There are a batch of runners that only fail on one trend…
CALINO DAIRY    Max distance won only 2m2f
HAYMOUNT        Runs in last 365 days = 1
JURY DUTY          Weight = 11-1
KOSHARI              Career starts = 7
SLOWMOTION   Hurdle LTO
TULLY EAST         Hurdle LTO
…although I'm personally only interested in the four full trends scorers.
Before I continue, just a quick point on that 'ran in a Hurdle race last time out' trend…
There have been 20 chases run at the last six Galways Festivals that were worth 13k+.
Only 2 of them (from 62 that tried – a 3% S/R) were won by a horse running over Hurdles last time out.
A hurdle warm-up has not been the ideal prep in recent seasons for the more valuable of the Galway Festival Chases.
Both Slowmotion & Tully East will need to overcome that negative to win today. Not impossible but certainly a negative for them, NH code switching hasn't been a fruitful venture for most at the Galway Festival.
Galway Plate Pace
The running style (during the race) of the past 12 winners Plate winners was as follows…
CP-CP-CP-CP-HU-CP-HU-FR-CP-CP-HU-HU
FR – 1 || CP – 7 || HU – 4
So a tricky race to try and win from bang off the front end and ideally you want to be sitting close to the pace, albeit it's hardy a negative to be held-up either.
This is how I see this year's renewal working out from a pace perspective…
[images style="0″ image="https%3A%2F%2Fwww.narrowingthefield.co.uk%2Fwp-content%2Fuploads%2F2018%2F08%2FGalway-Plate-pace.jpg" width="856″ align="center" top_margin="0″ full_width="Y"]
No out and out pace-setter in there but I'd suspect either SUB LIETENANT and/or CALINO D'AIRY to lead the field along in the early stages.
Conclusion
Probably wise to have a few playing for you here and I've settled on…
DE PLOTTING SHED (G Elliott) – For me he's spent a lot of his 7 race chase career running over the wrong trip. His debut chase run was over this CD when he finished a fine second behind RSA winner Presenting Percy but he then spent the rest of the season running over shorter trips, which is probably the reason he's still a maiden over the larger obstacles. For me this 2m6f trip is probably ideal for him and form of 1-1-2 (over 2m6f-2m6.5f trips) would back that up. He handles the track, copes with most ground and given he was a 150 rated hurdler I think it's fair enough to say his current chase mark of OR 142 should be within range for him.
PEREGRINE RUN (P Fahey) – This lad is one of the 'dirty dozen' that made my *2018 NTF Summer Stunners list so I'm delighted he's made the trends shortlist for this. He's clearly been primed for this with a spin on the flat 14 days ago (gently handled and never involved) and that run should have him bang fit for this challenge. He's taken well to fences (form of 21131U) and still remains relatively unexposed over them so it's not hard to envisage more coming from him off his mark of OR 145. At the trip he is completely unexposed being that this is his first start over such a distance but staying power shouldn't be an issue given he won a G2 Hurdle at Cheltenham in his novice days over 2m5.5f. The one worry for him would be the ground as 7 of his 8 wins have come on Good ground so connections wouldn't want things getting too soft although I do feel that worry is factored into his price.
DRUMCLIFF (H Fry) – I was impressed by this one's victory at Uttoxeter in May and the 3lb raise for that win looks pretty lenient to my eye. It's also a positive that Aine O'Connor keeps the ride as her 7lb claim is very tasty indeed and puts this lad on a feather-weight (10-01). The jockey is also 2 from 2 on the horse and appears to get on very well with him. He's still unexposed after only five starts over fences and this longer trip should bring more improvement from him.
Best of luck if you are getting involved in this year's Galway Plate, it looks the usual open and tricky affair but hopefully something from the shortlist gets the job done.
Ben (NTF)
*if you still haven't grabbed your copy of the FREE NTF Summer Stunners guide (and you really should have, they've been going great guns!) then head to the following page and drop your name in the box so you miss out no longer…
[button_2 color="blue" align="center" href="https://www.narrowingthefield.co.uk/#free-guides" new_window="Y"]Join the NTF Free List and grab some awesome Racing guides…[/button_2]
One response to "2018 Galway Plate Race Trends…"