18
Nov

What you should have learned from the 2015 Cheltenham Open Meeting…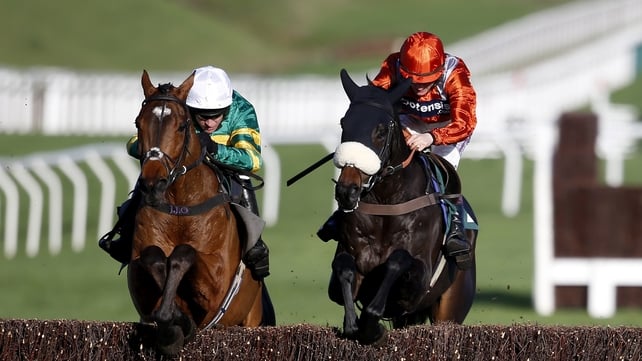 More Of That with a sparkling display on chasing debut…
More of That – Back!
Sprinter Sacre – Back! (to a certain extent)
A simply fantastic three days of racing at Prestbury Park for the Paddy Power Open meeting and the return of the two jumping superstars mentioned above would have, rightly so, been many people's highlights.
Although MOT & SS stole a majority of the headlines there was plenty else going on and here are just some of the vital facts and figures that you need to take away from the 2015 Paddy Power Cheltenham Open Meeting…
*figures sourced from the excellent Proform Professional Database
>
2015 Cheltenham Open Meeting: The Fallout…
.
14 of the 19 winners started with an SP of 12-1 or less…
For what was, in general, a tricky old meeting there wasn't actually a huge amount of lofty priced winners doing the business…
SP 12-1 or less – 17/120 | 14% S/R | +£14.46 BFLPS – Win & Place 41/120 | 34% S/R – 8% above expectation
SP above 12-1 – 2/114 | 2% S/R | -£75.03 BFLSP – Win & Place 14/114 | 12% S/R – 38% below expectation
Nothing really outstanding in those stats, perhaps, but this meeting has often proved to be a place where you don't want to be tilting at too many windmills.
Check the following stats for runners starting at SP 33/1 or more at the past TEN Paddy Power Open meetings (including this one)…
2/504 | 0.5% S/R | -£383.97 BFLSP – Win & Place 32/504 | 6% S/R – 65% below expectation
Only two winners have won when starting at SP 33/1 or bigger!
The outsiders at this competitive meeting are often just that; outsiders.
This year there were 40 runners over the three days that started at SP 33/1 or bigger. They produced ZERO winners and ONE placed runner!
The Paddy Power meeting again proved to be a place to avoid those in the deep dark corners of the betting market.
p.s. Can anyone name those two 33/1+ winners? No checking databases to get the answers either!
.
The older brigade struggled to land many significant blows…
It can often be a meeting for more progressive types and that certainly proved to be the case this year…
Horses aged 4yo – 7yo – 17/166 | 10% S/R | -£10.28 BFLSP – Win & Place 45/166 | 27% S/R
Horses aged 8yo+ – 1/63 | 1.5% S/R | -£60.03 BFLSP – Win & Place 8/63 | 13% S/R
The one winner? Sprinter Sacre. And that was in a race where five of the six runners were 8yo+ anyway!
It's makes sense that this early season meeting plays to the hands of younger improving types, however, that doesn't stop the older generation being backed as they were firing some 73% below expectation, so they were attracting plenty support.
It has to be said that the 'oldies' don't usually fare quite as bad at this meeting as they did this year so maybe it's just that there are a real solid and progressive bunch of youngsters making their may through the ranks at present. Certainly something to keep in mind….
It very much paid to keep the younger generation on side at the Paddy Power meeting.
.
17 of the 19 winners were making their seasonal debut or had only one previous start in the past three months…
Basically it paid to concentrate on runners that had been targeted at this meeting and hadn't been to the well too many times in the past three months.
Runners that had already run two or more times in the three months prior to this meeting returned figures of…
2/58  | 3.5% S/R | -£38.67 BFLSP – Win & Place 12/58 | 21% S/R – 38% below expectation
Runners that had made four or more appearances in the three months prior to this meeting did even worse…
0/14 | 0% S/R | -£14.00 BFLSP – Win & Place 1/14 | 7% S/R
They had clearly left their race somewhere else and were pretty much over-the-top by the time the lined up at Cheltenham.
And that's actually a recurring them at the Paddy Power Open meeting.
If we look at those types of runners (4+ runs in previous 3 months) from the past seven Paddy Power Open meetings we get the following set of figures…
2/118 | 1.5% S/R | -£112.49 BFLSP – Win & Place 15/118 | 13% S/R – 70% below expectation
The signs are pretty clear…
You want to be backing runners at this meeting that haven't been to the well too much in the lead up to their target race.
.
David Pipe had an absolute mare…
17 runners – 0 winners – 2 places
I somehow doubt that was the plan at a meeting he, and his father before him, have dominated in the past.
Only Paul Nicholls had more runners over the three days than his west country rival so he went to the meeting with plenty in the way of fire-power and had the numbers to dominate.
It just didn't turn out that way.
Nine of his team started at 8-1 or less and and there were a number of potential stars who seriously under-performed at the meeting. Indeed there were more than a few of his string that made serious moves to try and go on and win their respective race only to find the tank hitting empty long before any serious effort to climb the hill had started.
It should be noted that 12 of his 17 runners were making their seasonal debut and Pipe's runners since the start of September that have been making their first start of the campaign have returned the following figures…
1/32 | 3% S/R | -£28.39 BFLSP – Win & Place 6/32 | 19% S/R – 78% below expectation
On the flip side his runners returning within 20 days of their last run, in the same period, have returned the following set of figures…
10/46 | 22% S/R | +£1.52 BFLSP – Win & Place 23/46 | 50% S/R – 32% above expectation
Are his team just needing their first run back?
Will his Cheltenham Open squad come good next time out?
Is there a bigger problem at large in the stable?
In truth I don't think there is a simple answer and to confuse matters a bit more he had that one first time out winner yesterday at Fakenham in the shape of Katkeau (who turned over a Paul Nicholls hot-pot Southfield Vic in the process).
What is clear is that his Cheltenham plans went up in smoke in spectacular fashion this year and for the first time in a very long time there was no Pipe trained horse in the winners enclosure.
Can the Pipe Cheltenham runners bounce back to form next time out?
.
Venetia Williams ONCE AGAIN drew a blank at the meeting…
Four runners – 0 winners – Form string of P09P
But then again that was no surprise to us, was it?
She is now 0/41, 1 place at the past seven Paddy Power Open meetings.
Since 2003 she is 1/64, 6 places.
That's insane!
Even with her terrible record there was still pockets of money for her Friday runner The Clock Leary…who finished pulled-up.
Her runners simply have not been handling the demanding test of the Open meeting in recent years and there were no signs of that changing this year.
Maybe she is fully aware of her disastrous record at the meeting, she certainly didn't come to the track with a deep battalion in tow.
In amongst all this negativity, however, there was, in my opinion, one small glimmer of hope and that came from her battle-hardened chaser Rigadin De Beauchene, who finished 9th in the Murphy Group Handicap Chase on Saturday, beaten only nine lengths after being on the sharp end throughout and trying to kick for home around four out.
Conditions were not suitable for him here in the slightest and it's fair to say he's been in the handicap wilderness ever since his thumping 10L victory in the 2014 Haydock Grand National Trial.
He was hammered an extraordinary 16lbs for that win and he's been struggling off lofty weights ever since. Now, however, he has finally been given a bit of leeway by the handicapper (dropped a further 2lbs to OR 127 after this) and there was plenty to like about this effort, especially given the fact Venetia's usually run like drains here.
The ground will be coming for him now and he may just pop up somewhere at a big price in the next couple of months…
Always be wary of Venetia's Open meeting runners, however, keep an eye on her old lad Rigadin going forward from this.
.
MORE OF THAT is back and he means business…
The former World Hurdle Champion had been off the track for 349 days prior to his chasing debut at Cheltenham on Saturday but that didn't stop him sauntering to an impressive 2.5L victory at his favoruite track.
He's only been beaten once in his life, when he clearly wasn't right, and remains a very exciting prospect and a chaser with immense potential for the season ahead.
His sire Beneficial has produced plenty of Cheltenham chase winners (Benefficient, Cooldine, Gungadu, Tanks For That, Annacotty, Salsify…) but he has the potential to be better than all of them, indeed he has the potential to dominate the staying novice chase division this year before going on to become a full on Gold Cup prospect next season.
This contest has actually been a stepping stone for previous Gold Cup winners Denman and Imperial Commander as well as high class chase prospects, and top class festival performers, such as Grands Crus, Dynaste and Tarquin De Seuil; More Of That comfortably fits in with that lot.
Interestingly he's entered in the Grade 1 Drinmore Chase at Fairyhouse at the end of the month although I would have though they would have been taking a slightly easier next step considering the time he's had off the track.
It's been a long time since a World Hurdle winner has made the step up to be a top class staying chaser so lets hope MOT can stay sound and do just that.
If MOT stay sound he will surely be a champion over fences. What do you guys think?
Ben (NTF)
With thanks to…
12 responses to "What you should have learned from the 2015 Cheltenham Open Meeting…"