21
Aug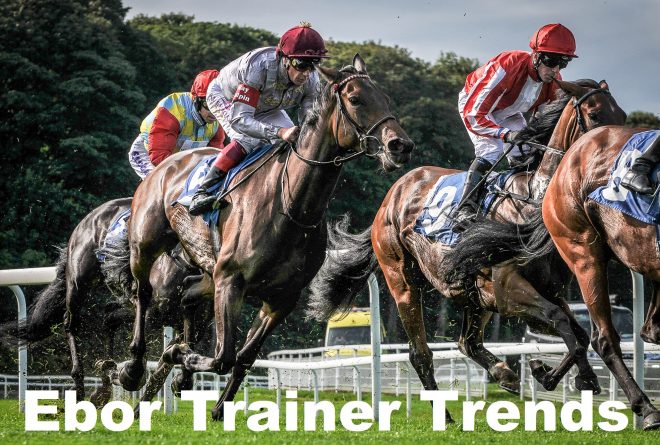 Three trainers you definitely want on your side for Ebor week…
.
It's the sweeping curves of the Knavesmire that takes centre-stage this week, with York's four day Ebor meeting providing a feast of top class Group action and competitive handicaps for us punters to get stuck into.
As if often the case at these major meetings, certain trainers shine brighter than others and the following trio have made it their business in recent seasons to master York during Ebor week…
.
William Haggas…
No surprise to see Willie Haggas on this list as his string are renowned for excelling on the Knavesmire, and it's no different when it comes to Ebor week.
These are his overall stats at the meeting since 2013…
12/61 | 20% S/R | +£23.13 LSP – W&P 25/61 | 41% S/R
28% above expectation
Solid stats from team Haggas and he's managed to saddle at least one winner at each of the last five Ebor meetings.
As always it's well worth digging a bit deeper into the wider stats to see if there are any mini-angles at play and the following caught my eye…
2yo's & 3yo's | Non-Handicaps | DSLR 21+ | 6f-1m4f trips
10/18 | 56% S/R | +£53.13 LSP – W&P 14/18 | 78% S/R
214% above expectation
A tight little angle that will hopefully continue to pay it's way…
.
Charlie Appleby…
Appleby is fast-tracking his way to the top of the trainers tree (possibly already there?) and his recent raids to York for Ebor week have been part of that ride to the summit…
6/26 | 23% S/R | +£7.38 LSP – W&P 7/26 | 27% S/R
82% above expectation
A bit skinny on the profit front but nevertheless a very solid set of figures to chew over.
Interestingly all those winners and placed horses can be found using just a couple of filters…
SP less than 10/1 | DSLR 45 or less
6/11 | 55% S/R | +£22.38 LSP – W&P 7/11 | 64% S/R
186% above expectation
Significant improvements on both the S/R & LSP from just the two filters make it an mini-angle well worth keeping at the front of your mind.
.
Micheal Dods…
Dods is a bit more targeted with his runners at the meeting but it's a tactic that has paid off…
4/15 | 27% S/R | +£10.25 LSP – W&P 9/15 | 60% S/R
130% above expectation
It's the 60% win & place strike-rate that particularly catches my attention, suggesting that he really has his string in tip-top shape for the rigors of Ebor week.
One quick filter add and things look even tighter…
5f races only
4/6 | 67% S/R | +£19.25 LSP – W&P 5/6 | 83% S/R
The form string of that mini-angle is a rather remarkable 1-1-1-0-1-2
Dods clearly loves targeting those sprint contests!
There's every chance those trainers will have winners/placed horses outwith the mini-angle parameters as well, so I'd never advise ignoring their other runners just because the don't 'fit'  within the tighter stats, but those mini-angles have certainly been where their strings have been most potent at recent Ebor meetings.
Best of luck if you are getting involved in the York action this week (which I'm sure many of you are!!) and if you want to see what the NTF race analysis is highlighting – I'll be covering around 10 races over the four days using my NTF race trends – then just drop me an email at info@narrowingthefield.co.uk and I'll get you set up as a full NTF member for the next seven days (it's a one-off £10 sign-up for the York coverage).
Happy Punting
Ben (NTF)
*Stats sourced from Proform Professional
**York picture taken by Micheal Harris
8 responses to "Three trainers you definitely want on your side for Ebor week…"