15
Feb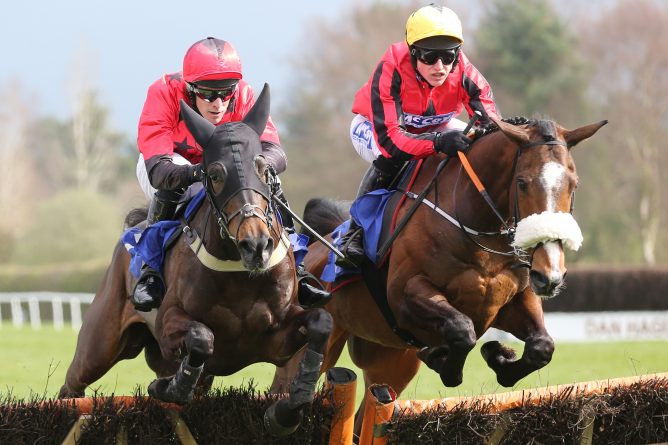 Three to follow from the weekend: 11th, 12th & 13th February…
Newbury held the main action last weekend, although it's hard to say there were any massive standout performances taking place.
BRAVEMANSGAME continued on his merry way over fences, taking care of inferior rivals to land the Novices' Limited Handicap Chase over 2m7.5f on the opening race at Newbury. It was a comfortable and composed performance from the 7yo and he made it 4 from 4 over fences without really turning a hair (he's also now 3 from 3 at Newbury). I guess the main concern for him would be the fact that all his chase starts so far have been in fields of four and he's been able to pop along relatively easily, doing as he pleased. Doesn't mean he won't handle a bigger field of course but in truth he's not really had much of a challenge yet over the larger obstacles, which is pretty much reflected in his figures, being that they are solid but not really spectacularly good.
ELDORADO ALLEN stepped up to (almost) 3-miles for the first time and was able to dictate the Denman Chase from the front and land the Grade 2 pot with relative ease. The 8yo was able to set his own fractions and as such was able to stay the trip going a pace that was within his own capabilities, never really being taken out of his comfort zone by horses with more stamina than him. On the figures it was slightly below par for the class level (Proform speed figures used as my basis) so again that indicates that he didn't need to be going at full 3m pace to win. Is he a Gold Cup player next month away from the flatter Newbury lay-out and over the demanding Cheltenham undulations? Probably not.
FUNAMBULE SIVOLA took care of his three rivals in the Game Spirit Chase, taking his form in small fields (8 or less) to 112211211 (6/9, 3p) and it was another step up the ladder for the wee man. Does he have what it takes to bring down Shishkin and co in the QMCC? Probably not but he deserves to give it a try. He'll probably get his preferred small field to attack anyway.
Away from Newbury…
EDWARDSTONE banged in another high class performance when adding the Kingmaker Chase at Warwick to his bulging and expanding chasing CV and he hardened into favoritism for the Arkle next month. I rate him highly but I'm not convinced he's the Arkle winner in waiting. I could see him running a big race at Cheltenham without winning and then scoring in the Grade 1 2m Novice at Aintree in April. Right now that's more of a feeling I get from watching his races rather than hard statistical evidence and I may change my mind once I properly dig into the race…
Clearly we are very much heading deep down the Cheltenham rabbit hole now (a month to go!) but there's plenty more to keep us racing nuts entertained prior to and after those four days and hopefully the following three can pull in some funds elsewhere…
---
Three to follow from the weekend: 11th, 12th & 13th of February…
.
OFALLTHEGINJOINTS (C Tizzard)
2nd in a Class 3 Handicap Chase – 4.05 Kempton (Friday 11th)
The 8yo looked to have been crying out for a wind-op for some time and he eventually got the op in-between his last run and this run. It certainly seemed to make the required impact as he was still bang there until two out where his jumping got a bit sketchy and his fitness levels maybe begun to give way (it was his first run for 76 days). He did still hold his head a bit high down the home-straight (which can be a sign of breathing issues) so they maybe need to stick the tongue-tie back on just to fully see the benefit of the recent wind-op, but no doubting this was the best effort we've seen from him for a good few runs.
His current mark of OR 130 definitely should be exploitable (previous chase win came off 136 and has been as high as 143) and he's interesting going forward from this with that wind-op now in the tank (for all I probably wouldn't want to stick with him for too long if he fails to capitalize on his current mark in coming starts and continues to show his awkward head carriage when push comes to shove).
The wind-op could fully unlock him (wind may have been holding him back) and hopefully he can deliver on some of the promise he showed earlier in his career.
It's also worth noting that Stowaway offspring do improve further on their second start off a wind op…
10/92 | 11% S/R – 1st run off a wind-op
18/82 | 22% S/R – 2nd run off a wind op (improving to 26% for chasers)
.
CHAZZA (K Bailey)
4th in a Class 4 Novices' Handicap Chase – 1.25 Uttoxeter (Saturday 12th)
Kim Bailey's 8yo possibly needed this outing after a break of 94 days but he's got promise as a chaser and he's worth keeping on the radar.
There is stamina in his pedigree and he should be suited better to 2m4f+ trips (Saturday's run was over 2m) but this effort will have brought him on nicely and he was staying on strongly after the last once he got his second wind.
His bumper debut had him beating the now 140-ish rated Llandinabo Lad and his second at Leicester in Nov 2020 had him finishing alongside horses now rated in the 130's and his current chase mark of OR 117 (down 2lbs for Saturday's effort) does look exploitable, especially when stepped back up in trip.
.
DE RASHER COUNTER (E Lavelle)
4th in the Grade 2 Denman Chase – 2.25 Newbury (Saturday 12th)
This was the 10yo's first run for 489 days and he's probably the one to take out of the race for me.
This comeback run was always going to be nothing more than a spin to get him tuned up for the National in April and as far as that goes I'd say that was job done. He very briefly looked a threat as they approached three out but his lack of fitness begun to tell between 3-out and 2-out and he trundled home a well-beaten 4th, which from a handicapping perspective was probably perfect as his mark of OR 149 looks nice and handy for his crack at the National.
There was plenty to like about Saturday's effort and hopefully he trotted up sound after the race after having been off the track for so long.
Assuming it's not a fast ground National (I doubt they'd let that happen these days anyway) then he'll likely have his Prime Conditions at Aintree in the spring…
Good to Soft or softer | G3 & below | NOT Very Undulating tracks
…where he has form figures of…
2P16112711 (5/10, 2p – all 5 career wins)
…and the handicapper has definitely given him a chance by dropping him to OR 149, 149 being the same mark he won the Ladbroke Trophy from in 2019.
---
Cheers – Ben (NTF)
p.s. you can view all previous free posts on the main NTF Blog menu page
4 responses to "Three to follow from the weekend: 11th, 12th & 13th February…"