24
Mar

Six vital Aintree Grand National trends…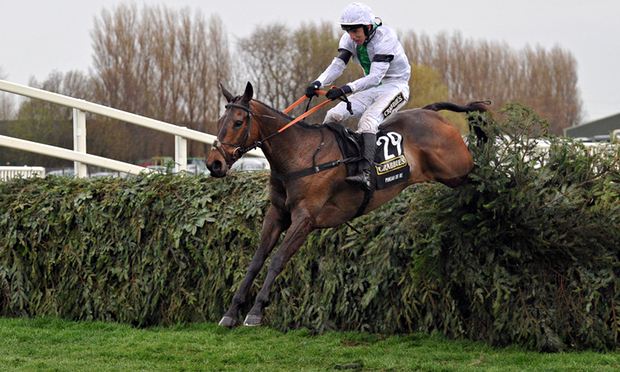 This is usually the day of the week where I bestow upon you my three 'what we learned from the weekend' nuggets. Let's be honest though, there wan't much to be learned this weekend just past was there?!?
We are in Cheltenham/Aintree limbo land. The hangover zone. The comedown period. If this period of time was a zone in the Crystal Maze it would have been the Ocean Zone! (Nobody liked it and you generally went and made a cup of tea whilst they were tackling it!!).
But there is no point in hankering after times gone by and moaning about the average racing fair currently taking place. This is horse racing. We look forward to the next challenge. And the next major challenge is the Aintree Grand National Festival. Specifically the Grand National itself.
I've started my preliminary work for the three day extravaganza and today I want to share with you six vital trends to help you dissect the Grand National field into lively contenders and wannabe pretenders…
Six Vital Aintree Grand National Trends…
1 – 15/15 had previously won a chase at class 2 level or higher
Previous winning form at Class 2 level and above is vital for the National. You need to have shown you are up to landing a race AT LEAST at Class 2 level before setting hoof into the hallowed Aintree Grand National winners area.
It makes sense. Busting your class barrier virginity in a race like this would take a mighty effort and ALL the last 15 winners had passed this stat. You won't be knocking out a huge number of runners with this one but there will be some lurking amongst the entrants that are yet to pop that class level cherry.
2 – 15/15 had previously won at 3m+
No sh!t sherlock on this one! Winning form over a staying trip is a MUST. You don't want to be coming in with a promise of staying 3 miles +, you want to be coming in with hard evidence. Winning form over a staying trip is imperative for your Grand National contender.
A recent rule was introduced that a horse must have a top 3 finish over at least 3 miles before running in the race although that 3rd could have been an out on it's feet 50 length 3rd! It counts as far as box-ticking to be able to run in the race!
Personally I want winning form.
3 – 15/15 had 19+ previous NH starts
Experience is another vital component to have on your side. This is an experience like no other for a horse and can't fully be replicated elsewhere but it's imperative that the horse has enough standard race craft under it's belt to be able to tackle this challenge. Racing experience is way more important than a lightly-raced-sheltered-from-the-handicapper type. They NEED to have made a substantial amount of trips to a racetrack and be relatively 'battle-hardened' before taking in this assignment.
4 – 14/15 did NOT wear any form of headgear
There are hefty stats to back this one up and it makes sense. You are surrounded by 39 other horses, you want as clear a vision as possible to be able to master the demanding and unique Aintree obstacles.
In the past 15 years 136 horses have run in the National with some form of headgear and only ONE has been victorious (Comply Or Die for the record). Only 6 others have even managed to place.
The figures suggest that headgear has been more of a hindrance than a help in recent Nationals.
5 – 14/15 had their last run between 16 & 42 days previous
I'm a big believer in the Days Since Last Run (DSLR) angle and the 16 – 42 day period has been the golden time zone for National winners in recent seasons.
Shorter than that and you haven't had enough of a recuperation period from your last start for the lung-bursting 4m 3f 110yds marathon.
Longer than that and your lack of match practice can find you out in the closing stages.
It's a fine margin but it's a vital one.
6 – 13/15 had an OR between 136 & 150
The handicapper has been squeezing the top of the handicap in recent renewals (compressing seems to be the official term!) but the facts are it is very difficult to win a top class handicap from a mark above 150.
Even more so it's incredibly hard to win from a mark above 155. Neptune Collonges did it in 2012 from OR 157 and he really deserves more credit than he got for that victory. To my mind that was a simply outstanding performance from the grey and what he did that day shouldn't be underplayed.
At the time of writing this there are 18 runners set to run from 151+ in this years renewal. The stats tell us that's a very tough thing to do…
Those six trends form part of my overall approach to tackling the Aintree Grand National. I will use them in conjunction with the other trends I have sourced as well as the all important Dosage figures to come up with a workable shortlist of strong trends and dosage players for this years renewal.
This year's race will be slightly skewed by that man AP McCoy. His mount – SHUTTHEFRONTDOOR – will get hammered in the market by sentimental money and once a year punters, the media and bookies will make damn sure of that. He will go off at much shorter odds than he should. And I'm damn fine with that! He already fails on four of the six trends above. I know he falls short on others as well. He also won't be passing the Dosage trends either. I'll definitely be against him. Whatever my shortlist flags up is likely to be at least a couple points higher than it should be (probably more) due to Shutthefrontdoor's false price. Lovely stuff! I can't wait!!
[optin_box style="20″ alignment="center" email_field="email" email_default="Enter your email address" integration_type="aweber" double_optin="Y" thank_you_page="https://www.narrowing-the-field.co.uk/free-ntf-2015-cheltenham-guides-downloads/" list="1970061″ name_field="name" name_default="Enter your first name" name_required="Y"][optin_box_field name="headline"]STOP! FREE guides are just a click away![/optin_box_field][optin_box_field name="paragraph"]PHA+QXJlwqA8c3Ryb25nPkRPTiBQT0xJIDwvc3Ryb25nPmFuZDxzdHJvbmc+IFZBVVRPVVI8L3N0cm9uZz7CoHJlYWxseSBzZXJpb3VzIHBsYXllcnMgZm9yIHRoZSAyMDE2IENoZWx0ZW5oYW0gR29sZCBDdXA/IEZpbmQgb3V0IE5PVyE8L3A+Cg==[/optin_box_field][optin_box_field name="privacy"]I seriously value your privacy and will never spam you[/optin_box_field][optin_box_field name="top_color"]undefined[/optin_box_field][optin_box_button type="0″ button_below="Y"]Get Instant Access![/optin_box_button] [/optin_box]
Discount Book Offer – How To Find The Crabbie's Grand National Winner
Paul Jones – author of the Cheltenham Festival Betting Guide – has now pulled together a similar publication for the Grand National and once again I'm able to offer you, the loyal NTF readers,  an exclusive NTF discount!
By entering the code 'NTFGN' in the Promotional Code box you will be able to get the book for £7.99 instead of the normal price of £9.99.
To grab your copy of the book simply visit the following link…
http://www.weatherbysshop.co.uk/betting-services/jump-racing/how-find-crabbies-grand-national-winner
…and don't forget to input 'NTFGN' in the promotional box for your exclusive NTF £2 discount.
Happy Punting
Ben (NTF)
10 responses to "Six vital Aintree Grand National trends…"