11
Mar

Owners Insight – Oscara Dara: We Are All Going to Cheltenham!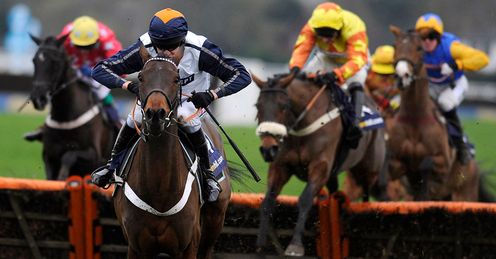 It's what most owners dream about; a runner at the Cheltenham Festival!
And lo and behold the dreams of the BG Racing Partnership have come true! OSCARA DARA heads to Cheltenham!
With news on his last start at Ffos Las as well as plans for this week at the Festival it's over to Mr Phil Boyle…
We Are All Going to Cheltenham!
Hello NTFers 
I hoped you are all set for the Cheltenham Festival, I certainly am!  After many seasons of complete concentration on the full festival and my large portfolio of ante post and on the day bets, my routine looks like it might be a bit disrupted this season as I am going to have to break my pattern somewhat on Thursday to pop over to the pre parade ring and the paddock!! 
It has been a while since I updated you last, so let me catch you up.  We left the story after switching Oscara Dara back from fences to hurdles and then him landing the Lanzarote Handicap at Kempton.  Day of dreams for us and we immediately set to work planning a repeat!  After some deliberation, we ended up at Ffos Las three weeks later to contest the Welsh Champion Hurdle.  There was a lot of deliberation involved as there was a similar race scheduled at Sandown the same day and we ended up following Nicky Henderson's advice and heading to Wales.  It was a good call because Sandown ended up having their hurdle races abandoned. 
I do have to pass on one highlight from the deliberation however.  The Sandown race had 48 hour declarations and as the declarations deadline approached Nicky decided to check in with me to re-confirm whether we wanted to declare or not.  I can safely say that I have never been happier to appear unprofessional as my meeting was interrupted with the message that "could Phil be spared as Nicky Henderson is on the phone and has to speak to him in the next two minutes"! 
Oscara Dara was pictured on the front of the Racing Post Weekender and was talked up in previews and on The Morning Line, it was all quite surreal, but unfortunately things then took a turn for the worst as our lad trailed in almost last of the finishers in the race.  It was hard not to get disheartened but AP McCoy (yes another piece of name dropping – I dreamt about this kind of stuff a few years ago!), was adamant that we should just forget the run and crack on with whatever we had had in mind before the race.  Oscara Dara had gone fine on heavy ground before but this seemed to be a very strange sort of heavy and some horses were just finding it impossible to get through, Oscara included.  It was the same for everyone, but some seemed to handle it better and Oscara Dara clearly hated it. 
The aftermath of the race was that our future plans were in turmoil however.  We had hoped to win and get another handicap rating boost before heading to Cheltenham to step up in trip and to contest the World Hurdle.  Now the handicap mark might be dropped and the Coral Cup seemed like the only realistic target.  Still I had AP's words in my head however, "forget the race completely and do whatever you had in mind before the race". 
The handicapper's view (not to alter Oscara's mark at all) gave me a reason for another re-think and I took another look at the World Hurdle.  The more I looked, the more I became convinced that this was the right course of action.  On a morning trip to Seven Barrows however, Nicky left me pretty clear that he preferred the Coral Cup and it was all back in the melting pot. 
Another look and an email exchange with all my partner owners tilted us back towards the World Hurdle again and I was delighted when following the publication of the weights for the Coral, I discussed this again with Nicky and found that he was happy to support our preference that we go for the World Hurdle.  Obviously Oscara Dara is rated a stone below the leading horses in the World Hurdle, but he could improve for stepping up in trip again so I genuinely do not believe it is fanciful to think that he might get involved. 
So here we are… the tickets are booked, the plans are made and the five day confirmations were made on Friday.  So what are our chances…. 
Well if Oscara Dara were to win, he would be breaking some pretty big statistical trends.  He would be a Henderson winner not ridden by Geraghty and not ridden by Geraghty last time out.  He would be a grade one winner who raced in a handicap last time and he would be a winner that had finished outside the top four on his last start, all of which are not conducive to winning at the Festival.  That said, he doesn't know this! 
Let's flip it then…  he would be a winner that on the speed ratings that I use as the basis for most of my bets would be expected to be in contention, he would be a horse of whom people would note that previous evidence showed would probably improve for the step up in trip and he would be a winner that would have likely been discussed as a serious each way player had he not run at Ffos Las.  If we accept the excuses for Ffos Las (and whether you do is up to you) – he would be a winner that would cause some people to wonder why they did not pay more attention to him when they looked at the race. 
In the career of Oscara Dara, I have wanted him to win every time he has run and I have hoped he would win every time he has run, BUT I HAVE NEVER thought that the bookies have offered a price that represented a value bet.  He probably will not win next week, but win or lose, in my opinion this is the first time in his career the bookies odds are much bigger than they should be! 
Wish us luck and follow our progress over on my blog at http://bgracing.wordpress.com 
Phil
Thanks as always to Phil for his excellent article and there is more on the BG Racing partnership on Phil's own Blog – http://bgracing.wordpress.com
Safe to say I will be cheering on NTF's adopted son OSCARA DARA this Thursday as he takes on his stiffest task to date in the World Hurdle.
Best of luck to Phil and the team and most importantly ENJOY the day 🙂
Ben (NTF)
One response to "Owners Insight – Oscara Dara: We Are All Going to Cheltenham!"