12
Sep

NTF Jockeywatch: The New Breed…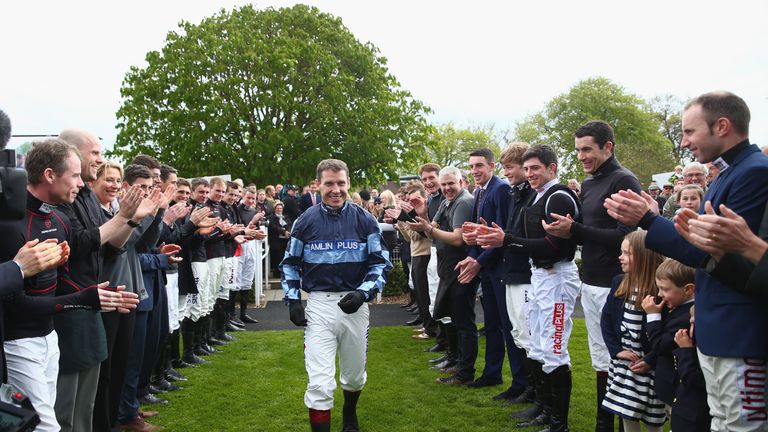 Johnson. The man they are all trying to catch.
Three up-and-coming National Hunt Jockeys you should have on your radar…
The top of the National Hunt  jockey's table has already settled into a familiar format.
Richard Johnson sits top of the pile, stealing a march on the others as he attempts to stride onward and upward towards back-to-back championships.
Sam Twiston-Davies & Aidan Coleman have renewed their battle for the runners-up spot (split by only ONE win last season!) and Tom Scudamore and Paddy Brennan are close in-behind them, although unlikely to trouble them for a podium finish come the end of the season.
A lot of it comes down to numbers, specifically number of rides, mixed in with getting on the best horses. That's essentially how the jockey's championship is won. Johnson has already had more than 100 rides than his nearest competitors this term, by the end of last season he had been given the leg up on 300+ more horses than his nearest rivals. The more rides you get the more chance you have of riding winners. It's a simple equation really.
Does that take away from the achievements of these daring sportsmen? Far from it. The reason they get the most rides is because they are the best in their sport. They are in-demand because they are at the top of their game. They've worked their way through the ranks and are now reaping the rewards, whilst still putting in greater and longer shifts than most of us could even dream of. It's a gruelling and demanding sport they are in but they have put in the years of hard work (and continue to do so) and it's not by fluke that they sit at the top of the jockey tree.
But what about those guys working their way up the ladder? Those youngsters than can only dream of firing in 100+ winners a season. The ones that are trying to replicate the McCoy, Johnson, Coleman, Twiston-Davies, Walsh, Geraghty blueprint and get themselves noticed by the top yards so that one day they can gun for the jockey's title.
Those are the guys I want to concentrate on and today's post highlights three young jockeys who I think can make a big impact in forthcoming seasons.
Spotting jockey's at the start of their career can be a profitable pastime. Especially if you think that jockey is well worth his claim. The wider betting public will often be put off, rightly or wrongly, by a jockey they don't know or are not overly familiar with. The upside of that for us shrewd punters is that the horse being ridden by the young jockey we earmarked will often go off at a couple points higher than it should; giving us that wonderful position of a value price.
So, which three young jockeys have caught my eye?
Let's start with one who may be familiar enough to some of you…
HARRY BANNISTER
Current claim – 3lbs
Attached to the Warren Greatrex yard
Overall figures (since 2012) – 52/353 | 15% S/R  – Win & Place 131/353 | 37% S/R
Harry Bannister shouldn't be a totally new name to plenty of you as he was champion amateur jockey in the 2013/14 & 2014/15 seasons. He then joined Warren Greatrex as the yards conditional jockey last season and pulled in respectable enough figures of 13/124 | 10% S/R | -£54.93 LSP.
What has aroused my interest enough to include him on this list, however, are his figures for the current season.
Already Bannister has surpassed his total from last season and currently sits 15th in the jockey's table with seasonal figures of…
16/70 | 23% S/R | +£9.18 BFLSP – Win & Place 28/70 | 40% S/R
37% above expectation
That's a significant upturn in anyone's book and a clear indication that this is a young man that means business. He's got his first 'proper' season out of the way, learned what he needed to learn, corrected and improved some of his weak points and fully switched his focus to the job in hand; riding winners.
He's still attached to Greatrex this season (4/13 so far this term) but it's his association with Charlie Mann than has zoomed him into the jockey's top 20.
So far this season the Mann/Bannister axis has returned the following figures…
9/15 | 60% S/R | +£30.11 BFLSP – Win & Place 11/15 | 73% S/R
Impressive figures by any stretch and in amongst that set is a five-timer on the rapidly improving Gowanauthat.
It's vitally important for any young pilot to pick up plenty rides from outside his main yard and with the likes of Mann and Michael Easterby on Bannister's side he's certainly going to have a ready enough supply of ammo at hand.
Indeed it's well worth looking at the Mann/Bannister axis overall as it returns hefty figures of…
18/67 | 27% S/R | +£55.78 BFLSP – Win & Place 29/67 | 43% S/R
125% above expectation
It's clear Mann is more than happy to contribute to Bannister's assent up the National Hunt stairs and with figures like the above it's easy to see why.
There are two other areas of interest, from Bannister's wider stats, that are worth noting and they are…
His record at Stratford…
9/22 | 41% S/R | +£21.95 BFLSP – Win & Place 11/22 | 50% S/R
181% above expectation
He's clearly very comfortable at the track and a 41% win strike-rate and a 50% win & place strike-rate dictates that we pay close attention when he's entered to ride there.
His record on front-runners…
13/42 | 31% S/R | +£28.20 BFLSP – Win & Place 22/42 | 52% S/R
89% above expectation
A young jockey with a decent clock in his head is always worth noting and those figures are a clear indicator that he's knows what he's doing when he's unleashed on one from the front.
It will be hard work to stay in the top 20 of the jockeys table once the big guns start firing but he's given himself a great chance with a flying start and I expect plenty more winners from him this term on his way to a career best season total.
.
DAVID NOONAN
Current claim – 3lbs
Attached to the David Pipe & Anthony Honeyball yards
Overall figures (since 2013) – 56/389 | 14% S/R  – Win & Place 135/389 | 35% S/R
Noonan burst onto the scene last season, firing in a hefty 41 winners from 253 rides.
David Pipe has so far contributed the most rides for the young pilot (101) and although the experience of being a conditional jockey at Pond House is clearly bringing him along leaps and bounds it's his partnership with Anthony Honeyball that interests me the most.
Together Noonan & Honeyball have pulled in the following figures…
18/83 | 22% S/R | +£27.69 BFLSP – Win & Place 40/83 | 48% S/R
15% above expectation
In amongst those figures were notable successes on the mare LILY WAUGH, one of which came at Cheltenham's December meeting.
If we dig further into the Noonan/Honeyball stats we can see that it's HANDICAPS where the trainer has really been making use of the young jockey…
15/65 | 23% S/R | +£37.73 BFLSP – Win & Place 32/65 | 49% S/R
26% above expectation
It's no real surprise that Honeyball employs him mostly for handicaps as it's obvious that Noonan's claim is well worth it's weight in gold (or race wins in this instance!).
Noonan really stood out to me last season when I read an interview with him on the Racing Post website where he stated that…
"I try to watch as much racing and replays as I can and if I'm riding something I haven't ridden I try to speak to a jockey who has ridden the horse to have a picture built."
An attitude like that tells you he's serious about his craft and continued dedication like that will only see him rise further up the jockey ranks.
He has 13 winners on the board this term already and I suspect he'll surpass his last season total of 41 by season's end.
.
THOMAS DOWSON
Current claim – 7lbs
Overall figures (since 2014) – 18/242 | 7% S/R  – Win & Place 52/242 | 21% S/R
Dowson has been ticking away on the north racing scene for some of the smaller yards (Maurice Barnes, Victor Thompson, Rose Dobbin…) and after a decent enough season last term (9 winners from 129) he looks like he's ready to kick on good and proper this term (already has 8 winners from 82 rides).
He caught my attention at Perth last week when riding Valnamixe Du Mee for Kenny Johnson. The horse who is yet to win in 15 starts (and probably isn't all that good!) was given a fine ride out the back by Dowson and he got after it in determined fashion to try and gun down the winner on the home-run, only going down by a head at the line.
Dowson's having to do things the hard way as he doesn't get much in the way of classy animals to ride but he's grinding away with what he's given and the fact he's already only one behind his seasonal total for last term says plenty about his determination to succeed at this game.
Although it was his ride at Perth last week that got me digging into his stats he did actually enter my notebook back in May when he rode Scotswell to victory at Kelso (4th May – 3m2f Handicap Chase). He gave a masterful front-running ride to the horse that day and the composed and unflustered way he produced his mount at the last fence in particular, when under pressure from challengers, was extremely eye-catching. You wouldn't have thought it was a 7lb claimer in the saddle that day given how neat he looked in the saddle.
There's not a huge amount to go on yet with regards to strong patterns to his wider stats but I have uncovered one little angle that is well worth us noting.
That angle is his record in Handicap Chases at Hexham…
8/29 | 28% S/R | +£28.49 BFLSP – Win & Place 12/29 | 41% S/R
161% above expectation
Those are neat little figures for a jockey plenty won't be familiar with and he really makes his 7lb claim pay when riding in the Hexham Handicaps.
The angle gets even tighter when you look at races over less than 21f and SP less than 10/1…
8/11 | 73% S/R | +£46.49 BFLSP – Win & Place 9/11 | 82% S/R
Dowson clearly has his eye well in round Hexham.
I don't expect this trio to be regularly gracing the winners enclosures at the major meetings just yet but they should more than pay their way at the lower levels as they make steady progress up the National Hunt jockeys ladder, making strong and steady progress through the ranks whilst all the time counting down the winners until their claim is consigned to the history books.
What do you guys think?
Have any young jockeys outwith the top echelon captured your attention?
Which claiming jockey do you think will make the biggest splash this term?
I'd love to here your thoughts and opinions below.
Ben (NTF)
p.s. the latest Free NTF guides are coming along sweetly and I'll be releasing them to members of the free list very soon.
Not yet on that list?
Make sure YOU don't miss out on the FREE guides…
[optin_box style="9″ alignment="center" new_window="Y" email_field="email" email_default="Enter your email address" integration_type="aweber" double_optin="Y" thank_you_page="https://www.narrowing-the-field.co.uk/thanks-for-joining-the-ntf-free-list/" list="1970061″ name_field="name" name_default="Enter your first name" name_required="Y"][optin_box_field name="headline"]Here's The Headline For The Box[/optin_box_field][optin_box_field name="paragraph"]PHA+TWFrZSBzdXJlIHlvdSBkb24ndCBtaXNzIG91dCBvbiB0aGUgZ3JlYXQgRlJFRSBOVEYgZ3VpZGVzITwvcD4K[/optin_box_field][optin_box_field name="privacy"]I value your privacy and would never spam you[/optin_box_field][optin_box_field name="top_color"]undefined[/optin_box_field][optin_box_button type="0″ button_below="Y"]Grab Your Free Guides![/optin_box_button] [/optin_box]
Ben (NTF)
All stats sourced from the excellent Proform Professional database
10 responses to "NTF Jockeywatch: The New Breed…"