15
Sep

NTF 2015 Kerry National Analysis: The Dosage & Trends Assault!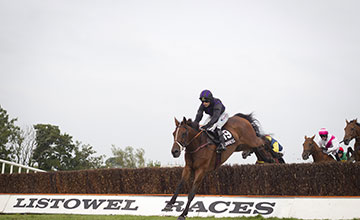 Well it's safe to say it's been pretty moist at Listowel this week!?!
They've already lost the last two days of their magnificent seven day festival but fingers crossed they are all good to go for Wednesday's card. At the time of writing the word is positive anyway so let's hope it stays that way as us national Hunt fans have the Kerry National to tuck into.
The beast of a race that is the Kerry National is the highlight of the seven days and 18 runners are set to go to post at 4.20 pm.
As usual I've ripped into the race with my tried and tested Dosage and Trends analysis as I try yet again to nail the winner of this tricky b@st@rd of a race.
It one race that through the years continues to slip through my grasp. It has given me no end of each-way returns but continues to elude and frustrate me on the win part of my punts.
It's also possibly one of the more frustrating races on the calendar due to the fact that those pesky reserves have won the last THREE renewals. I mean that's nothing more than a damn pain in the ass!
But I'm a sucker for a National and I don't let the past heartache put me off. Far from it. It only makes me more determined!
I'm not one for chopping up my stakes too much on the punting side of things but at this very early stage of the season I would be ratcheting things down just a touch. It's a race I love analyzing from a Dosage and Trends perspective, as it helps get my eye back into the jumping game for next month, but I don't need to be shooting my usual load at my selections, I'll keep myself on a tight-ish reign until mid-October swings into view.
How you play the race is up to yourself but to help you on your way you can download the full NTF analysis guide from the following link…
As always you don't have to side with my selections, there is plenty of analysis in the guide that you can utilize for your own thoughts and workings.
If, however, you just want to see what I'm backing my own personal selections are below…
Dosage & Trends COMBINED shortlist (Total possible score 13)
LOTS OF MEMORIES – 12/13
URANO – 12/13
THE PAPARRAZI KID – 11/13
RULE THE WORLD – 11/13
OWEGA STAR – 11/13
RAVISHED – 11/13
Most likely winner
LOTS OF MEMORIES (P Fahey) – It looks like connections have been priming this 8yo for a tilt at this race. After a short break over the summer he was given a spin on the flat at the end of August quickly followed up by a blast over hurdles 16 days ago, both runs that will have tuned him up perfectly for this. He currently sits on a mark of OR 134 over fences, a full 9lbs below his chase mark, and that definitely looks exploitable as he is very much a chaser and not a hurdler (i.e. he should be able to improve to at least his hurdle mark, probably beyond). The ground won't be an issue here as 4 of his 5 career wins have come on soft and he has placed on all 3 starts on heavy, he has already won twice at the trip, he loves big fields (form of 231111P in 12+ runner fields), he'll be able to sit out the back and let the pace-setters burn themselves out and he won on his only previous start at the track (hurdles); in short there is plenty in his favour and he should run well at double figure odds.
Alternative(s)
URANO (W Mullins) – This one needs it like a bog to be at his best (Heavy ground form of 2161 – both career wins since moving from Ireland – All 3 French wins came on Soft or Very Soft) and there is no denying an ability to handle conditions will be imperative here. I do have slight reservations about his staying power however he did finish 4th over 3m6f at Punchestown in May and as such I'm happy to take a swing at him here on his favoured underfoot conditions.
OWEGA STAR (Peter Fahey) – This is another who loves testing conditions (3 wins on heavy, 1 on soft) and also loves the track with form of 211 from his 3 visits. He seems to thrive during the Sept/Oct period (form of 2113163210) and has been tuned up for this with a hurdles start and then a maiden outing on the flat; he looks an interesting contender at a double figure price.
Best of luck if you are getting involved today.
Ben (NTF)
3 responses to "NTF 2015 Kerry National Analysis: The Dosage & Trends Assault!"