7
Mar

Five Cheltenham Festival stats that will need to be broken…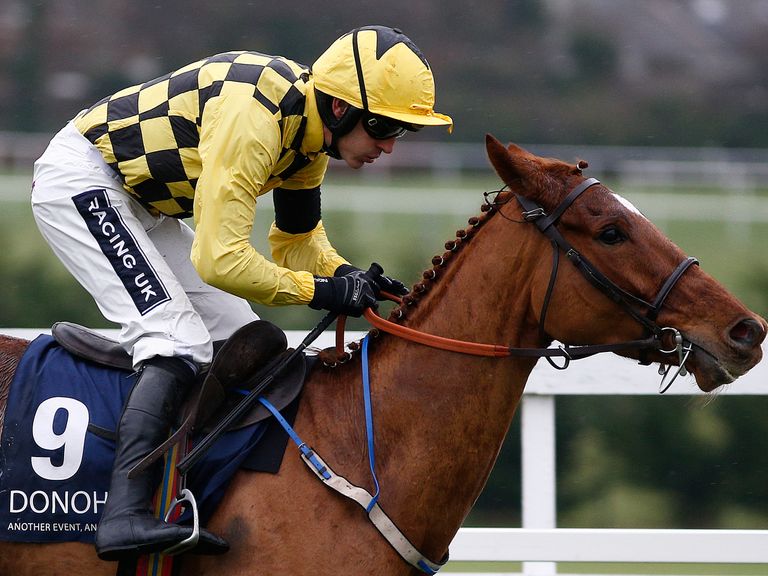 Does Melon have enough experience for the Supreme?
A week to go…
Crazy to think there are a mere seven days until the madness kicks in but that is it, that's all there is, SEVEN god damn days!
It's starting to consume my every thought at the minute. Hell, I've even been dreaming about it! Seriously! The other night I had a dream that My Tent Or Yours won the Champion Hurdle on the bridle! I mean properly hosed up. Weirder still I'm sure he was being ridden by Lizzie Kelly!? In my younger days I would have stomped down to my local bookies and stuck a wedge on 'The Tent' off the back of that dream! Thankfully I'm significantly wiser these days and I let the stats and figures guide me rather than some crazy fruit-looped dream!
I mean My Tent Or Yours…get real brain!! (please don't win, please don't win…)
I've been ramping things up on the festival front over the past week or so and hopefully you've all managed to download my FREE Cheltenham Festival Guides by now.
If not you can get them here.
They are packed full of trends and stats to help you 'narrow the field' over the four days and at the very least they should get your brain tuned up and fully focused for next weeks action.
Keeping on the stats front, today I want to take a look at a quintet of negative stats that will need to be busted next week if some of the well-fancied runners are to justify their cramped odds.
Lets get stuck in…
*some of these I've mentioned in my 'what we learned from the weekend' posts previously so they may not all be new to you but you will at lest be able to get them all on one post instead of having to search back through the blog…
Five festival stats that will need to be broken…
1 – Melon and the once hurdled Supreme stat…
If Melon is to justify Supreme Hurdle favouritism he will need to be the first horse in 20 renewals to do it off one solitary hurdle start…
Melon has been a bit of a 'wobbler' in the market at various times since his impressive 10L Leopardstown maiden cruise but he still, somehow, remains favourite for the festival opener.
However…
The last 19 Supreme's have seen 34 horses try and win the race off the back of only ONE previous hurdle start. They have returned the following figures…
0/34 | 0% S/R | -£34.00 BFLSP – Win & Place 1/34 | 3% S/R
Only ONE even PLACED!
If it was a weak Supreme I could maybe understand his place at the head of the market but I don't think it is a weak renewal, far from it. There are a number of potentially very good animals lurking behind him in the betting.
Furthermore it's hardly as if his Leopardstown maiden has worked out all that well either. Seven have run since, zero have won, one has placed.
Can Melon really become the first Supreme winner in 20 years with the minimum of experience under his belt? 
The defence…
The Mullins/Walsh record on last time out winners over the 16f-20f trips.
Assuming Ruby Walsh rides Melon there is a very strong Mullins/Walsh combo record that boosts the 5yo's chances. The stats from the last six years for the above trend are…
18/32 | 56% S/R | +£53.35 BFLSP – Win & Place 25/32 | 78% S/R
That's a damn strong record from the duo. Mind you Min was a qualifier last year and he got turned over…
Conclusion…
Melon could be anything, we simply don't know enough about him to make a serious judgement on him, but the stats are just pulling me away from him enough to make me want to look elsewhere…
I'll be interested to see if he makes my trends shortlist for the race although at a quick glance I'd be very surprised should that happen…
.
2 – The Alan King G1 Hurdle stat…
If Yanworth is to land the Champion Hurdle then Alan King needs to turn his G1 Hurdle figures around…
It doesn't seem that long ago since Alan King was firing in Grade 1 Festival winners left, right and centre. Recently, however, that has not been the case, especially over hurdles.
These are the stats for his G1 Cheltenham Festival hurdlers since 2009…
0/42 | 0% S/R | -£42.00 BFLSP – Win & Place 7/42 | 17% S/R
Not great, it has to be said.
In fact we can expand upon those figures further because it's not just his G1 hurdlers that have been mis-firing, it's his hurdlers in general.
Check his record in ALL festival hurdle races since 2009…
1/85 | 1% S/R | -£46.95 BFLSP – Win & Place 20/85 | 24% S/R
That's actually pretty shocking to be fair and also, it has to be said, a touch surprising.
His Yanworth is currently vying for favoritism in the Champion Hurdle.
Yanworth has compiled an unblemished record this term, winning all three of his starts, including the grade 1 Christmas Hurdle at Kempton.
The horse himself has no obvious weaknesses and he has done all that's been asked of his this season.
Yanworth's weak point comes from his trainer. A trainer who has recent form over the festival hurdles of ONE winner from 85 runners.
That's a hell of a lot of losers…
The defence…
He's the highest rated runner in the field…
Which, in fairness, isn't the most robust of defences to put up but it does at least give a solid indicator of the form he's been running to of late and furthermore he is a 7yo clearly still on the up so could yet have more to offer on the ratings front.
Conclusion…
King's recent hurdle record at the meeting is undoubtedly sketchy at best and it has to be remembered that Yanworth did have the chance to improve the trainers record last year when sent off 11-10 fav for the Neptune. But he didn't improve it, he simply added to the misery.
Can he go one better this time around and land his first festival race at the third time of asking, whilst at the same time improving his trainers miserable hurdles record?
I'm very much on the fence at the minute (or on the hurdle to be more accurate!). In fact I'm on the fence about the Champion Hurdle as a whole and I won't be forming an opinion until the final decs are through. When I do form that opinion, however, the Alan King Hurdle stats will certainly be put on the table to help me form my final opinion…
..
3 – The Cue Card age conundrum…
Since 1999 72 horses have tried AND failed to win the Gold Cup aged 10yo or older…
And as we know the mighty Cue Card is now the ripe old age of ELEVEN.
The likes of  of Kauto Star (X3), Denman (X2), Beef Or Salmon (X2), Imperial Commander, Grey Abbey, First Gold, See More Business, Dorans Pride, Teeton Mill, Florida Pearl have all tried, and failed, to win a Cheltenham Gold Cup once they reached double figures.
Cue Card is generally 3-1 joint favourite for this race and is looking to do something that no horse has done, including some modern day greats, since 1998.
Indeed it's more than that, he's actually looking to become the first 11yo since What A Myth in 1969 to win the Cheltenham Gold Cup.
If we expand the 11yo angle to ALL races at the last six festivals you see that only TWO of the 174 11yo+ horses to run have managed to win.
That's hefty, really hefty… the age stats really stack against Cue Card…
The defence…
He's still winning Grade 1's AND recording some of the best figures of his career…
In winning the Betfair Chase in November he recorded an RPR of 180, which equaled his career best.
In winning the Ascot Chase last time out he recorded an RPR of 177, 3lbs below his best.
On the figures there is no denying that he still seems to be at his peak…
Conclusion…
I would love him to win, absolutely love it, but I can't back him, I just can't. I've beat the age drum too many times at the festival, let along in the Gold Cup, to start ignoring it now.
I also have a couple of other reservations about the horse, including the fact that he is 2/15 when carrying 11-8+ (compared to 14/20 when carrying 11-7 or less), and I simply have to be against him in this.
Should he bust the stats then trust me, I'll be one of the first on their feet to give him a deserved standing ovation…
..
4 – The Brain Power Handicap to Champion Hurdle stat…
Since 1998 43 horses have tried AND failed to win the Champion Hurdle off the back of a Handicap run last time out…
But that's exactly what Nicky Henderson's Brain Power is trying to do, having won a Grade 3 Handicap Hurdle at Ascot on his previous start.
The 6yo is one of only four currently entered in the Champion Hurdle to be sitting at a single figure price (around the 7-1 mark) but by my reckoning he wouldn't be coming in with the prime warm-up under his belt.
Indeed 37 of the last 38 NON-Handicap Grade 1 Hurdle winners at the Cheltenham Festival ran in a NON-Handicap race on their last start.
So it's not only a Champion Hurdle stat he would be busting, it would be a G1 Cheltenham Festival Hurdle stat in general…
The defence…
Um…not sure I have one for him.
He's in form maybe….
Conclusion…
Off a mark of 162 I guess their hands were forced down this route but I think it's highly unlikely I'll be having him as part of my punting portfolio for the Champion Hurdle. I think it would be a serious surprise, and disappointment, should he win the Champion Hurdle…
..
5 – Diamond King and the Festival Plate 147 cut-off stat…
The last 19 winners of the Festival Plate (G3 Hcp Chase on Thursday) were rated 147 or below…
Current 5-1 clear favourite Diamond King is rated 150. If he were to win he would be doing something that 47 horses have tried and failed to do in the last 19 renewals.
If we tighten things up further and only look at the last 12 renewals we will see that none of the winners were rated above 145. Amazingly that would knock out the top 33 that are currently entered in the race, including, of course, the clear fav Diamond King.
The defence…
He has festival form, he's trained by the master that is Gordon Elliott and he's extremely unexposed over fences…
The 9yo won the Coral Cup at last years festival in pretty commanding fashion so we know he has no fear when it comes to the festival environment, which is always a bonus.
With only three starts under his belt I think we can also say that he's very much unexposed when it comes to fences and his mark of 150, although higher than ideal for this race, is quite possibly still within his ceiling.
Conclusion…
The fact all of the last 19 were rated OR 147 or below and all of the last 12 were rated OR 145 or below is enough to make me look elsewhere to be honest. If he was trading someway bigger than 5-1 I'd maybe consider him, based on his previous festival form and his unexposed profile, but he isn't and I'm happy to look further down the weights and further up the odds ladder.
NTF Cheltenham Festival Service – Doors now open!
I will be covering around 20 of the top races from the 2017 Cheltenham Festival as part of my NTF National Hunt subscription service, using my unique Dosage & Trends twin-barrelled assault tactics to filter the contenders from the pretenders, whilst whittling out the no-hopers so we can isolate those at lofty prices who have a real chance of out-running their odds.
I know there are a number of you who want to be on the NTF service for Cheltenham Festival week so this is your chance.
I am opening up a limited number of slots on my service especially for Cheltenham week, which, lets face it, is the most exciting week of the entire year, bar none!!
As soon as you sign-up you will also be able to enter the NTF Members Area and take a look at some of the Cheltenham work I've already produced for NTF Members. The Handicap Trends Post (22-02-17) and the G1 race stats (15-02-17) are likely to be of significant interest to you.
For those of you that are not familiar with the in-depth approach I utilise on the NTF service there are four guides available for you to view on the sign-up page. These are excellent examples of my service and how I go about ripping into the major races.
I look forward to seeing you in the NTF members area…
Ben (NTF)
Stats sourced from the excellent Proform Database
4 responses to "Five Cheltenham Festival stats that will need to be broken…"