10
Apr

Can Henderson & Nicholls continue with their successful raids to the north?
Scottish Grand National Meeting Trainer Trends…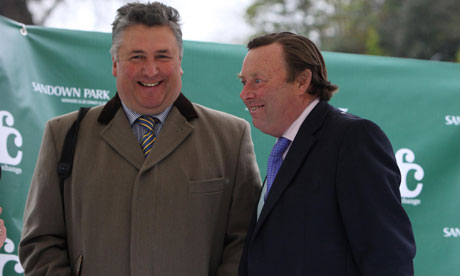 Ayr's Scottish Grand National Meeting is always a richly contested affair with a varied collection of raiders making the trip from South of the border looking to plunder the valuable prizes on offer.
But who are the trainers we should be focusing our punting brains on and under which circumstances should we be looking to side with their runners?
Do the South send up enough firepower to plunder the bulk of the valuable prizes on offer or do the North keep something up their sleeves especially for these 2 days to fend off the southern raiders?
Today I want to take a closer look at a clutch of trainers (North & South based) that we should keep a keen eye on over Friday and Saturday and highlight exactly where they have excelled at (or not excelled at) in recent seasons at this high octane mini-festival…
Figures from seasons 2008 – 2013 and sourced from the excellent ProForm database 
.
Let's start with…
The Power Duo…
Nicholls and Henderson have dominate the National Hunt scene in recent seasons and it is no different at this two day meeting…
Nicky Henderson
11 winners from 48 runners | 23% Strike-Rate | +£11.67 BFLSP – Win & Place 19/48 | 40% S/R
Henderson is easily the winning-most trainer at this meeting in the past six seasons and that 23% strike-rate is tidily above what the market expects him to be producing.
Those bare figures are strong enough on their own but there are some eye-catching sub-angles when we dig a bit deeper…
6 of his 11 winners have been Irish (IRE) bred. Striking at a 30% rate and producing +£21.98 of profit to level stakes
All 11 of his winners have been aged 7 or less so pay particular attention to his younger runners
9 of his 11 winners have started in the top 2 in the betting so the market has been a solid guide
Geraghty has ridden 8 of the 11 winners, striking at 27% and returning +£9.61 of profit
A P McCoy should also be noted when riding for Henderson as from 4 rides he has form figures of 3118
10 of Henderson's 11 winners have come over 21f or shorter
Pay close attention to his bumper runners as they have form figures of 11142
8 of his 11 winners finished in the top 3 last time out
Clearly Henderson likes to tackle this meeting with plenty gusto and his squad demand our utmost respect over the to days.
.
Paul Nicholls
8 winners from 50 runners | 16% Strike-Rate | -£13.14 BFLSP – Win & Place 22/50 | 44% S/R
Nicholls sends up a similar amount of runners as Henderson but the returns don't quite cut the same mustard. Indeed it isn't unusual for Nicholls to draw a blank at this meeting, like he did last year with his four runners.
Still there are some mini-angles that we should consider…
7 of his 8 winners started in the top 2 of the betting, like Henderson the market is a decent guide for Nicholls
6 of his 8 winners had been rested for 34 days or longer
All 8 of his winners came over 20f or shorter – His runners at 21f+ are 0 from 19
7 of his 8 winners also ran over 20f or less last time out
.
The local(ish) lad…
The north based yards do like to target this meeting, naturally, and a certain gentle Jim has figures worth noting…
Jim Goldie
5 winners from 40 runners | 13% Strike-Rate | +£35.60 BFLSP – Win & Place 11/40 | 28% S/R
These figures have taken a bit of a hit in the past 2 season's (Goldie is 0/17 if just looking at the past 2 years) so I wouldn't go diving in blind on any of Goldie's runners but it is still worth looking at the closer stats…
All 5 of his winners have been aged 7 or younger
4 of his 5 winners have come in Hurdle races
4 of his 5 winners have come in handicaps
4 of his 5 winners DIDN'T win last time out
.
The targeted approach…
Twiston-Davies probably has plenty of runners he could target at this meeting but interestingly he doesn't actually come here mob-handed…
3 winners from 14 runners | 21% Strike-Rate | +£7.65 BFLSP – Win & Place 6/14 | 43% S/R
With almost half of his runners at least placing here anything he sends to this two day meeting is certainly worthy of a second glance from us.
The closer stats pinpoint the following…
All 6 win and place horses came over 3 miles or further
All 3 winners were Irish (IRE) bred
All 3 winners finished 1st or 2nd last time out
.
A sneaky one to keep in mind…
This trainer has only had four runners at the meeting in the last six seasons but he has done alright with that limited attack force…
Evan Williams
2 winners from 4 runners | 50% Strike-Rate | +£3.99 BFLSP – Win & Place 2/4 | 50% S/R
He has a few entered up this time so they should be worth keeping in mind.
.
The Under-performers…
The following four yards have struggled a touch in recent season's at this meeting and although I would never suggest you blindly ignore their runners it is certainly worth having plenty of other positives in your favour before getting your money down…
Lucinda Russell
3 winners from 41 runners | 7% Strike-Rate | +£7.00 BFLSP – Win & Place 8/41 | 20% S/R
She does win at this meeting, she will continue to win at this meeting…but pick your targets carefully. The 7% strike-rate is a bit of a worry…
Venetia Williams
0 winners from 16 runners | 0% Strike-Rate | -£16.00 BFLSP – Win & Place 1/16 | 6% S/R
A surprisingly poor return from Venetia and the place side of things barely improves things either.
James Ewart
0 winners from 17 runners | 0% Strike-Rate | -£17.00 BFLSP – Win & Place 0/17 | 0% S/R
Another that has been struggling at this two day meeting and the fact zero have even managed to place suggests we should proceed with caution for now.
Sue Smith
1 winner from 40 runners | 3% Strike-Rate | -£29.98 BFLSP – Win & Place 7/40 | 18% S/R
There have been plenty of bullets fired at this meeting by the Yorkshire based trainer but the vast majority of them have been wide of the mark. The placed winners make up for it a bit but probably not as much as you would expect.
.
Ayr Scottish National Meeting – General Trend Alert!
You know how those German (GER) bred runners that don't particularly like the Cheltenham Festival? Well it's certainly a different matter here…
German (Ger) bred runners at the Scottish Grand National meeting
5 winners from 17 runners | 29% Strike-Rate | +£21.09 BFLSP – Win & Place 7/17 | 41% S/R
They win plenty more than expected and it's a tasty little snippet to keep in mind over these two days.
A little tweak can actually improve things quite dramatically and if we only look at those that ran within the past 21 days we get…
4 winners from 7 runners | 57% Strike-Rate | +£19.08 BFLSP – Win & Place 5/7 | 71% S/R
Keep your eyes open for those Germans…
Although I would never suggest taking these type of stats as gospel they are a good pointer as to which yards are likely to be targeting the meeting and bringing some lively ammo with them for an Ayr spring-time raid. They are also a solid indicator of those yards that may just be struggling to produce the goods at the meeting.
Best of luck if you plan to get involved over the two day Ayr Scottish Grand National meeting (Friday 11th and Saturday 12th of April) and hopefully the above stats will be of plenty benefit to you.
Ben (NTF)