6
Jun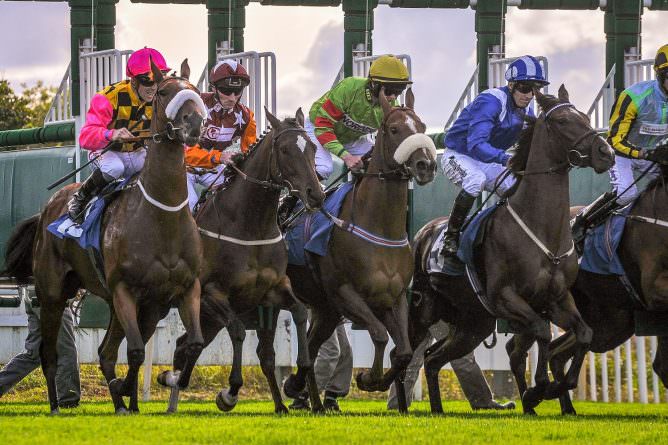 2020 Qipco 2000 Guineas – Trends Analysis
I reckon this first week back racing has gone alright, don't you think?
Ignoring the fact the world seems to be falling apart at a rather rapid rate (as much as one can ignore such things 🥴) it's been great to have the racing cogs turning once again, giving us at least a minor taste of 'normality'.
I've been quite happy with how the races have panned out this week, from an almost exclusively watching viewpoint (I've had a very minor sprinkling of low-level bets) and there's not really been any great shocks or unexpected results. The main players seem to have their yards running at a solid rate and the enforced Covid-lockdown break doesn't seem to have impacted things all that much.
Many of you have been in touch asking when/if I'll be taking on members for this summer (I think I managed to reply to you all, if I missed you, my apologies) so given that things are running smoothly (in the racing world at least) I'll be opening the doors to my summer NTF service next week (week beginning 8th of June).
If you make sure you are on the free NTF mailing list you won't miss out on the sign-up links (free list sign-up here).
That's to come next week…
Right now we have the first classic of the season to deal with…
The 2020 Quipco 2000 Guineas (3.35 Newmarket)
Later than normal but still set to be run over the 1m trip of Newmarket's Rowley Mile.
This year's race has a bit of an unusual look to it in that all bar one of the fifteen runners are making seasonal debut and having the first start of their 3yo career.
With that in mind I'm firmly of the opinion that this renewal can't be attacked using my normal Race Trends approach. Some may disagree with that but essentially this is a very different race than normal. Indeed the start of this season as a whole will be difficult to approach from a normal Race Trends approach.
Trends can still be used to narrow the field but they will need to be tweaked a little to fall in line with the current situation.
Which is exactly what I've done.
As we only have 2yo form to go on what I've done is look back at the last 15 2000 Guineas winners and compiled trends based ONLY on what they did in their 2yo career.
It's not quite my normal approach but then again it's not quite a normal season, and similar to the rest of our day to day lives I've had to modify and deal with the situation that has been presented to us in a slightly different manner than I normally would.
It still gives us a solid picture of the type of horse needed to win a 2000 Guineas, which is the whole idea behind Race Trends analysis, so lets crack on and see which of this years entrants past the NTF trends test…
Quipco 2000 Guineas Race Trends
I used the following eight trends, sourced from the 2yo careers of the past 15 2000 Guineas winners, to narrow this years field…
1 15/15 no worse than 4th on racecourse debut
2 15/15 top 3 finish on final start as a 2yo
3 15/15 at least 1 victory as a 2yo
4 14/15 2-6 starts as a 2yo
5 14/15 ran to an RPR figure of at least 110 as a 2yo
6 14/15 ran over at least 7f but no further than 1m
7 13/15 previous run at Group level
8 13/15 were IRE or GB bred
Applying the trends to this years field gives us the following…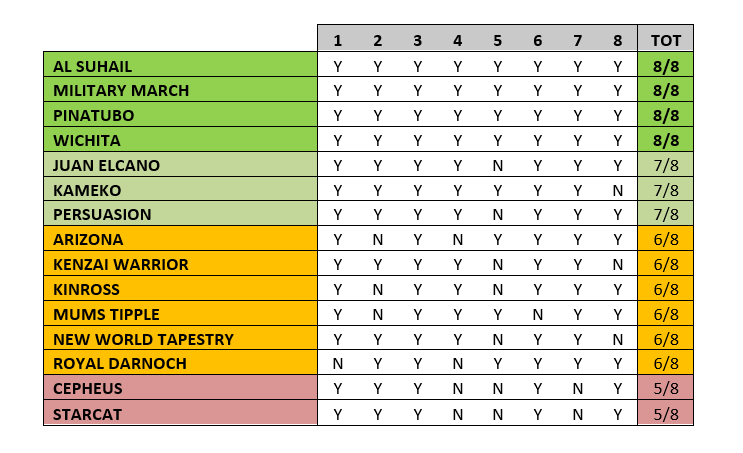 So four runners passing all eight trends…
PINATUBO (Appleby/Buick) – 4/5
WICHITA (O'Brien/Dettori) – 10/1
MILITARY MARCH (S Bin Suroor/Crouch) – 20/1
AL SUHAIL (Appleby/Doyle) – 20/1
**
Might as well start with the red-hot fav PINATUBO. Unbeaten in six starts, tackles the 1m trip today for the first time and has the potential to be THE superstar 3yo of the season. The Appleby yard are ticking along sweetly since resumption (form figures of 32165611) and on official figures this lad is upwards of 10lbs ahead of the competition. You don't need me to be telling you he's the likely winner of this but I'm simply not interested in slapping a wedge on him…not my style, never has been. Doesn't mean I don't think he's got an outstanding chance of landing the first classic of the season but he won't be carrying my wonga…
What about the other three on the trends shortlist…
There's been a bit of support overnight for WICHITA and I get that, absolutely. Like the fav he's yet to be tested past 7f but he does have a 1st and a 3rd on his dance-card from his two starts on the Rowley Mile so the track shouldn't pose any issues for him. He's got 4.75L to make up on Pinatubo on their Dewhurt Stakes meeting last October but this is over an extra furlong and on quicker ground so he could possibly close that gap. His speed figures improved with every start last season so if that progression continues again this year he should be there or thereabouts.
MILITARY MARCH comes in unbeaten in two although I suspect the Derby is his ultimate aim on the Classic front (currently around 6-1). Whether he'll have quite enough boot to take this I'm not sure but plenty Derby contenders have run well in this contest before going on to Epsom and he could make his presence felt, especially since he should be able to get a tow into the race from likely front runner MUMS TIPPLE (MT in stall 1 with MM in stall 3).
AL SUHAIL maybe looks a tad overpriced at 20-1 albeit it must be noted that his 2yo win S/R is only 25% (1 win from 4) and the minimum win S/R from the past 15 Guineas winners has been 33%, with 14/15 achieving 50%+ and 13/15 60%+. He's also rocking up wearing a hood, which for a Guineas runner (let alone winner) is unusual. In the past 23 Guineas only 22 runners have wore headgear and/or a tongue-tie, with none of them winning and only one managing to place. Both minor quibbles, maybe, but probably enough to put me off him.
Conclusion…
I'll happily leave PINATUBO to win at his tight odds. If he's the superstar colt we expect/hope/need then great, I'll salute him and doff my cap to his powers.
His place in the line-up does, however, give juice in the prices of others and although I'm still not keen on diving in at normal punting levels, E/W punts on WICHITA and MILITARY MARCH do appeal. I'd be happy to have that two running for me at a price.
**
Best of luck if you are getting involved today, it's mainly a watching brief for me still as I get ready to fire things back up to normal levels next week.
For those interested in the Summer NTF Members Service remember to make sure you are on the FREE NTF Mailing list, that way you definitely won't miss out when the doors open next week.
Ben (NTF)
8 responses to "2020 Qipco 2000 Guineas – Trends Analysis"