NTF Summer Service (£20 Taster)…

Grab an NTF taster for the remaining few weeks of the 2021 Summer Service…
Only

£20

for all the usual NTF Members Benefits…
(September 9th-October 3rd Members Ticket)
Trends…
Stats…
Angles…
Analysis…
Special Discounted Offer for remainder of season!
Only £20 for a taster ticket!
☝☝JOIN THE FULL SERVICE USING THE 'BUY NOW' BUTTON ABOVE☝☝
I'll be following (roughly) the normal protocol that most of you have been used to here on NTF for the past twelve years (wow! just where has that time gone!) and the following is my plan of attack for the 2021 summer season…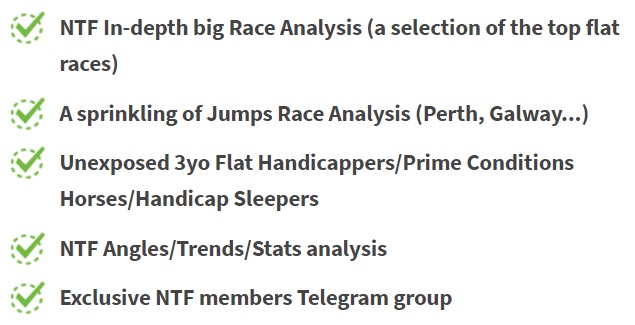 Secure your NTF Summer slot TODAY…
Now only £20.00 for a taster ticket…
As always the majority of the major races run over the summer months will be covered using Race Trends, with the work going into those guides alone making the £69 £20 sign-up price massive value. 
I'll also be ratcheting up my production of the 'NTF Daily Stats Sheet' side of things as that is an area that I concentrate on massively over the summer months in my personal betting and the data I produce to help me make my own selections will be of huge benefit to a large majority of you guys also.
And as always I'll have the private NTF Telegram group up and running and in full swing right off the bat. Many of you have enjoyed that side of the service over the past couple of seasons and have formed a strong bond in there, discussing many aspects of racing (and life!) and firing up your own trends, stats and thoughts on the day to day racing as well as the major meetings throughout the duration of the service.
Join the NTF Summer Service TODAY…
Daily Stats Sheet…
Handicap Sleepers…
Prime Conditions…
Trends…
Weekend Notes…
Join Today!
Exclusive Discounted Offer for free list members!
Only £20 for a taster ticket!
I look forward to seeing you all again for another summer of in-depth Analysis!
Ben (NTF)