NTF 2021/22 National Hunt Service…
Previous Members Discounted sign-up option…
Time to get searching for the jumps equivalent of Torquator Tasso 😎🍻
Only £139 for all the usual NTF Members Benefits…
Big Race Trends…
Daily Stats Sheets…
Weekend Notes…
Private Telegram Group…
Special Discounted Offer for previous members!
Only £139 for a season ticket!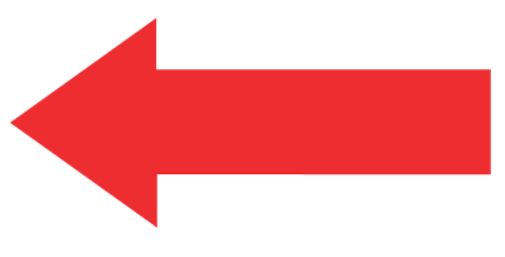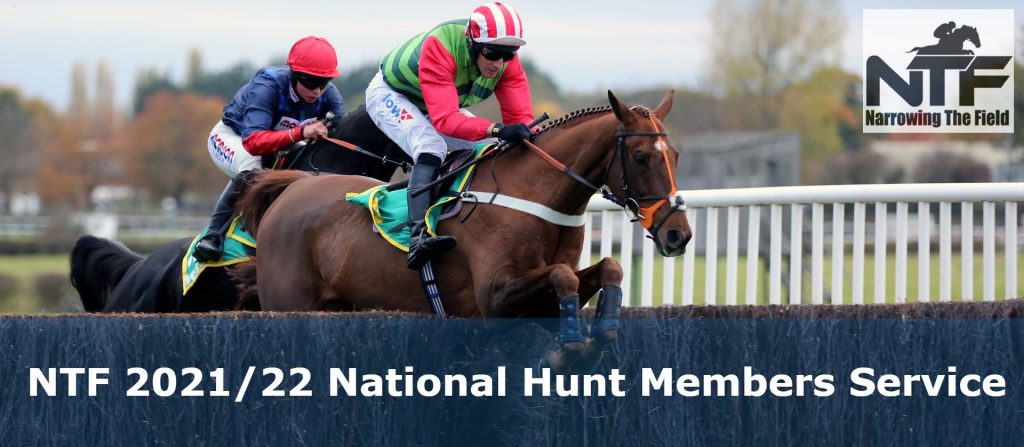 I'll be following (roughly) the same protocol that most of you have been used to here on NTF for the past twelve years and the following is my plan of attack for the 2021/22 National Hunt season…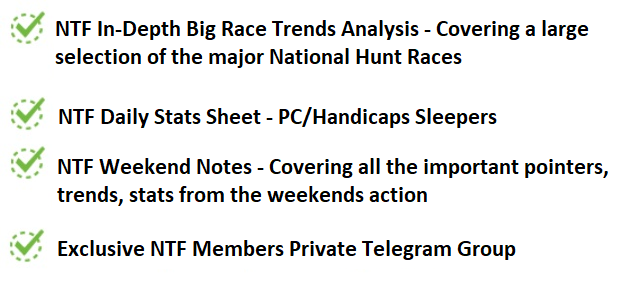 Secure your NTF National Hunt slot TODAY…
Only £139 for a summer ticket…
Click the 'Buy Now' button to reactivate your NTF members account…
As always I'll be covering a majority of the big races throughout the 2021/22 National Hunt season as well as all of the major festivals (Cheltenham, Aintree, Punchestown, Ayr…), using my tried and trusted NTF Race Trends Analysis. 
I'll also be keeping the 'NTF Daily Stats Sheet' side of things rolling along in exactly the same fashion as to how they smashed their way through the summer months. Highlighting those Handicap Sleepers/Horses that meet with their Prime Conditions, digging deep for those big priced winners that the majority of the betting market are ignoring because they think the horse is 'out of form' (we know better though, they probably just didn't have their Prime Conditions and/or where on a winnable mark).
And as always I'll have the private NTF TELEGRAM GROUP up and running and in full swing right off the bat. Many of you have enjoyed that side of the service over the past couple of seasons and have formed a strong bond in there, discussing many aspects of racing (and life!) and firing up your own trends, stats and thoughts on the day to day racing as well as the major meetings throughout the duration of the service.
The NTF Weekend Notes will also be cranking back into action for the duration of the National Hunt service as well and they will, naturally, be closely linked with the Daily Stats Sheets, with plenty of the horses pinpointed in the Weekend Notes coverage likely to appear in the Daily Stats Sheets at some point in the future, when the horse in question meets with their Prime Conditions of course. 
Even without our German friend TORQUATOR TASSO landing the Arc De Triomphe at massive odds the flat season was a resounding success, with the Daily Stats Sheets in particular really coming into their own and pinpointing numerous PC winners, often at tasty odds. I can assure you all I'll be working just as hard over the winter months to provide the same level of analysis as I look to source plenty more PC/HCP Sleeper and Trends Topper winners 👍
Join the NTF National Hunt Service TODAY…
Daily Stats Sheet…
Handicap Sleepers…
Prime Conditions…
Trends…
Exclusive Discounted Offer for previous members!
Only £139 for a season ticket!
I look forward to seeing you all again for another winter of in-depth National Hunt Analysis!
Ben (NTF)